3 days tour from Marrakech to Fes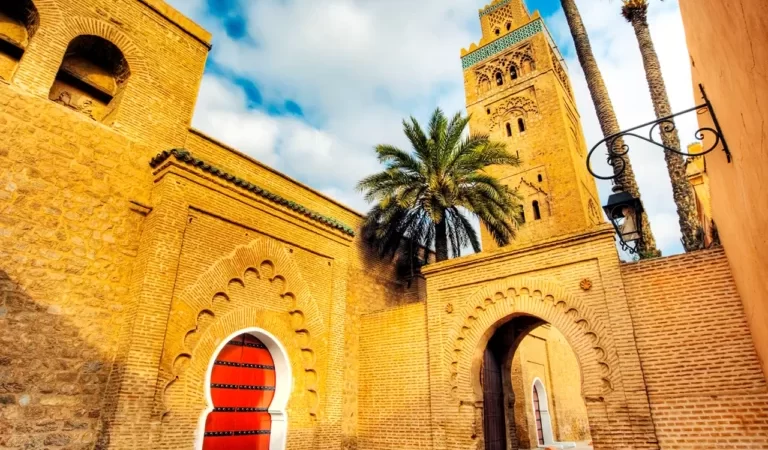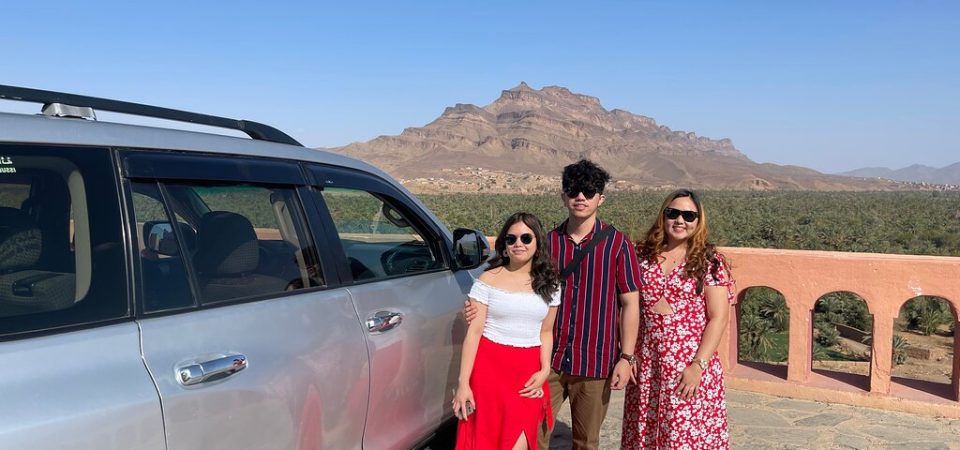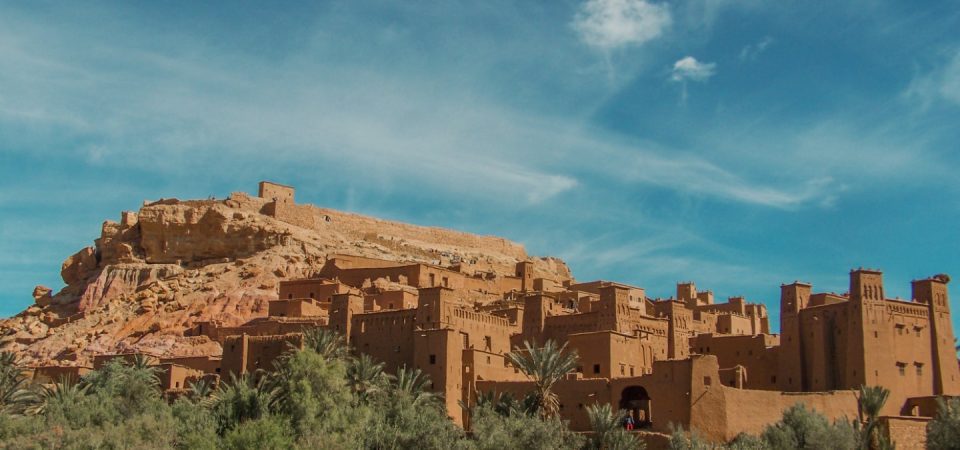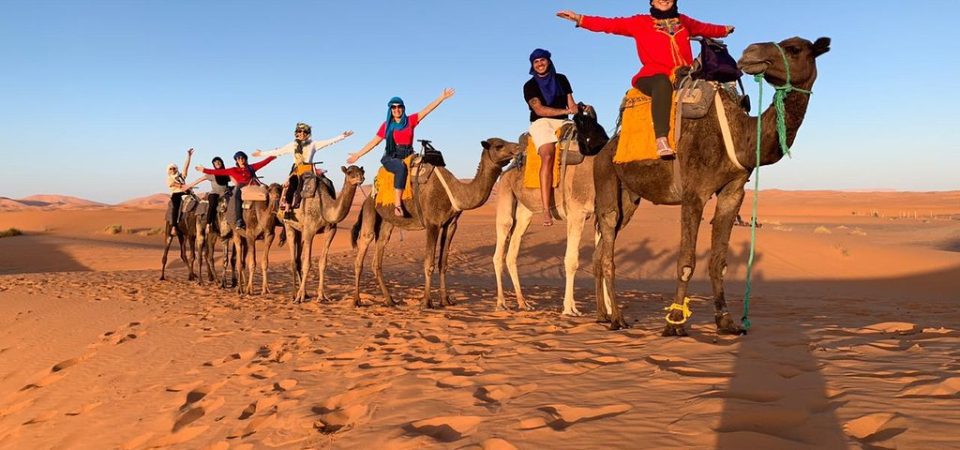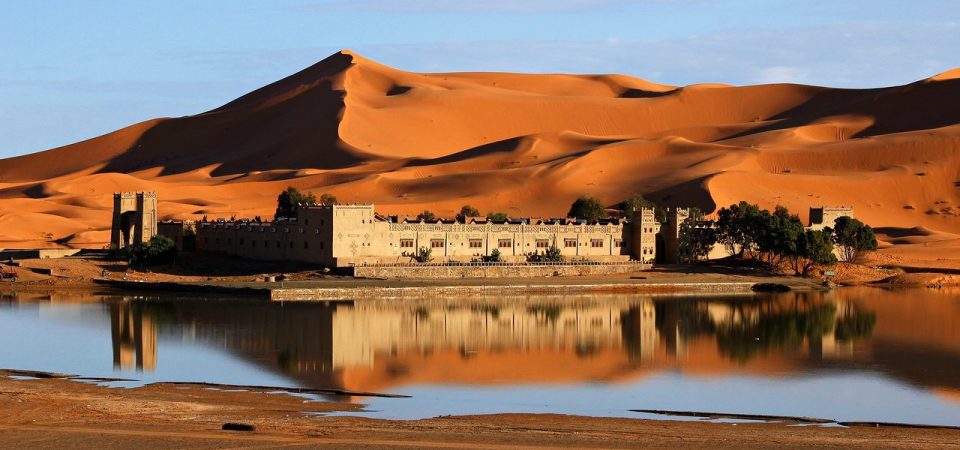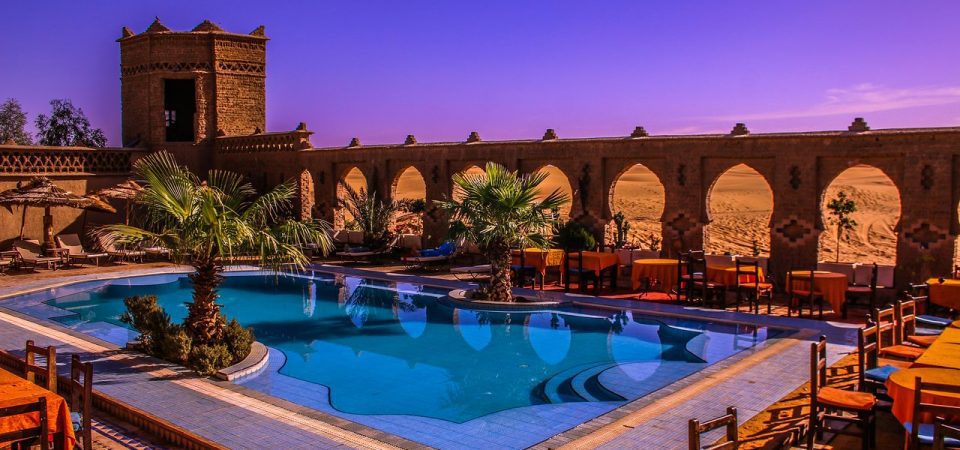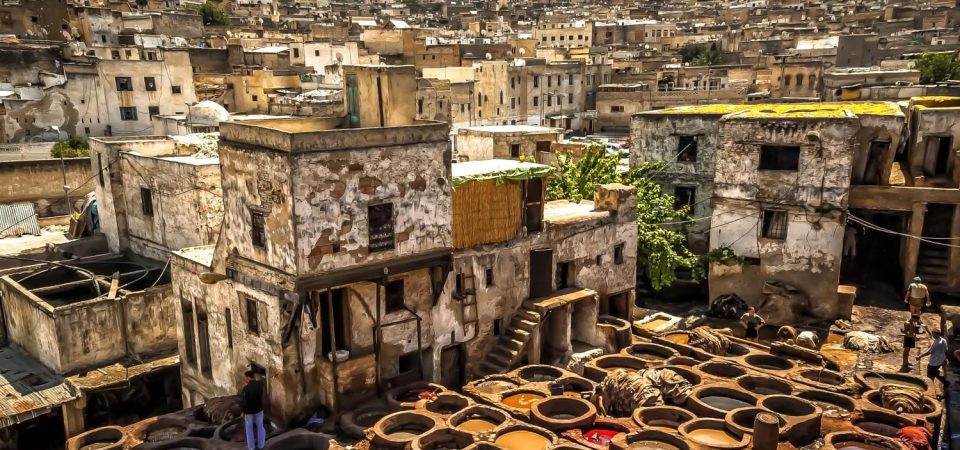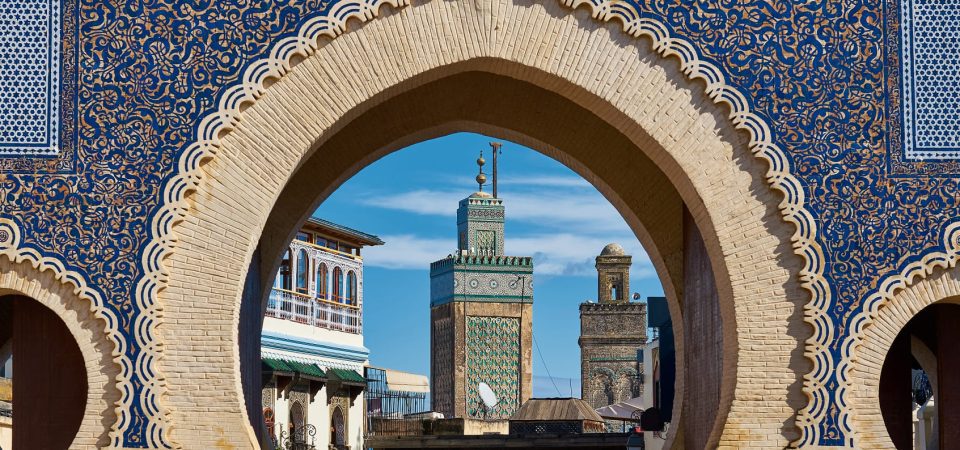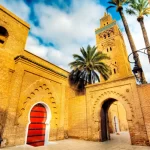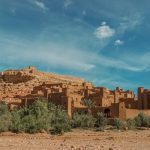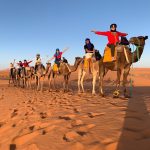 +4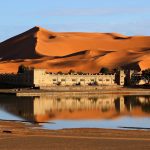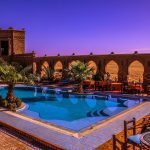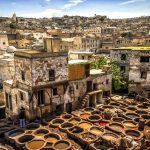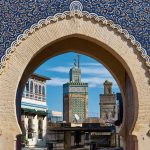 Starting City : Marrakesh to Sahara Desert
Ending City : Fez
Itineraries : 
Marrakech
Ait Ben Haddou Kasbah
Ouarzazate
Dades Valley
Marzouga
Fez
Night Staying :
1 night at the desert camp in Marzouga
1 night at Dades Gorges hotel or riad
Day 1 : Marrakech- Ait ben Haddou Kasbah- Ouarzazat-Dades Valley.
The driver will take you through Atlas Mountain–TIZI-N-TICHKA to reach Kasbah AIT BEN HADDOU, one of the most beautiful villages in morocco and nominated a UNESCO world heritage since 1987. The next stop will be in Ouarzazate where some famous Hollywood movies filmed 'Atlas studios': Gladiator, Game of Thrones… After having the lunch break in Ouarzazate, the road will be continued to DADES Valley where the hotel is located.  We will drive through the Valley of roses located between Ouarzazate and DADES in KELAAT M'GOUNA; a city well known for an annual roses festival.
Day 2 : Dades Valley- Todra gorges- Erfoud- Rissani- Merzouga (Erg chebbi, ride camels)
The next day, breakfast will be served in Dades valley. The road will be through Todra gorges "Todgha gorges" and Tinghir. You'll have a chance to stop by it to take pictures and admiring the views of Canyons. In the afternoon, the destination will be to Tinejdad where to have lunch and going to Erfoud. this city has been picked by Fossil the famous american brand as a craft workshop. You'll be taken to Merzouga afterwards. After relaxing few minutes in Merzouga, you will have the opportunity to have Camels trekking through the golden sand dunes of Erg Chebbi. The tour guide will take you to a traditional camp (Berber Nomads tents) where we will spend the second night where you will experience nomads' lifestyle. It is a great opportunity to observe the Sunset and Sunrise in Sahara. The night will be animated by drums sounds.
Day 3: Merzouga-Ziz Valley, Midelt, Azrou, visit Fez
In the 3th day, in the sunrise time, we will will ride camels to return to the hotel. After breakfast, we will drive through Rissani towards Fes via  Errachidia along the magnificent Ziz Gorges carved through volcanic rock, and through the Tizi Ntalghamt passing by Midelt. Arrival will be at Zaida  where you will enjoy a barbecue lunch and hot mint tea to be able to continue the journey to Azrou; this Berber Nomads village located in the Middle of Atlas Mountains. you will have the chance to see the Barbarian apes in the famous Cedar forest. On the road to Ifrane "the French village", there will be a last stop to take some pictures or have a drink then drive you back to your hotel in Fez where the trip takes end.
Morocco Top Trips offers premium private tours in three packages levels: Standard, Luxury, and VIP.
All prices on the website reflect the standard package. Please inquire for Luxury and VIP package pricing.
28
GENERALE
General price:
$

260.00 / ticket
Options
guests = 1

Price

$

790.00 / ticket

guests = 2

Price

$

580.00 / ticket

guests = 3

Price

$

470.00 / ticket

guests = 4

Price

$

390.00 / ticket

guests = 5

Price

$

340.00 / ticket

guests = 6

Price

$

290.00 / ticket

guests >= 7

Price

$

260.00 / ticket
29
GENERALE
General price:
$

260.00 / ticket
Options
guests = 1

Price

$

790.00 / ticket

guests = 2

Price

$

580.00 / ticket

guests = 3

Price

$

470.00 / ticket

guests = 4

Price

$

390.00 / ticket

guests = 5

Price

$

340.00 / ticket

guests = 6

Price

$

290.00 / ticket

guests >= 7

Price

$

260.00 / ticket
30
GENERALE
General price:
$

260.00 / ticket
Options
guests = 1

Price

$

790.00 / ticket

guests = 2

Price

$

580.00 / ticket

guests = 3

Price

$

470.00 / ticket

guests = 4

Price

$

390.00 / ticket

guests = 5

Price

$

340.00 / ticket

guests = 6

Price

$

290.00 / ticket

guests >= 7

Price

$

260.00 / ticket
31
GENERALE
General price:
$

260.00 / ticket
Options
guests = 1

Price

$

790.00 / ticket

guests = 2

Price

$

580.00 / ticket

guests = 3

Price

$

470.00 / ticket

guests = 4

Price

$

390.00 / ticket

guests = 5

Price

$

340.00 / ticket

guests = 6

Price

$

290.00 / ticket

guests >= 7

Price

$

260.00 / ticket
1
GENERALE
General price:
$

260.00 / ticket
Options
guests = 1

Price

$

790.00 / ticket

guests = 2

Price

$

580.00 / ticket

guests = 3

Price

$

470.00 / ticket

guests = 4

Price

$

390.00 / ticket

guests = 5

Price

$

340.00 / ticket

guests = 6

Price

$

290.00 / ticket

guests >= 7

Price

$

260.00 / ticket
2
GENERALE
General price:
$

260.00 / ticket
Options
guests = 1

Price

$

790.00 / ticket

guests = 2

Price

$

580.00 / ticket

guests = 3

Price

$

470.00 / ticket

guests = 4

Price

$

390.00 / ticket

guests = 5

Price

$

340.00 / ticket

guests = 6

Price

$

290.00 / ticket

guests >= 7

Price

$

260.00 / ticket
3
GENERALE
General price:
$

260.00 / ticket
Options
guests = 1

Price

$

790.00 / ticket

guests = 2

Price

$

580.00 / ticket

guests = 3

Price

$

470.00 / ticket

guests = 4

Price

$

390.00 / ticket

guests = 5

Price

$

340.00 / ticket

guests = 6

Price

$

290.00 / ticket

guests >= 7

Price

$

260.00 / ticket
4
GENERALE
General price:
$

260.00 / ticket
Options
guests = 1

Price

$

790.00 / ticket

guests = 2

Price

$

580.00 / ticket

guests = 3

Price

$

470.00 / ticket

guests = 4

Price

$

390.00 / ticket

guests = 5

Price

$

340.00 / ticket

guests = 6

Price

$

290.00 / ticket

guests >= 7

Price

$

260.00 / ticket
5
GENERALE
General price:
$

260.00 / ticket
Options
guests = 1

Price

$

790.00 / ticket

guests = 2

Price

$

580.00 / ticket

guests = 3

Price

$

470.00 / ticket

guests = 4

Price

$

390.00 / ticket

guests = 5

Price

$

340.00 / ticket

guests = 6

Price

$

290.00 / ticket

guests >= 7

Price

$

260.00 / ticket
30
GENERALE
General price:
$

260.00 / ticket
Options
guests = 1

Price

$

790.00 / ticket

guests = 2

Price

$

580.00 / ticket

guests = 3

Price

$

470.00 / ticket

guests = 4

Price

$

390.00 / ticket

guests = 5

Price

$

340.00 / ticket

guests = 6

Price

$

290.00 / ticket

guests >= 7

Price

$

260.00 / ticket
31
GENERALE
General price:
$

260.00 / ticket
Options
guests = 1

Price

$

790.00 / ticket

guests = 2

Price

$

580.00 / ticket

guests = 3

Price

$

470.00 / ticket

guests = 4

Price

$

390.00 / ticket

guests = 5

Price

$

340.00 / ticket

guests = 6

Price

$

290.00 / ticket

guests >= 7

Price

$

260.00 / ticket
1
GENERALE
General price:
$

260.00 / ticket
Options
guests = 1

Price

$

790.00 / ticket

guests = 2

Price

$

580.00 / ticket

guests = 3

Price

$

470.00 / ticket

guests = 4

Price

$

390.00 / ticket

guests = 5

Price

$

340.00 / ticket

guests = 6

Price

$

290.00 / ticket

guests >= 7

Price

$

260.00 / ticket
2
GENERALE
General price:
$

260.00 / ticket
Options
guests = 1

Price

$

790.00 / ticket

guests = 2

Price

$

580.00 / ticket

guests = 3

Price

$

470.00 / ticket

guests = 4

Price

$

390.00 / ticket

guests = 5

Price

$

340.00 / ticket

guests = 6

Price

$

290.00 / ticket

guests >= 7

Price

$

260.00 / ticket
3
GENERALE
General price:
$

260.00 / ticket
Options
guests = 1

Price

$

790.00 / ticket

guests = 2

Price

$

580.00 / ticket

guests = 3

Price

$

470.00 / ticket

guests = 4

Price

$

390.00 / ticket

guests = 5

Price

$

340.00 / ticket

guests = 6

Price

$

290.00 / ticket

guests >= 7

Price

$

260.00 / ticket
4
GENERALE
General price:
$

260.00 / ticket
Options
guests = 1

Price

$

790.00 / ticket

guests = 2

Price

$

580.00 / ticket

guests = 3

Price

$

470.00 / ticket

guests = 4

Price

$

390.00 / ticket

guests = 5

Price

$

340.00 / ticket

guests = 6

Price

$

290.00 / ticket

guests >= 7

Price

$

260.00 / ticket
5
GENERALE
General price:
$

260.00 / ticket
Options
guests = 1

Price

$

790.00 / ticket

guests = 2

Price

$

580.00 / ticket

guests = 3

Price

$

470.00 / ticket

guests = 4

Price

$

390.00 / ticket

guests = 5

Price

$

340.00 / ticket

guests = 6

Price

$

290.00 / ticket

guests >= 7

Price

$

260.00 / ticket
6
GENERALE
General price:
$

260.00 / ticket
Options
guests = 1

Price

$

790.00 / ticket

guests = 2

Price

$

580.00 / ticket

guests = 3

Price

$

470.00 / ticket

guests = 4

Price

$

390.00 / ticket

guests = 5

Price

$

340.00 / ticket

guests = 6

Price

$

290.00 / ticket

guests >= 7

Price

$

260.00 / ticket
7
GENERALE
General price:
$

260.00 / ticket
Options
guests = 1

Price

$

790.00 / ticket

guests = 2

Price

$

580.00 / ticket

guests = 3

Price

$

470.00 / ticket

guests = 4

Price

$

390.00 / ticket

guests = 5

Price

$

340.00 / ticket

guests = 6

Price

$

290.00 / ticket

guests >= 7

Price

$

260.00 / ticket
8
GENERALE
General price:
$

260.00 / ticket
Options
guests = 1

Price

$

790.00 / ticket

guests = 2

Price

$

580.00 / ticket

guests = 3

Price

$

470.00 / ticket

guests = 4

Price

$

390.00 / ticket

guests = 5

Price

$

340.00 / ticket

guests = 6

Price

$

290.00 / ticket

guests >= 7

Price

$

260.00 / ticket
9
GENERALE
General price:
$

260.00 / ticket
Options
guests = 1

Price

$

790.00 / ticket

guests = 2

Price

$

580.00 / ticket

guests = 3

Price

$

470.00 / ticket

guests = 4

Price

$

390.00 / ticket

guests = 5

Price

$

340.00 / ticket

guests = 6

Price

$

290.00 / ticket

guests >= 7

Price

$

260.00 / ticket
10
GENERALE
General price:
$

260.00 / ticket
Options
guests = 1

Price

$

790.00 / ticket

guests = 2

Price

$

580.00 / ticket

guests = 3

Price

$

470.00 / ticket

guests = 4

Price

$

390.00 / ticket

guests = 5

Price

$

340.00 / ticket

guests = 6

Price

$

290.00 / ticket

guests >= 7

Price

$

260.00 / ticket
11
GENERALE
General price:
$

260.00 / ticket
Options
guests = 1

Price

$

790.00 / ticket

guests = 2

Price

$

580.00 / ticket

guests = 3

Price

$

470.00 / ticket

guests = 4

Price

$

390.00 / ticket

guests = 5

Price

$

340.00 / ticket

guests = 6

Price

$

290.00 / ticket

guests >= 7

Price

$

260.00 / ticket
12
GENERALE
General price:
$

260.00 / ticket
Options
guests = 1

Price

$

790.00 / ticket

guests = 2

Price

$

580.00 / ticket

guests = 3

Price

$

470.00 / ticket

guests = 4

Price

$

390.00 / ticket

guests = 5

Price

$

340.00 / ticket

guests = 6

Price

$

290.00 / ticket

guests >= 7

Price

$

260.00 / ticket
13
GENERALE
General price:
$

260.00 / ticket
Options
guests = 1

Price

$

790.00 / ticket

guests = 2

Price

$

580.00 / ticket

guests = 3

Price

$

470.00 / ticket

guests = 4

Price

$

390.00 / ticket

guests = 5

Price

$

340.00 / ticket

guests = 6

Price

$

290.00 / ticket

guests >= 7

Price

$

260.00 / ticket
14
GENERALE
General price:
$

260.00 / ticket
Options
guests = 1

Price

$

790.00 / ticket

guests = 2

Price

$

580.00 / ticket

guests = 3

Price

$

470.00 / ticket

guests = 4

Price

$

390.00 / ticket

guests = 5

Price

$

340.00 / ticket

guests = 6

Price

$

290.00 / ticket

guests >= 7

Price

$

260.00 / ticket
15
GENERALE
General price:
$

260.00 / ticket
Options
guests = 1

Price

$

790.00 / ticket

guests = 2

Price

$

580.00 / ticket

guests = 3

Price

$

470.00 / ticket

guests = 4

Price

$

390.00 / ticket

guests = 5

Price

$

340.00 / ticket

guests = 6

Price

$

290.00 / ticket

guests >= 7

Price

$

260.00 / ticket
16
GENERALE
General price:
$

260.00 / ticket
Options
guests = 1

Price

$

790.00 / ticket

guests = 2

Price

$

580.00 / ticket

guests = 3

Price

$

470.00 / ticket

guests = 4

Price

$

390.00 / ticket

guests = 5

Price

$

340.00 / ticket

guests = 6

Price

$

290.00 / ticket

guests >= 7

Price

$

260.00 / ticket
17
GENERALE
General price:
$

260.00 / ticket
Options
guests = 1

Price

$

790.00 / ticket

guests = 2

Price

$

580.00 / ticket

guests = 3

Price

$

470.00 / ticket

guests = 4

Price

$

390.00 / ticket

guests = 5

Price

$

340.00 / ticket

guests = 6

Price

$

290.00 / ticket

guests >= 7

Price

$

260.00 / ticket
18
GENERALE
General price:
$

260.00 / ticket
Options
guests = 1

Price

$

790.00 / ticket

guests = 2

Price

$

580.00 / ticket

guests = 3

Price

$

470.00 / ticket

guests = 4

Price

$

390.00 / ticket

guests = 5

Price

$

340.00 / ticket

guests = 6

Price

$

290.00 / ticket

guests >= 7

Price

$

260.00 / ticket
19
GENERALE
General price:
$

260.00 / ticket
Options
guests = 1

Price

$

790.00 / ticket

guests = 2

Price

$

580.00 / ticket

guests = 3

Price

$

470.00 / ticket

guests = 4

Price

$

390.00 / ticket

guests = 5

Price

$

340.00 / ticket

guests = 6

Price

$

290.00 / ticket

guests >= 7

Price

$

260.00 / ticket
20
GENERALE
General price:
$

260.00 / ticket
Options
guests = 1

Price

$

790.00 / ticket

guests = 2

Price

$

580.00 / ticket

guests = 3

Price

$

470.00 / ticket

guests = 4

Price

$

390.00 / ticket

guests = 5

Price

$

340.00 / ticket

guests = 6

Price

$

290.00 / ticket

guests >= 7

Price

$

260.00 / ticket
21
GENERALE
General price:
$

260.00 / ticket
Options
guests = 1

Price

$

790.00 / ticket

guests = 2

Price

$

580.00 / ticket

guests = 3

Price

$

470.00 / ticket

guests = 4

Price

$

390.00 / ticket

guests = 5

Price

$

340.00 / ticket

guests = 6

Price

$

290.00 / ticket

guests >= 7

Price

$

260.00 / ticket
22
GENERALE
General price:
$

260.00 / ticket
Options
guests = 1

Price

$

790.00 / ticket

guests = 2

Price

$

580.00 / ticket

guests = 3

Price

$

470.00 / ticket

guests = 4

Price

$

390.00 / ticket

guests = 5

Price

$

340.00 / ticket

guests = 6

Price

$

290.00 / ticket

guests >= 7

Price

$

260.00 / ticket
23
GENERALE
General price:
$

260.00 / ticket
Options
guests = 1

Price

$

790.00 / ticket

guests = 2

Price

$

580.00 / ticket

guests = 3

Price

$

470.00 / ticket

guests = 4

Price

$

390.00 / ticket

guests = 5

Price

$

340.00 / ticket

guests = 6

Price

$

290.00 / ticket

guests >= 7

Price

$

260.00 / ticket
24
GENERALE
General price:
$

260.00 / ticket
Options
guests = 1

Price

$

790.00 / ticket

guests = 2

Price

$

580.00 / ticket

guests = 3

Price

$

470.00 / ticket

guests = 4

Price

$

390.00 / ticket

guests = 5

Price

$

340.00 / ticket

guests = 6

Price

$

290.00 / ticket

guests >= 7

Price

$

260.00 / ticket
25
GENERALE
General price:
$

260.00 / ticket
Options
guests = 1

Price

$

790.00 / ticket

guests = 2

Price

$

580.00 / ticket

guests = 3

Price

$

470.00 / ticket

guests = 4

Price

$

390.00 / ticket

guests = 5

Price

$

340.00 / ticket

guests = 6

Price

$

290.00 / ticket

guests >= 7

Price

$

260.00 / ticket
26
GENERALE
General price:
$

260.00 / ticket
Options
guests = 1

Price

$

790.00 / ticket

guests = 2

Price

$

580.00 / ticket

guests = 3

Price

$

470.00 / ticket

guests = 4

Price

$

390.00 / ticket

guests = 5

Price

$

340.00 / ticket

guests = 6

Price

$

290.00 / ticket

guests >= 7

Price

$

260.00 / ticket
27
GENERALE
General price:
$

260.00 / ticket
Options
guests = 1

Price

$

790.00 / ticket

guests = 2

Price

$

580.00 / ticket

guests = 3

Price

$

470.00 / ticket

guests = 4

Price

$

390.00 / ticket

guests = 5

Price

$

340.00 / ticket

guests = 6

Price

$

290.00 / ticket

guests >= 7

Price

$

260.00 / ticket
28
GENERALE
General price:
$

260.00 / ticket
Options
guests = 1

Price

$

790.00 / ticket

guests = 2

Price

$

580.00 / ticket

guests = 3

Price

$

470.00 / ticket

guests = 4

Price

$

390.00 / ticket

guests = 5

Price

$

340.00 / ticket

guests = 6

Price

$

290.00 / ticket

guests >= 7

Price

$

260.00 / ticket
29
GENERALE
General price:
$

260.00 / ticket
Options
guests = 1

Price

$

790.00 / ticket

guests = 2

Price

$

580.00 / ticket

guests = 3

Price

$

470.00 / ticket

guests = 4

Price

$

390.00 / ticket

guests = 5

Price

$

340.00 / ticket

guests = 6

Price

$

290.00 / ticket

guests >= 7

Price

$

260.00 / ticket
30
GENERALE
General price:
$

260.00 / ticket
Options
guests = 1

Price

$

790.00 / ticket

guests = 2

Price

$

580.00 / ticket

guests = 3

Price

$

470.00 / ticket

guests = 4

Price

$

390.00 / ticket

guests = 5

Price

$

340.00 / ticket

guests = 6

Price

$

290.00 / ticket

guests >= 7

Price

$

260.00 / ticket
1
GENERALE
General price:
$

260.00 / ticket
Options
guests = 1

Price

$

790.00 / ticket

guests = 2

Price

$

580.00 / ticket

guests = 3

Price

$

470.00 / ticket

guests = 4

Price

$

390.00 / ticket

guests = 5

Price

$

340.00 / ticket

guests = 6

Price

$

290.00 / ticket

guests >= 7

Price

$

260.00 / ticket
2
GENERALE
General price:
$

260.00 / ticket
Options
guests = 1

Price

$

790.00 / ticket

guests = 2

Price

$

580.00 / ticket

guests = 3

Price

$

470.00 / ticket

guests = 4

Price

$

390.00 / ticket

guests = 5

Price

$

340.00 / ticket

guests = 6

Price

$

290.00 / ticket

guests >= 7

Price

$

260.00 / ticket
3
GENERALE
General price:
$

260.00 / ticket
Options
guests = 1

Price

$

790.00 / ticket

guests = 2

Price

$

580.00 / ticket

guests = 3

Price

$

470.00 / ticket

guests = 4

Price

$

390.00 / ticket

guests = 5

Price

$

340.00 / ticket

guests = 6

Price

$

290.00 / ticket

guests >= 7

Price

$

260.00 / ticket
27
GENERALE
General price:
$

260.00 / ticket
Options
guests = 1

Price

$

790.00 / ticket

guests = 2

Price

$

580.00 / ticket

guests = 3

Price

$

470.00 / ticket

guests = 4

Price

$

390.00 / ticket

guests = 5

Price

$

340.00 / ticket

guests = 6

Price

$

290.00 / ticket

guests >= 7

Price

$

260.00 / ticket
28
GENERALE
General price:
$

260.00 / ticket
Options
guests = 1

Price

$

790.00 / ticket

guests = 2

Price

$

580.00 / ticket

guests = 3

Price

$

470.00 / ticket

guests = 4

Price

$

390.00 / ticket

guests = 5

Price

$

340.00 / ticket

guests = 6

Price

$

290.00 / ticket

guests >= 7

Price

$

260.00 / ticket
29
GENERALE
General price:
$

260.00 / ticket
Options
guests = 1

Price

$

790.00 / ticket

guests = 2

Price

$

580.00 / ticket

guests = 3

Price

$

470.00 / ticket

guests = 4

Price

$

390.00 / ticket

guests = 5

Price

$

340.00 / ticket

guests = 6

Price

$

290.00 / ticket

guests >= 7

Price

$

260.00 / ticket
30
GENERALE
General price:
$

260.00 / ticket
Options
guests = 1

Price

$

790.00 / ticket

guests = 2

Price

$

580.00 / ticket

guests = 3

Price

$

470.00 / ticket

guests = 4

Price

$

390.00 / ticket

guests = 5

Price

$

340.00 / ticket

guests = 6

Price

$

290.00 / ticket

guests >= 7

Price

$

260.00 / ticket
1
GENERALE
General price:
$

260.00 / ticket
Options
guests = 1

Price

$

790.00 / ticket

guests = 2

Price

$

580.00 / ticket

guests = 3

Price

$

470.00 / ticket

guests = 4

Price

$

390.00 / ticket

guests = 5

Price

$

340.00 / ticket

guests = 6

Price

$

290.00 / ticket

guests >= 7

Price

$

260.00 / ticket
2
GENERALE
General price:
$

260.00 / ticket
Options
guests = 1

Price

$

790.00 / ticket

guests = 2

Price

$

580.00 / ticket

guests = 3

Price

$

470.00 / ticket

guests = 4

Price

$

390.00 / ticket

guests = 5

Price

$

340.00 / ticket

guests = 6

Price

$

290.00 / ticket

guests >= 7

Price

$

260.00 / ticket
3
GENERALE
General price:
$

260.00 / ticket
Options
guests = 1

Price

$

790.00 / ticket

guests = 2

Price

$

580.00 / ticket

guests = 3

Price

$

470.00 / ticket

guests = 4

Price

$

390.00 / ticket

guests = 5

Price

$

340.00 / ticket

guests = 6

Price

$

290.00 / ticket

guests >= 7

Price

$

260.00 / ticket
4
GENERALE
General price:
$

260.00 / ticket
Options
guests = 1

Price

$

790.00 / ticket

guests = 2

Price

$

580.00 / ticket

guests = 3

Price

$

470.00 / ticket

guests = 4

Price

$

390.00 / ticket

guests = 5

Price

$

340.00 / ticket

guests = 6

Price

$

290.00 / ticket

guests >= 7

Price

$

260.00 / ticket
5
GENERALE
General price:
$

260.00 / ticket
Options
guests = 1

Price

$

790.00 / ticket

guests = 2

Price

$

580.00 / ticket

guests = 3

Price

$

470.00 / ticket

guests = 4

Price

$

390.00 / ticket

guests = 5

Price

$

340.00 / ticket

guests = 6

Price

$

290.00 / ticket

guests >= 7

Price

$

260.00 / ticket
6
GENERALE
General price:
$

260.00 / ticket
Options
guests = 1

Price

$

790.00 / ticket

guests = 2

Price

$

580.00 / ticket

guests = 3

Price

$

470.00 / ticket

guests = 4

Price

$

390.00 / ticket

guests = 5

Price

$

340.00 / ticket

guests = 6

Price

$

290.00 / ticket

guests >= 7

Price

$

260.00 / ticket
7
GENERALE
General price:
$

260.00 / ticket
Options
guests = 1

Price

$

790.00 / ticket

guests = 2

Price

$

580.00 / ticket

guests = 3

Price

$

470.00 / ticket

guests = 4

Price

$

390.00 / ticket

guests = 5

Price

$

340.00 / ticket

guests = 6

Price

$

290.00 / ticket

guests >= 7

Price

$

260.00 / ticket
8
GENERALE
General price:
$

260.00 / ticket
Options
guests = 1

Price

$

790.00 / ticket

guests = 2

Price

$

580.00 / ticket

guests = 3

Price

$

470.00 / ticket

guests = 4

Price

$

390.00 / ticket

guests = 5

Price

$

340.00 / ticket

guests = 6

Price

$

290.00 / ticket

guests >= 7

Price

$

260.00 / ticket
9
GENERALE
General price:
$

260.00 / ticket
Options
guests = 1

Price

$

790.00 / ticket

guests = 2

Price

$

580.00 / ticket

guests = 3

Price

$

470.00 / ticket

guests = 4

Price

$

390.00 / ticket

guests = 5

Price

$

340.00 / ticket

guests = 6

Price

$

290.00 / ticket

guests >= 7

Price

$

260.00 / ticket
10
GENERALE
General price:
$

260.00 / ticket
Options
guests = 1

Price

$

790.00 / ticket

guests = 2

Price

$

580.00 / ticket

guests = 3

Price

$

470.00 / ticket

guests = 4

Price

$

390.00 / ticket

guests = 5

Price

$

340.00 / ticket

guests = 6

Price

$

290.00 / ticket

guests >= 7

Price

$

260.00 / ticket
11
GENERALE
General price:
$

260.00 / ticket
Options
guests = 1

Price

$

790.00 / ticket

guests = 2

Price

$

580.00 / ticket

guests = 3

Price

$

470.00 / ticket

guests = 4

Price

$

390.00 / ticket

guests = 5

Price

$

340.00 / ticket

guests = 6

Price

$

290.00 / ticket

guests >= 7

Price

$

260.00 / ticket
12
GENERALE
General price:
$

260.00 / ticket
Options
guests = 1

Price

$

790.00 / ticket

guests = 2

Price

$

580.00 / ticket

guests = 3

Price

$

470.00 / ticket

guests = 4

Price

$

390.00 / ticket

guests = 5

Price

$

340.00 / ticket

guests = 6

Price

$

290.00 / ticket

guests >= 7

Price

$

260.00 / ticket
13
GENERALE
General price:
$

260.00 / ticket
Options
guests = 1

Price

$

790.00 / ticket

guests = 2

Price

$

580.00 / ticket

guests = 3

Price

$

470.00 / ticket

guests = 4

Price

$

390.00 / ticket

guests = 5

Price

$

340.00 / ticket

guests = 6

Price

$

290.00 / ticket

guests >= 7

Price

$

260.00 / ticket
14
GENERALE
General price:
$

260.00 / ticket
Options
guests = 1

Price

$

790.00 / ticket

guests = 2

Price

$

580.00 / ticket

guests = 3

Price

$

470.00 / ticket

guests = 4

Price

$

390.00 / ticket

guests = 5

Price

$

340.00 / ticket

guests = 6

Price

$

290.00 / ticket

guests >= 7

Price

$

260.00 / ticket
15
GENERALE
General price:
$

260.00 / ticket
Options
guests = 1

Price

$

790.00 / ticket

guests = 2

Price

$

580.00 / ticket

guests = 3

Price

$

470.00 / ticket

guests = 4

Price

$

390.00 / ticket

guests = 5

Price

$

340.00 / ticket

guests = 6

Price

$

290.00 / ticket

guests >= 7

Price

$

260.00 / ticket
16
GENERALE
General price:
$

260.00 / ticket
Options
guests = 1

Price

$

790.00 / ticket

guests = 2

Price

$

580.00 / ticket

guests = 3

Price

$

470.00 / ticket

guests = 4

Price

$

390.00 / ticket

guests = 5

Price

$

340.00 / ticket

guests = 6

Price

$

290.00 / ticket

guests >= 7

Price

$

260.00 / ticket
17
GENERALE
General price:
$

260.00 / ticket
Options
guests = 1

Price

$

790.00 / ticket

guests = 2

Price

$

580.00 / ticket

guests = 3

Price

$

470.00 / ticket

guests = 4

Price

$

390.00 / ticket

guests = 5

Price

$

340.00 / ticket

guests = 6

Price

$

290.00 / ticket

guests >= 7

Price

$

260.00 / ticket
18
GENERALE
General price:
$

260.00 / ticket
Options
guests = 1

Price

$

790.00 / ticket

guests = 2

Price

$

580.00 / ticket

guests = 3

Price

$

470.00 / ticket

guests = 4

Price

$

390.00 / ticket

guests = 5

Price

$

340.00 / ticket

guests = 6

Price

$

290.00 / ticket

guests >= 7

Price

$

260.00 / ticket
19
GENERALE
General price:
$

260.00 / ticket
Options
guests = 1

Price

$

790.00 / ticket

guests = 2

Price

$

580.00 / ticket

guests = 3

Price

$

470.00 / ticket

guests = 4

Price

$

390.00 / ticket

guests = 5

Price

$

340.00 / ticket

guests = 6

Price

$

290.00 / ticket

guests >= 7

Price

$

260.00 / ticket
20
GENERALE
General price:
$

260.00 / ticket
Options
guests = 1

Price

$

790.00 / ticket

guests = 2

Price

$

580.00 / ticket

guests = 3

Price

$

470.00 / ticket

guests = 4

Price

$

390.00 / ticket

guests = 5

Price

$

340.00 / ticket

guests = 6

Price

$

290.00 / ticket

guests >= 7

Price

$

260.00 / ticket
21
GENERALE
General price:
$

260.00 / ticket
Options
guests = 1

Price

$

790.00 / ticket

guests = 2

Price

$

580.00 / ticket

guests = 3

Price

$

470.00 / ticket

guests = 4

Price

$

390.00 / ticket

guests = 5

Price

$

340.00 / ticket

guests = 6

Price

$

290.00 / ticket

guests >= 7

Price

$

260.00 / ticket
22
GENERALE
General price:
$

260.00 / ticket
Options
guests = 1

Price

$

790.00 / ticket

guests = 2

Price

$

580.00 / ticket

guests = 3

Price

$

470.00 / ticket

guests = 4

Price

$

390.00 / ticket

guests = 5

Price

$

340.00 / ticket

guests = 6

Price

$

290.00 / ticket

guests >= 7

Price

$

260.00 / ticket
23
GENERALE
General price:
$

260.00 / ticket
Options
guests = 1

Price

$

790.00 / ticket

guests = 2

Price

$

580.00 / ticket

guests = 3

Price

$

470.00 / ticket

guests = 4

Price

$

390.00 / ticket

guests = 5

Price

$

340.00 / ticket

guests = 6

Price

$

290.00 / ticket

guests >= 7

Price

$

260.00 / ticket
24
GENERALE
General price:
$

260.00 / ticket
Options
guests = 1

Price

$

790.00 / ticket

guests = 2

Price

$

580.00 / ticket

guests = 3

Price

$

470.00 / ticket

guests = 4

Price

$

390.00 / ticket

guests = 5

Price

$

340.00 / ticket

guests = 6

Price

$

290.00 / ticket

guests >= 7

Price

$

260.00 / ticket
25
GENERALE
General price:
$

260.00 / ticket
Options
guests = 1

Price

$

790.00 / ticket

guests = 2

Price

$

580.00 / ticket

guests = 3

Price

$

470.00 / ticket

guests = 4

Price

$

390.00 / ticket

guests = 5

Price

$

340.00 / ticket

guests = 6

Price

$

290.00 / ticket

guests >= 7

Price

$

260.00 / ticket
26
GENERALE
General price:
$

260.00 / ticket
Options
guests = 1

Price

$

790.00 / ticket

guests = 2

Price

$

580.00 / ticket

guests = 3

Price

$

470.00 / ticket

guests = 4

Price

$

390.00 / ticket

guests = 5

Price

$

340.00 / ticket

guests = 6

Price

$

290.00 / ticket

guests >= 7

Price

$

260.00 / ticket
27
GENERALE
General price:
$

260.00 / ticket
Options
guests = 1

Price

$

790.00 / ticket

guests = 2

Price

$

580.00 / ticket

guests = 3

Price

$

470.00 / ticket

guests = 4

Price

$

390.00 / ticket

guests = 5

Price

$

340.00 / ticket

guests = 6

Price

$

290.00 / ticket

guests >= 7

Price

$

260.00 / ticket
28
GENERALE
General price:
$

260.00 / ticket
Options
guests = 1

Price

$

790.00 / ticket

guests = 2

Price

$

580.00 / ticket

guests = 3

Price

$

470.00 / ticket

guests = 4

Price

$

390.00 / ticket

guests = 5

Price

$

340.00 / ticket

guests = 6

Price

$

290.00 / ticket

guests >= 7

Price

$

260.00 / ticket
29
GENERALE
General price:
$

260.00 / ticket
Options
guests = 1

Price

$

790.00 / ticket

guests = 2

Price

$

580.00 / ticket

guests = 3

Price

$

470.00 / ticket

guests = 4

Price

$

390.00 / ticket

guests = 5

Price

$

340.00 / ticket

guests = 6

Price

$

290.00 / ticket

guests >= 7

Price

$

260.00 / ticket
30
GENERALE
General price:
$

260.00 / ticket
Options
guests = 1

Price

$

790.00 / ticket

guests = 2

Price

$

580.00 / ticket

guests = 3

Price

$

470.00 / ticket

guests = 4

Price

$

390.00 / ticket

guests = 5

Price

$

340.00 / ticket

guests = 6

Price

$

290.00 / ticket

guests >= 7

Price

$

260.00 / ticket
31
GENERALE
General price:
$

260.00 / ticket
Options
guests = 1

Price

$

790.00 / ticket

guests = 2

Price

$

580.00 / ticket

guests = 3

Price

$

470.00 / ticket

guests = 4

Price

$

390.00 / ticket

guests = 5

Price

$

340.00 / ticket

guests = 6

Price

$

290.00 / ticket

guests >= 7

Price

$

260.00 / ticket
1
GENERALE
General price:
$

260.00 / ticket
Options
guests = 1

Price

$

790.00 / ticket

guests = 2

Price

$

580.00 / ticket

guests = 3

Price

$

470.00 / ticket

guests = 4

Price

$

390.00 / ticket

guests = 5

Price

$

340.00 / ticket

guests = 6

Price

$

290.00 / ticket

guests >= 7

Price

$

260.00 / ticket
2
GENERALE
General price:
$

260.00 / ticket
Options
guests = 1

Price

$

790.00 / ticket

guests = 2

Price

$

580.00 / ticket

guests = 3

Price

$

470.00 / ticket

guests = 4

Price

$

390.00 / ticket

guests = 5

Price

$

340.00 / ticket

guests = 6

Price

$

290.00 / ticket

guests >= 7

Price

$

260.00 / ticket
3
GENERALE
General price:
$

260.00 / ticket
Options
guests = 1

Price

$

790.00 / ticket

guests = 2

Price

$

580.00 / ticket

guests = 3

Price

$

470.00 / ticket

guests = 4

Price

$

390.00 / ticket

guests = 5

Price

$

340.00 / ticket

guests = 6

Price

$

290.00 / ticket

guests >= 7

Price

$

260.00 / ticket
4
GENERALE
General price:
$

260.00 / ticket
Options
guests = 1

Price

$

790.00 / ticket

guests = 2

Price

$

580.00 / ticket

guests = 3

Price

$

470.00 / ticket

guests = 4

Price

$

390.00 / ticket

guests = 5

Price

$

340.00 / ticket

guests = 6

Price

$

290.00 / ticket

guests >= 7

Price

$

260.00 / ticket
5
GENERALE
General price:
$

260.00 / ticket
Options
guests = 1

Price

$

790.00 / ticket

guests = 2

Price

$

580.00 / ticket

guests = 3

Price

$

470.00 / ticket

guests = 4

Price

$

390.00 / ticket

guests = 5

Price

$

340.00 / ticket

guests = 6

Price

$

290.00 / ticket

guests >= 7

Price

$

260.00 / ticket
6
GENERALE
General price:
$

260.00 / ticket
Options
guests = 1

Price

$

790.00 / ticket

guests = 2

Price

$

580.00 / ticket

guests = 3

Price

$

470.00 / ticket

guests = 4

Price

$

390.00 / ticket

guests = 5

Price

$

340.00 / ticket

guests = 6

Price

$

290.00 / ticket

guests >= 7

Price

$

260.00 / ticket
7
GENERALE
General price:
$

260.00 / ticket
Options
guests = 1

Price

$

790.00 / ticket

guests = 2

Price

$

580.00 / ticket

guests = 3

Price

$

470.00 / ticket

guests = 4

Price

$

390.00 / ticket

guests = 5

Price

$

340.00 / ticket

guests = 6

Price

$

290.00 / ticket

guests >= 7

Price

$

260.00 / ticket
8
GENERALE
General price:
$

260.00 / ticket
Options
guests = 1

Price

$

790.00 / ticket

guests = 2

Price

$

580.00 / ticket

guests = 3

Price

$

470.00 / ticket

guests = 4

Price

$

390.00 / ticket

guests = 5

Price

$

340.00 / ticket

guests = 6

Price

$

290.00 / ticket

guests >= 7

Price

$

260.00 / ticket
9
GENERALE
General price:
$

260.00 / ticket
Options
guests = 1

Price

$

790.00 / ticket

guests = 2

Price

$

580.00 / ticket

guests = 3

Price

$

470.00 / ticket

guests = 4

Price

$

390.00 / ticket

guests = 5

Price

$

340.00 / ticket

guests = 6

Price

$

290.00 / ticket

guests >= 7

Price

$

260.00 / ticket
10
GENERALE
General price:
$

260.00 / ticket
Options
guests = 1

Price

$

790.00 / ticket

guests = 2

Price

$

580.00 / ticket

guests = 3

Price

$

470.00 / ticket

guests = 4

Price

$

390.00 / ticket

guests = 5

Price

$

340.00 / ticket

guests = 6

Price

$

290.00 / ticket

guests >= 7

Price

$

260.00 / ticket
11
GENERALE
General price:
$

260.00 / ticket
Options
guests = 1

Price

$

790.00 / ticket

guests = 2

Price

$

580.00 / ticket

guests = 3

Price

$

470.00 / ticket

guests = 4

Price

$

390.00 / ticket

guests = 5

Price

$

340.00 / ticket

guests = 6

Price

$

290.00 / ticket

guests >= 7

Price

$

260.00 / ticket
12
GENERALE
General price:
$

260.00 / ticket
Options
guests = 1

Price

$

790.00 / ticket

guests = 2

Price

$

580.00 / ticket

guests = 3

Price

$

470.00 / ticket

guests = 4

Price

$

390.00 / ticket

guests = 5

Price

$

340.00 / ticket

guests = 6

Price

$

290.00 / ticket

guests >= 7

Price

$

260.00 / ticket
13
GENERALE
General price:
$

260.00 / ticket
Options
guests = 1

Price

$

790.00 / ticket

guests = 2

Price

$

580.00 / ticket

guests = 3

Price

$

470.00 / ticket

guests = 4

Price

$

390.00 / ticket

guests = 5

Price

$

340.00 / ticket

guests = 6

Price

$

290.00 / ticket

guests >= 7

Price

$

260.00 / ticket
14
GENERALE
General price:
$

260.00 / ticket
Options
guests = 1

Price

$

790.00 / ticket

guests = 2

Price

$

580.00 / ticket

guests = 3

Price

$

470.00 / ticket

guests = 4

Price

$

390.00 / ticket

guests = 5

Price

$

340.00 / ticket

guests = 6

Price

$

290.00 / ticket

guests >= 7

Price

$

260.00 / ticket
15
GENERALE
General price:
$

260.00 / ticket
Options
guests = 1

Price

$

790.00 / ticket

guests = 2

Price

$

580.00 / ticket

guests = 3

Price

$

470.00 / ticket

guests = 4

Price

$

390.00 / ticket

guests = 5

Price

$

340.00 / ticket

guests = 6

Price

$

290.00 / ticket

guests >= 7

Price

$

260.00 / ticket
16
GENERALE
General price:
$

260.00 / ticket
Options
guests = 1

Price

$

790.00 / ticket

guests = 2

Price

$

580.00 / ticket

guests = 3

Price

$

470.00 / ticket

guests = 4

Price

$

390.00 / ticket

guests = 5

Price

$

340.00 / ticket

guests = 6

Price

$

290.00 / ticket

guests >= 7

Price

$

260.00 / ticket
17
GENERALE
General price:
$

260.00 / ticket
Options
guests = 1

Price

$

790.00 / ticket

guests = 2

Price

$

580.00 / ticket

guests = 3

Price

$

470.00 / ticket

guests = 4

Price

$

390.00 / ticket

guests = 5

Price

$

340.00 / ticket

guests = 6

Price

$

290.00 / ticket

guests >= 7

Price

$

260.00 / ticket
18
GENERALE
General price:
$

260.00 / ticket
Options
guests = 1

Price

$

790.00 / ticket

guests = 2

Price

$

580.00 / ticket

guests = 3

Price

$

470.00 / ticket

guests = 4

Price

$

390.00 / ticket

guests = 5

Price

$

340.00 / ticket

guests = 6

Price

$

290.00 / ticket

guests >= 7

Price

$

260.00 / ticket
19
GENERALE
General price:
$

260.00 / ticket
Options
guests = 1

Price

$

790.00 / ticket

guests = 2

Price

$

580.00 / ticket

guests = 3

Price

$

470.00 / ticket

guests = 4

Price

$

390.00 / ticket

guests = 5

Price

$

340.00 / ticket

guests = 6

Price

$

290.00 / ticket

guests >= 7

Price

$

260.00 / ticket
20
GENERALE
General price:
$

260.00 / ticket
Options
guests = 1

Price

$

790.00 / ticket

guests = 2

Price

$

580.00 / ticket

guests = 3

Price

$

470.00 / ticket

guests = 4

Price

$

390.00 / ticket

guests = 5

Price

$

340.00 / ticket

guests = 6

Price

$

290.00 / ticket

guests >= 7

Price

$

260.00 / ticket
21
GENERALE
General price:
$

260.00 / ticket
Options
guests = 1

Price

$

790.00 / ticket

guests = 2

Price

$

580.00 / ticket

guests = 3

Price

$

470.00 / ticket

guests = 4

Price

$

390.00 / ticket

guests = 5

Price

$

340.00 / ticket

guests = 6

Price

$

290.00 / ticket

guests >= 7

Price

$

260.00 / ticket
22
GENERALE
General price:
$

260.00 / ticket
Options
guests = 1

Price

$

790.00 / ticket

guests = 2

Price

$

580.00 / ticket

guests = 3

Price

$

470.00 / ticket

guests = 4

Price

$

390.00 / ticket

guests = 5

Price

$

340.00 / ticket

guests = 6

Price

$

290.00 / ticket

guests >= 7

Price

$

260.00 / ticket
23
GENERALE
General price:
$

260.00 / ticket
Options
guests = 1

Price

$

790.00 / ticket

guests = 2

Price

$

580.00 / ticket

guests = 3

Price

$

470.00 / ticket

guests = 4

Price

$

390.00 / ticket

guests = 5

Price

$

340.00 / ticket

guests = 6

Price

$

290.00 / ticket

guests >= 7

Price

$

260.00 / ticket
24
GENERALE
General price:
$

260.00 / ticket
Options
guests = 1

Price

$

790.00 / ticket

guests = 2

Price

$

580.00 / ticket

guests = 3

Price

$

470.00 / ticket

guests = 4

Price

$

390.00 / ticket

guests = 5

Price

$

340.00 / ticket

guests = 6

Price

$

290.00 / ticket

guests >= 7

Price

$

260.00 / ticket
25
GENERALE
General price:
$

260.00 / ticket
Options
guests = 1

Price

$

790.00 / ticket

guests = 2

Price

$

580.00 / ticket

guests = 3

Price

$

470.00 / ticket

guests = 4

Price

$

390.00 / ticket

guests = 5

Price

$

340.00 / ticket

guests = 6

Price

$

290.00 / ticket

guests >= 7

Price

$

260.00 / ticket
26
GENERALE
General price:
$

260.00 / ticket
Options
guests = 1

Price

$

790.00 / ticket

guests = 2

Price

$

580.00 / ticket

guests = 3

Price

$

470.00 / ticket

guests = 4

Price

$

390.00 / ticket

guests = 5

Price

$

340.00 / ticket

guests = 6

Price

$

290.00 / ticket

guests >= 7

Price

$

260.00 / ticket
27
GENERALE
General price:
$

260.00 / ticket
Options
guests = 1

Price

$

790.00 / ticket

guests = 2

Price

$

580.00 / ticket

guests = 3

Price

$

470.00 / ticket

guests = 4

Price

$

390.00 / ticket

guests = 5

Price

$

340.00 / ticket

guests = 6

Price

$

290.00 / ticket

guests >= 7

Price

$

260.00 / ticket
28
GENERALE
General price:
$

260.00 / ticket
Options
guests = 1

Price

$

790.00 / ticket

guests = 2

Price

$

580.00 / ticket

guests = 3

Price

$

470.00 / ticket

guests = 4

Price

$

390.00 / ticket

guests = 5

Price

$

340.00 / ticket

guests = 6

Price

$

290.00 / ticket

guests >= 7

Price

$

260.00 / ticket
29
GENERALE
General price:
$

260.00 / ticket
Options
guests = 1

Price

$

790.00 / ticket

guests = 2

Price

$

580.00 / ticket

guests = 3

Price

$

470.00 / ticket

guests = 4

Price

$

390.00 / ticket

guests = 5

Price

$

340.00 / ticket

guests = 6

Price

$

290.00 / ticket

guests >= 7

Price

$

260.00 / ticket
30
GENERALE
General price:
$

260.00 / ticket
Options
guests = 1

Price

$

790.00 / ticket

guests = 2

Price

$

580.00 / ticket

guests = 3

Price

$

470.00 / ticket

guests = 4

Price

$

390.00 / ticket

guests = 5

Price

$

340.00 / ticket

guests = 6

Price

$

290.00 / ticket

guests >= 7

Price

$

260.00 / ticket
31
GENERALE
General price:
$

260.00 / ticket
Options
guests = 1

Price

$

790.00 / ticket

guests = 2

Price

$

580.00 / ticket

guests = 3

Price

$

470.00 / ticket

guests = 4

Price

$

390.00 / ticket

guests = 5

Price

$

340.00 / ticket

guests = 6

Price

$

290.00 / ticket

guests >= 7

Price

$

260.00 / ticket
1
GENERALE
General price:
$

260.00 / ticket
Options
guests = 1

Price

$

790.00 / ticket

guests = 2

Price

$

580.00 / ticket

guests = 3

Price

$

470.00 / ticket

guests = 4

Price

$

390.00 / ticket

guests = 5

Price

$

340.00 / ticket

guests = 6

Price

$

290.00 / ticket

guests >= 7

Price

$

260.00 / ticket
2
GENERALE
General price:
$

260.00 / ticket
Options
guests = 1

Price

$

790.00 / ticket

guests = 2

Price

$

580.00 / ticket

guests = 3

Price

$

470.00 / ticket

guests = 4

Price

$

390.00 / ticket

guests = 5

Price

$

340.00 / ticket

guests = 6

Price

$

290.00 / ticket

guests >= 7

Price

$

260.00 / ticket
3
GENERALE
General price:
$

260.00 / ticket
Options
guests = 1

Price

$

790.00 / ticket

guests = 2

Price

$

580.00 / ticket

guests = 3

Price

$

470.00 / ticket

guests = 4

Price

$

390.00 / ticket

guests = 5

Price

$

340.00 / ticket

guests = 6

Price

$

290.00 / ticket

guests >= 7

Price

$

260.00 / ticket
4
GENERALE
General price:
$

260.00 / ticket
Options
guests = 1

Price

$

790.00 / ticket

guests = 2

Price

$

580.00 / ticket

guests = 3

Price

$

470.00 / ticket

guests = 4

Price

$

390.00 / ticket

guests = 5

Price

$

340.00 / ticket

guests = 6

Price

$

290.00 / ticket

guests >= 7

Price

$

260.00 / ticket
29
GENERALE
General price:
$

260.00 / ticket
Options
guests = 1

Price

$

790.00 / ticket

guests = 2

Price

$

580.00 / ticket

guests = 3

Price

$

470.00 / ticket

guests = 4

Price

$

390.00 / ticket

guests = 5

Price

$

340.00 / ticket

guests = 6

Price

$

290.00 / ticket

guests >= 7

Price

$

260.00 / ticket
30
GENERALE
General price:
$

260.00 / ticket
Options
guests = 1

Price

$

790.00 / ticket

guests = 2

Price

$

580.00 / ticket

guests = 3

Price

$

470.00 / ticket

guests = 4

Price

$

390.00 / ticket

guests = 5

Price

$

340.00 / ticket

guests = 6

Price

$

290.00 / ticket

guests >= 7

Price

$

260.00 / ticket
31
GENERALE
General price:
$

260.00 / ticket
Options
guests = 1

Price

$

790.00 / ticket

guests = 2

Price

$

580.00 / ticket

guests = 3

Price

$

470.00 / ticket

guests = 4

Price

$

390.00 / ticket

guests = 5

Price

$

340.00 / ticket

guests = 6

Price

$

290.00 / ticket

guests >= 7

Price

$

260.00 / ticket
1
GENERALE
General price:
$

260.00 / ticket
Options
guests = 1

Price

$

790.00 / ticket

guests = 2

Price

$

580.00 / ticket

guests = 3

Price

$

470.00 / ticket

guests = 4

Price

$

390.00 / ticket

guests = 5

Price

$

340.00 / ticket

guests = 6

Price

$

290.00 / ticket

guests >= 7

Price

$

260.00 / ticket
2
GENERALE
General price:
$

260.00 / ticket
Options
guests = 1

Price

$

790.00 / ticket

guests = 2

Price

$

580.00 / ticket

guests = 3

Price

$

470.00 / ticket

guests = 4

Price

$

390.00 / ticket

guests = 5

Price

$

340.00 / ticket

guests = 6

Price

$

290.00 / ticket

guests >= 7

Price

$

260.00 / ticket
3
GENERALE
General price:
$

260.00 / ticket
Options
guests = 1

Price

$

790.00 / ticket

guests = 2

Price

$

580.00 / ticket

guests = 3

Price

$

470.00 / ticket

guests = 4

Price

$

390.00 / ticket

guests = 5

Price

$

340.00 / ticket

guests = 6

Price

$

290.00 / ticket

guests >= 7

Price

$

260.00 / ticket
4
GENERALE
General price:
$

260.00 / ticket
Options
guests = 1

Price

$

790.00 / ticket

guests = 2

Price

$

580.00 / ticket

guests = 3

Price

$

470.00 / ticket

guests = 4

Price

$

390.00 / ticket

guests = 5

Price

$

340.00 / ticket

guests = 6

Price

$

290.00 / ticket

guests >= 7

Price

$

260.00 / ticket
5
GENERALE
General price:
$

260.00 / ticket
Options
guests = 1

Price

$

790.00 / ticket

guests = 2

Price

$

580.00 / ticket

guests = 3

Price

$

470.00 / ticket

guests = 4

Price

$

390.00 / ticket

guests = 5

Price

$

340.00 / ticket

guests = 6

Price

$

290.00 / ticket

guests >= 7

Price

$

260.00 / ticket
6
GENERALE
General price:
$

260.00 / ticket
Options
guests = 1

Price

$

790.00 / ticket

guests = 2

Price

$

580.00 / ticket

guests = 3

Price

$

470.00 / ticket

guests = 4

Price

$

390.00 / ticket

guests = 5

Price

$

340.00 / ticket

guests = 6

Price

$

290.00 / ticket

guests >= 7

Price

$

260.00 / ticket
7
GENERALE
General price:
$

260.00 / ticket
Options
guests = 1

Price

$

790.00 / ticket

guests = 2

Price

$

580.00 / ticket

guests = 3

Price

$

470.00 / ticket

guests = 4

Price

$

390.00 / ticket

guests = 5

Price

$

340.00 / ticket

guests = 6

Price

$

290.00 / ticket

guests >= 7

Price

$

260.00 / ticket
8
GENERALE
General price:
$

260.00 / ticket
Options
guests = 1

Price

$

790.00 / ticket

guests = 2

Price

$

580.00 / ticket

guests = 3

Price

$

470.00 / ticket

guests = 4

Price

$

390.00 / ticket

guests = 5

Price

$

340.00 / ticket

guests = 6

Price

$

290.00 / ticket

guests >= 7

Price

$

260.00 / ticket
9
GENERALE
General price:
$

260.00 / ticket
Options
guests = 1

Price

$

790.00 / ticket

guests = 2

Price

$

580.00 / ticket

guests = 3

Price

$

470.00 / ticket

guests = 4

Price

$

390.00 / ticket

guests = 5

Price

$

340.00 / ticket

guests = 6

Price

$

290.00 / ticket

guests >= 7

Price

$

260.00 / ticket
10
GENERALE
General price:
$

260.00 / ticket
Options
guests = 1

Price

$

790.00 / ticket

guests = 2

Price

$

580.00 / ticket

guests = 3

Price

$

470.00 / ticket

guests = 4

Price

$

390.00 / ticket

guests = 5

Price

$

340.00 / ticket

guests = 6

Price

$

290.00 / ticket

guests >= 7

Price

$

260.00 / ticket
11
GENERALE
General price:
$

260.00 / ticket
Options
guests = 1

Price

$

790.00 / ticket

guests = 2

Price

$

580.00 / ticket

guests = 3

Price

$

470.00 / ticket

guests = 4

Price

$

390.00 / ticket

guests = 5

Price

$

340.00 / ticket

guests = 6

Price

$

290.00 / ticket

guests >= 7

Price

$

260.00 / ticket
12
GENERALE
General price:
$

260.00 / ticket
Options
guests = 1

Price

$

790.00 / ticket

guests = 2

Price

$

580.00 / ticket

guests = 3

Price

$

470.00 / ticket

guests = 4

Price

$

390.00 / ticket

guests = 5

Price

$

340.00 / ticket

guests = 6

Price

$

290.00 / ticket

guests >= 7

Price

$

260.00 / ticket
13
GENERALE
General price:
$

260.00 / ticket
Options
guests = 1

Price

$

790.00 / ticket

guests = 2

Price

$

580.00 / ticket

guests = 3

Price

$

470.00 / ticket

guests = 4

Price

$

390.00 / ticket

guests = 5

Price

$

340.00 / ticket

guests = 6

Price

$

290.00 / ticket

guests >= 7

Price

$

260.00 / ticket
14
GENERALE
General price:
$

260.00 / ticket
Options
guests = 1

Price

$

790.00 / ticket

guests = 2

Price

$

580.00 / ticket

guests = 3

Price

$

470.00 / ticket

guests = 4

Price

$

390.00 / ticket

guests = 5

Price

$

340.00 / ticket

guests = 6

Price

$

290.00 / ticket

guests >= 7

Price

$

260.00 / ticket
15
GENERALE
General price:
$

260.00 / ticket
Options
guests = 1

Price

$

790.00 / ticket

guests = 2

Price

$

580.00 / ticket

guests = 3

Price

$

470.00 / ticket

guests = 4

Price

$

390.00 / ticket

guests = 5

Price

$

340.00 / ticket

guests = 6

Price

$

290.00 / ticket

guests >= 7

Price

$

260.00 / ticket
16
GENERALE
General price:
$

260.00 / ticket
Options
guests = 1

Price

$

790.00 / ticket

guests = 2

Price

$

580.00 / ticket

guests = 3

Price

$

470.00 / ticket

guests = 4

Price

$

390.00 / ticket

guests = 5

Price

$

340.00 / ticket

guests = 6

Price

$

290.00 / ticket

guests >= 7

Price

$

260.00 / ticket
17
GENERALE
General price:
$

260.00 / ticket
Options
guests = 1

Price

$

790.00 / ticket

guests = 2

Price

$

580.00 / ticket

guests = 3

Price

$

470.00 / ticket

guests = 4

Price

$

390.00 / ticket

guests = 5

Price

$

340.00 / ticket

guests = 6

Price

$

290.00 / ticket

guests >= 7

Price

$

260.00 / ticket
18
GENERALE
General price:
$

260.00 / ticket
Options
guests = 1

Price

$

790.00 / ticket

guests = 2

Price

$

580.00 / ticket

guests = 3

Price

$

470.00 / ticket

guests = 4

Price

$

390.00 / ticket

guests = 5

Price

$

340.00 / ticket

guests = 6

Price

$

290.00 / ticket

guests >= 7

Price

$

260.00 / ticket
19
GENERALE
General price:
$

260.00 / ticket
Options
guests = 1

Price

$

790.00 / ticket

guests = 2

Price

$

580.00 / ticket

guests = 3

Price

$

470.00 / ticket

guests = 4

Price

$

390.00 / ticket

guests = 5

Price

$

340.00 / ticket

guests = 6

Price

$

290.00 / ticket

guests >= 7

Price

$

260.00 / ticket
20
GENERALE
General price:
$

260.00 / ticket
Options
guests = 1

Price

$

790.00 / ticket

guests = 2

Price

$

580.00 / ticket

guests = 3

Price

$

470.00 / ticket

guests = 4

Price

$

390.00 / ticket

guests = 5

Price

$

340.00 / ticket

guests = 6

Price

$

290.00 / ticket

guests >= 7

Price

$

260.00 / ticket
21
GENERALE
General price:
$

260.00 / ticket
Options
guests = 1

Price

$

790.00 / ticket

guests = 2

Price

$

580.00 / ticket

guests = 3

Price

$

470.00 / ticket

guests = 4

Price

$

390.00 / ticket

guests = 5

Price

$

340.00 / ticket

guests = 6

Price

$

290.00 / ticket

guests >= 7

Price

$

260.00 / ticket
22
GENERALE
General price:
$

260.00 / ticket
Options
guests = 1

Price

$

790.00 / ticket

guests = 2

Price

$

580.00 / ticket

guests = 3

Price

$

470.00 / ticket

guests = 4

Price

$

390.00 / ticket

guests = 5

Price

$

340.00 / ticket

guests = 6

Price

$

290.00 / ticket

guests >= 7

Price

$

260.00 / ticket
23
GENERALE
General price:
$

260.00 / ticket
Options
guests = 1

Price

$

790.00 / ticket

guests = 2

Price

$

580.00 / ticket

guests = 3

Price

$

470.00 / ticket

guests = 4

Price

$

390.00 / ticket

guests = 5

Price

$

340.00 / ticket

guests = 6

Price

$

290.00 / ticket

guests >= 7

Price

$

260.00 / ticket
24
GENERALE
General price:
$

260.00 / ticket
Options
guests = 1

Price

$

790.00 / ticket

guests = 2

Price

$

580.00 / ticket

guests = 3

Price

$

470.00 / ticket

guests = 4

Price

$

390.00 / ticket

guests = 5

Price

$

340.00 / ticket

guests = 6

Price

$

290.00 / ticket

guests >= 7

Price

$

260.00 / ticket
25
GENERALE
General price:
$

260.00 / ticket
Options
guests = 1

Price

$

790.00 / ticket

guests = 2

Price

$

580.00 / ticket

guests = 3

Price

$

470.00 / ticket

guests = 4

Price

$

390.00 / ticket

guests = 5

Price

$

340.00 / ticket

guests = 6

Price

$

290.00 / ticket

guests >= 7

Price

$

260.00 / ticket
26
GENERALE
General price:
$

260.00 / ticket
Options
guests = 1

Price

$

790.00 / ticket

guests = 2

Price

$

580.00 / ticket

guests = 3

Price

$

470.00 / ticket

guests = 4

Price

$

390.00 / ticket

guests = 5

Price

$

340.00 / ticket

guests = 6

Price

$

290.00 / ticket

guests >= 7

Price

$

260.00 / ticket
27
GENERALE
General price:
$

260.00 / ticket
Options
guests = 1

Price

$

790.00 / ticket

guests = 2

Price

$

580.00 / ticket

guests = 3

Price

$

470.00 / ticket

guests = 4

Price

$

390.00 / ticket

guests = 5

Price

$

340.00 / ticket

guests = 6

Price

$

290.00 / ticket

guests >= 7

Price

$

260.00 / ticket
28
GENERALE
General price:
$

260.00 / ticket
Options
guests = 1

Price

$

790.00 / ticket

guests = 2

Price

$

580.00 / ticket

guests = 3

Price

$

470.00 / ticket

guests = 4

Price

$

390.00 / ticket

guests = 5

Price

$

340.00 / ticket

guests = 6

Price

$

290.00 / ticket

guests >= 7

Price

$

260.00 / ticket
29
GENERALE
General price:
$

260.00 / ticket
Options
guests = 1

Price

$

790.00 / ticket

guests = 2

Price

$

580.00 / ticket

guests = 3

Price

$

470.00 / ticket

guests = 4

Price

$

390.00 / ticket

guests = 5

Price

$

340.00 / ticket

guests = 6

Price

$

290.00 / ticket

guests >= 7

Price

$

260.00 / ticket
30
GENERALE
General price:
$

260.00 / ticket
Options
guests = 1

Price

$

790.00 / ticket

guests = 2

Price

$

580.00 / ticket

guests = 3

Price

$

470.00 / ticket

guests = 4

Price

$

390.00 / ticket

guests = 5

Price

$

340.00 / ticket

guests = 6

Price

$

290.00 / ticket

guests >= 7

Price

$

260.00 / ticket
1
GENERALE
General price:
$

260.00 / ticket
Options
guests = 1

Price

$

790.00 / ticket

guests = 2

Price

$

580.00 / ticket

guests = 3

Price

$

470.00 / ticket

guests = 4

Price

$

390.00 / ticket

guests = 5

Price

$

340.00 / ticket

guests = 6

Price

$

290.00 / ticket

guests >= 7

Price

$

260.00 / ticket
2
GENERALE
General price:
$

260.00 / ticket
Options
guests = 1

Price

$

790.00 / ticket

guests = 2

Price

$

580.00 / ticket

guests = 3

Price

$

470.00 / ticket

guests = 4

Price

$

390.00 / ticket

guests = 5

Price

$

340.00 / ticket

guests = 6

Price

$

290.00 / ticket

guests >= 7

Price

$

260.00 / ticket
26
GENERALE
General price:
$

260.00 / ticket
Options
guests = 1

Price

$

790.00 / ticket

guests = 2

Price

$

580.00 / ticket

guests = 3

Price

$

470.00 / ticket

guests = 4

Price

$

390.00 / ticket

guests = 5

Price

$

340.00 / ticket

guests = 6

Price

$

290.00 / ticket

guests >= 7

Price

$

260.00 / ticket
27
GENERALE
General price:
$

260.00 / ticket
Options
guests = 1

Price

$

790.00 / ticket

guests = 2

Price

$

580.00 / ticket

guests = 3

Price

$

470.00 / ticket

guests = 4

Price

$

390.00 / ticket

guests = 5

Price

$

340.00 / ticket

guests = 6

Price

$

290.00 / ticket

guests >= 7

Price

$

260.00 / ticket
28
GENERALE
General price:
$

260.00 / ticket
Options
guests = 1

Price

$

790.00 / ticket

guests = 2

Price

$

580.00 / ticket

guests = 3

Price

$

470.00 / ticket

guests = 4

Price

$

390.00 / ticket

guests = 5

Price

$

340.00 / ticket

guests = 6

Price

$

290.00 / ticket

guests >= 7

Price

$

260.00 / ticket
29
GENERALE
General price:
$

260.00 / ticket
Options
guests = 1

Price

$

790.00 / ticket

guests = 2

Price

$

580.00 / ticket

guests = 3

Price

$

470.00 / ticket

guests = 4

Price

$

390.00 / ticket

guests = 5

Price

$

340.00 / ticket

guests = 6

Price

$

290.00 / ticket

guests >= 7

Price

$

260.00 / ticket
30
GENERALE
General price:
$

260.00 / ticket
Options
guests = 1

Price

$

790.00 / ticket

guests = 2

Price

$

580.00 / ticket

guests = 3

Price

$

470.00 / ticket

guests = 4

Price

$

390.00 / ticket

guests = 5

Price

$

340.00 / ticket

guests = 6

Price

$

290.00 / ticket

guests >= 7

Price

$

260.00 / ticket
1
GENERALE
General price:
$

260.00 / ticket
Options
guests = 1

Price

$

790.00 / ticket

guests = 2

Price

$

580.00 / ticket

guests = 3

Price

$

470.00 / ticket

guests = 4

Price

$

390.00 / ticket

guests = 5

Price

$

340.00 / ticket

guests = 6

Price

$

290.00 / ticket

guests >= 7

Price

$

260.00 / ticket
2
GENERALE
General price:
$

260.00 / ticket
Options
guests = 1

Price

$

790.00 / ticket

guests = 2

Price

$

580.00 / ticket

guests = 3

Price

$

470.00 / ticket

guests = 4

Price

$

390.00 / ticket

guests = 5

Price

$

340.00 / ticket

guests = 6

Price

$

290.00 / ticket

guests >= 7

Price

$

260.00 / ticket
3
GENERALE
General price:
$

260.00 / ticket
Options
guests = 1

Price

$

790.00 / ticket

guests = 2

Price

$

580.00 / ticket

guests = 3

Price

$

470.00 / ticket

guests = 4

Price

$

390.00 / ticket

guests = 5

Price

$

340.00 / ticket

guests = 6

Price

$

290.00 / ticket

guests >= 7

Price

$

260.00 / ticket
4
GENERALE
General price:
$

260.00 / ticket
Options
guests = 1

Price

$

790.00 / ticket

guests = 2

Price

$

580.00 / ticket

guests = 3

Price

$

470.00 / ticket

guests = 4

Price

$

390.00 / ticket

guests = 5

Price

$

340.00 / ticket

guests = 6

Price

$

290.00 / ticket

guests >= 7

Price

$

260.00 / ticket
5
GENERALE
General price:
$

260.00 / ticket
Options
guests = 1

Price

$

790.00 / ticket

guests = 2

Price

$

580.00 / ticket

guests = 3

Price

$

470.00 / ticket

guests = 4

Price

$

390.00 / ticket

guests = 5

Price

$

340.00 / ticket

guests = 6

Price

$

290.00 / ticket

guests >= 7

Price

$

260.00 / ticket
6
GENERALE
General price:
$

260.00 / ticket
Options
guests = 1

Price

$

790.00 / ticket

guests = 2

Price

$

580.00 / ticket

guests = 3

Price

$

470.00 / ticket

guests = 4

Price

$

390.00 / ticket

guests = 5

Price

$

340.00 / ticket

guests = 6

Price

$

290.00 / ticket

guests >= 7

Price

$

260.00 / ticket
7
GENERALE
General price:
$

260.00 / ticket
Options
guests = 1

Price

$

790.00 / ticket

guests = 2

Price

$

580.00 / ticket

guests = 3

Price

$

470.00 / ticket

guests = 4

Price

$

390.00 / ticket

guests = 5

Price

$

340.00 / ticket

guests = 6

Price

$

290.00 / ticket

guests >= 7

Price

$

260.00 / ticket
8
GENERALE
General price:
$

260.00 / ticket
Options
guests = 1

Price

$

790.00 / ticket

guests = 2

Price

$

580.00 / ticket

guests = 3

Price

$

470.00 / ticket

guests = 4

Price

$

390.00 / ticket

guests = 5

Price

$

340.00 / ticket

guests = 6

Price

$

290.00 / ticket

guests >= 7

Price

$

260.00 / ticket
9
GENERALE
General price:
$

260.00 / ticket
Options
guests = 1

Price

$

790.00 / ticket

guests = 2

Price

$

580.00 / ticket

guests = 3

Price

$

470.00 / ticket

guests = 4

Price

$

390.00 / ticket

guests = 5

Price

$

340.00 / ticket

guests = 6

Price

$

290.00 / ticket

guests >= 7

Price

$

260.00 / ticket
10
GENERALE
General price:
$

260.00 / ticket
Options
guests = 1

Price

$

790.00 / ticket

guests = 2

Price

$

580.00 / ticket

guests = 3

Price

$

470.00 / ticket

guests = 4

Price

$

390.00 / ticket

guests = 5

Price

$

340.00 / ticket

guests = 6

Price

$

290.00 / ticket

guests >= 7

Price

$

260.00 / ticket
11
GENERALE
General price:
$

260.00 / ticket
Options
guests = 1

Price

$

790.00 / ticket

guests = 2

Price

$

580.00 / ticket

guests = 3

Price

$

470.00 / ticket

guests = 4

Price

$

390.00 / ticket

guests = 5

Price

$

340.00 / ticket

guests = 6

Price

$

290.00 / ticket

guests >= 7

Price

$

260.00 / ticket
12
GENERALE
General price:
$

260.00 / ticket
Options
guests = 1

Price

$

790.00 / ticket

guests = 2

Price

$

580.00 / ticket

guests = 3

Price

$

470.00 / ticket

guests = 4

Price

$

390.00 / ticket

guests = 5

Price

$

340.00 / ticket

guests = 6

Price

$

290.00 / ticket

guests >= 7

Price

$

260.00 / ticket
13
GENERALE
General price:
$

260.00 / ticket
Options
guests = 1

Price

$

790.00 / ticket

guests = 2

Price

$

580.00 / ticket

guests = 3

Price

$

470.00 / ticket

guests = 4

Price

$

390.00 / ticket

guests = 5

Price

$

340.00 / ticket

guests = 6

Price

$

290.00 / ticket

guests >= 7

Price

$

260.00 / ticket
14
GENERALE
General price:
$

260.00 / ticket
Options
guests = 1

Price

$

790.00 / ticket

guests = 2

Price

$

580.00 / ticket

guests = 3

Price

$

470.00 / ticket

guests = 4

Price

$

390.00 / ticket

guests = 5

Price

$

340.00 / ticket

guests = 6

Price

$

290.00 / ticket

guests >= 7

Price

$

260.00 / ticket
15
GENERALE
General price:
$

260.00 / ticket
Options
guests = 1

Price

$

790.00 / ticket

guests = 2

Price

$

580.00 / ticket

guests = 3

Price

$

470.00 / ticket

guests = 4

Price

$

390.00 / ticket

guests = 5

Price

$

340.00 / ticket

guests = 6

Price

$

290.00 / ticket

guests >= 7

Price

$

260.00 / ticket
16
GENERALE
General price:
$

260.00 / ticket
Options
guests = 1

Price

$

790.00 / ticket

guests = 2

Price

$

580.00 / ticket

guests = 3

Price

$

470.00 / ticket

guests = 4

Price

$

390.00 / ticket

guests = 5

Price

$

340.00 / ticket

guests = 6

Price

$

290.00 / ticket

guests >= 7

Price

$

260.00 / ticket
17
GENERALE
General price:
$

260.00 / ticket
Options
guests = 1

Price

$

790.00 / ticket

guests = 2

Price

$

580.00 / ticket

guests = 3

Price

$

470.00 / ticket

guests = 4

Price

$

390.00 / ticket

guests = 5

Price

$

340.00 / ticket

guests = 6

Price

$

290.00 / ticket

guests >= 7

Price

$

260.00 / ticket
18
GENERALE
General price:
$

260.00 / ticket
Options
guests = 1

Price

$

790.00 / ticket

guests = 2

Price

$

580.00 / ticket

guests = 3

Price

$

470.00 / ticket

guests = 4

Price

$

390.00 / ticket

guests = 5

Price

$

340.00 / ticket

guests = 6

Price

$

290.00 / ticket

guests >= 7

Price

$

260.00 / ticket
19
GENERALE
General price:
$

260.00 / ticket
Options
guests = 1

Price

$

790.00 / ticket

guests = 2

Price

$

580.00 / ticket

guests = 3

Price

$

470.00 / ticket

guests = 4

Price

$

390.00 / ticket

guests = 5

Price

$

340.00 / ticket

guests = 6

Price

$

290.00 / ticket

guests >= 7

Price

$

260.00 / ticket
20
GENERALE
General price:
$

260.00 / ticket
Options
guests = 1

Price

$

790.00 / ticket

guests = 2

Price

$

580.00 / ticket

guests = 3

Price

$

470.00 / ticket

guests = 4

Price

$

390.00 / ticket

guests = 5

Price

$

340.00 / ticket

guests = 6

Price

$

290.00 / ticket

guests >= 7

Price

$

260.00 / ticket
21
GENERALE
General price:
$

260.00 / ticket
Options
guests = 1

Price

$

790.00 / ticket

guests = 2

Price

$

580.00 / ticket

guests = 3

Price

$

470.00 / ticket

guests = 4

Price

$

390.00 / ticket

guests = 5

Price

$

340.00 / ticket

guests = 6

Price

$

290.00 / ticket

guests >= 7

Price

$

260.00 / ticket
22
GENERALE
General price:
$

260.00 / ticket
Options
guests = 1

Price

$

790.00 / ticket

guests = 2

Price

$

580.00 / ticket

guests = 3

Price

$

470.00 / ticket

guests = 4

Price

$

390.00 / ticket

guests = 5

Price

$

340.00 / ticket

guests = 6

Price

$

290.00 / ticket

guests >= 7

Price

$

260.00 / ticket
23
GENERALE
General price:
$

260.00 / ticket
Options
guests = 1

Price

$

790.00 / ticket

guests = 2

Price

$

580.00 / ticket

guests = 3

Price

$

470.00 / ticket

guests = 4

Price

$

390.00 / ticket

guests = 5

Price

$

340.00 / ticket

guests = 6

Price

$

290.00 / ticket

guests >= 7

Price

$

260.00 / ticket
24
GENERALE
General price:
$

260.00 / ticket
Options
guests = 1

Price

$

790.00 / ticket

guests = 2

Price

$

580.00 / ticket

guests = 3

Price

$

470.00 / ticket

guests = 4

Price

$

390.00 / ticket

guests = 5

Price

$

340.00 / ticket

guests = 6

Price

$

290.00 / ticket

guests >= 7

Price

$

260.00 / ticket
25
GENERALE
General price:
$

260.00 / ticket
Options
guests = 1

Price

$

790.00 / ticket

guests = 2

Price

$

580.00 / ticket

guests = 3

Price

$

470.00 / ticket

guests = 4

Price

$

390.00 / ticket

guests = 5

Price

$

340.00 / ticket

guests = 6

Price

$

290.00 / ticket

guests >= 7

Price

$

260.00 / ticket
26
GENERALE
General price:
$

260.00 / ticket
Options
guests = 1

Price

$

790.00 / ticket

guests = 2

Price

$

580.00 / ticket

guests = 3

Price

$

470.00 / ticket

guests = 4

Price

$

390.00 / ticket

guests = 5

Price

$

340.00 / ticket

guests = 6

Price

$

290.00 / ticket

guests >= 7

Price

$

260.00 / ticket
27
GENERALE
General price:
$

260.00 / ticket
Options
guests = 1

Price

$

790.00 / ticket

guests = 2

Price

$

580.00 / ticket

guests = 3

Price

$

470.00 / ticket

guests = 4

Price

$

390.00 / ticket

guests = 5

Price

$

340.00 / ticket

guests = 6

Price

$

290.00 / ticket

guests >= 7

Price

$

260.00 / ticket
28
GENERALE
General price:
$

260.00 / ticket
Options
guests = 1

Price

$

790.00 / ticket

guests = 2

Price

$

580.00 / ticket

guests = 3

Price

$

470.00 / ticket

guests = 4

Price

$

390.00 / ticket

guests = 5

Price

$

340.00 / ticket

guests = 6

Price

$

290.00 / ticket

guests >= 7

Price

$

260.00 / ticket
29
GENERALE
General price:
$

260.00 / ticket
Options
guests = 1

Price

$

790.00 / ticket

guests = 2

Price

$

580.00 / ticket

guests = 3

Price

$

470.00 / ticket

guests = 4

Price

$

390.00 / ticket

guests = 5

Price

$

340.00 / ticket

guests = 6

Price

$

290.00 / ticket

guests >= 7

Price

$

260.00 / ticket
30
GENERALE
General price:
$

260.00 / ticket
Options
guests = 1

Price

$

790.00 / ticket

guests = 2

Price

$

580.00 / ticket

guests = 3

Price

$

470.00 / ticket

guests = 4

Price

$

390.00 / ticket

guests = 5

Price

$

340.00 / ticket

guests = 6

Price

$

290.00 / ticket

guests >= 7

Price

$

260.00 / ticket
31
GENERALE
General price:
$

260.00 / ticket
Options
guests = 1

Price

$

790.00 / ticket

guests = 2

Price

$

580.00 / ticket

guests = 3

Price

$

470.00 / ticket

guests = 4

Price

$

390.00 / ticket

guests = 5

Price

$

340.00 / ticket

guests = 6

Price

$

290.00 / ticket

guests >= 7

Price

$

260.00 / ticket
1
GENERALE
General price:
$

260.00 / ticket
Options
guests = 1

Price

$

790.00 / ticket

guests = 2

Price

$

580.00 / ticket

guests = 3

Price

$

470.00 / ticket

guests = 4

Price

$

390.00 / ticket

guests = 5

Price

$

340.00 / ticket

guests = 6

Price

$

290.00 / ticket

guests >= 7

Price

$

260.00 / ticket
2
GENERALE
General price:
$

260.00 / ticket
Options
guests = 1

Price

$

790.00 / ticket

guests = 2

Price

$

580.00 / ticket

guests = 3

Price

$

470.00 / ticket

guests = 4

Price

$

390.00 / ticket

guests = 5

Price

$

340.00 / ticket

guests = 6

Price

$

290.00 / ticket

guests >= 7

Price

$

260.00 / ticket
3
GENERALE
General price:
$

260.00 / ticket
Options
guests = 1

Price

$

790.00 / ticket

guests = 2

Price

$

580.00 / ticket

guests = 3

Price

$

470.00 / ticket

guests = 4

Price

$

390.00 / ticket

guests = 5

Price

$

340.00 / ticket

guests = 6

Price

$

290.00 / ticket

guests >= 7

Price

$

260.00 / ticket
4
GENERALE
General price:
$

260.00 / ticket
Options
guests = 1

Price

$

790.00 / ticket

guests = 2

Price

$

580.00 / ticket

guests = 3

Price

$

470.00 / ticket

guests = 4

Price

$

390.00 / ticket

guests = 5

Price

$

340.00 / ticket

guests = 6

Price

$

290.00 / ticket

guests >= 7

Price

$

260.00 / ticket
5
GENERALE
General price:
$

260.00 / ticket
Options
guests = 1

Price

$

790.00 / ticket

guests = 2

Price

$

580.00 / ticket

guests = 3

Price

$

470.00 / ticket

guests = 4

Price

$

390.00 / ticket

guests = 5

Price

$

340.00 / ticket

guests = 6

Price

$

290.00 / ticket

guests >= 7

Price

$

260.00 / ticket
6
GENERALE
General price:
$

260.00 / ticket
Options
guests = 1

Price

$

790.00 / ticket

guests = 2

Price

$

580.00 / ticket

guests = 3

Price

$

470.00 / ticket

guests = 4

Price

$

390.00 / ticket

guests = 5

Price

$

340.00 / ticket

guests = 6

Price

$

290.00 / ticket

guests >= 7

Price

$

260.00 / ticket
31
GENERALE
General price:
$

260.00 / ticket
Options
guests = 1

Price

$

790.00 / ticket

guests = 2

Price

$

580.00 / ticket

guests = 3

Price

$

470.00 / ticket

guests = 4

Price

$

390.00 / ticket

guests = 5

Price

$

340.00 / ticket

guests = 6

Price

$

290.00 / ticket

guests >= 7

Price

$

260.00 / ticket
1
GENERALE
General price:
$

260.00 / ticket
Options
guests = 1

Price

$

790.00 / ticket

guests = 2

Price

$

580.00 / ticket

guests = 3

Price

$

470.00 / ticket

guests = 4

Price

$

390.00 / ticket

guests = 5

Price

$

340.00 / ticket

guests = 6

Price

$

290.00 / ticket

guests >= 7

Price

$

260.00 / ticket
2
GENERALE
General price:
$

260.00 / ticket
Options
guests = 1

Price

$

790.00 / ticket

guests = 2

Price

$

580.00 / ticket

guests = 3

Price

$

470.00 / ticket

guests = 4

Price

$

390.00 / ticket

guests = 5

Price

$

340.00 / ticket

guests = 6

Price

$

290.00 / ticket

guests >= 7

Price

$

260.00 / ticket
3
GENERALE
General price:
$

260.00 / ticket
Options
guests = 1

Price

$

790.00 / ticket

guests = 2

Price

$

580.00 / ticket

guests = 3

Price

$

470.00 / ticket

guests = 4

Price

$

390.00 / ticket

guests = 5

Price

$

340.00 / ticket

guests = 6

Price

$

290.00 / ticket

guests >= 7

Price

$

260.00 / ticket
4
GENERALE
General price:
$

260.00 / ticket
Options
guests = 1

Price

$

790.00 / ticket

guests = 2

Price

$

580.00 / ticket

guests = 3

Price

$

470.00 / ticket

guests = 4

Price

$

390.00 / ticket

guests = 5

Price

$

340.00 / ticket

guests = 6

Price

$

290.00 / ticket

guests >= 7

Price

$

260.00 / ticket
5
GENERALE
General price:
$

260.00 / ticket
Options
guests = 1

Price

$

790.00 / ticket

guests = 2

Price

$

580.00 / ticket

guests = 3

Price

$

470.00 / ticket

guests = 4

Price

$

390.00 / ticket

guests = 5

Price

$

340.00 / ticket

guests = 6

Price

$

290.00 / ticket

guests >= 7

Price

$

260.00 / ticket
6
GENERALE
General price:
$

260.00 / ticket
Options
guests = 1

Price

$

790.00 / ticket

guests = 2

Price

$

580.00 / ticket

guests = 3

Price

$

470.00 / ticket

guests = 4

Price

$

390.00 / ticket

guests = 5

Price

$

340.00 / ticket

guests = 6

Price

$

290.00 / ticket

guests >= 7

Price

$

260.00 / ticket
7
GENERALE
General price:
$

260.00 / ticket
Options
guests = 1

Price

$

790.00 / ticket

guests = 2

Price

$

580.00 / ticket

guests = 3

Price

$

470.00 / ticket

guests = 4

Price

$

390.00 / ticket

guests = 5

Price

$

340.00 / ticket

guests = 6

Price

$

290.00 / ticket

guests >= 7

Price

$

260.00 / ticket
8
GENERALE
General price:
$

260.00 / ticket
Options
guests = 1

Price

$

790.00 / ticket

guests = 2

Price

$

580.00 / ticket

guests = 3

Price

$

470.00 / ticket

guests = 4

Price

$

390.00 / ticket

guests = 5

Price

$

340.00 / ticket

guests = 6

Price

$

290.00 / ticket

guests >= 7

Price

$

260.00 / ticket
9
GENERALE
General price:
$

260.00 / ticket
Options
guests = 1

Price

$

790.00 / ticket

guests = 2

Price

$

580.00 / ticket

guests = 3

Price

$

470.00 / ticket

guests = 4

Price

$

390.00 / ticket

guests = 5

Price

$

340.00 / ticket

guests = 6

Price

$

290.00 / ticket

guests >= 7

Price

$

260.00 / ticket
10
GENERALE
General price:
$

260.00 / ticket
Options
guests = 1

Price

$

790.00 / ticket

guests = 2

Price

$

580.00 / ticket

guests = 3

Price

$

470.00 / ticket

guests = 4

Price

$

390.00 / ticket

guests = 5

Price

$

340.00 / ticket

guests = 6

Price

$

290.00 / ticket

guests >= 7

Price

$

260.00 / ticket
11
GENERALE
General price:
$

260.00 / ticket
Options
guests = 1

Price

$

790.00 / ticket

guests = 2

Price

$

580.00 / ticket

guests = 3

Price

$

470.00 / ticket

guests = 4

Price

$

390.00 / ticket

guests = 5

Price

$

340.00 / ticket

guests = 6

Price

$

290.00 / ticket

guests >= 7

Price

$

260.00 / ticket
12
GENERALE
General price:
$

260.00 / ticket
Options
guests = 1

Price

$

790.00 / ticket

guests = 2

Price

$

580.00 / ticket

guests = 3

Price

$

470.00 / ticket

guests = 4

Price

$

390.00 / ticket

guests = 5

Price

$

340.00 / ticket

guests = 6

Price

$

290.00 / ticket

guests >= 7

Price

$

260.00 / ticket
13
GENERALE
General price:
$

260.00 / ticket
Options
guests = 1

Price

$

790.00 / ticket

guests = 2

Price

$

580.00 / ticket

guests = 3

Price

$

470.00 / ticket

guests = 4

Price

$

390.00 / ticket

guests = 5

Price

$

340.00 / ticket

guests = 6

Price

$

290.00 / ticket

guests >= 7

Price

$

260.00 / ticket
14
GENERALE
General price:
$

260.00 / ticket
Options
guests = 1

Price

$

790.00 / ticket

guests = 2

Price

$

580.00 / ticket

guests = 3

Price

$

470.00 / ticket

guests = 4

Price

$

390.00 / ticket

guests = 5

Price

$

340.00 / ticket

guests = 6

Price

$

290.00 / ticket

guests >= 7

Price

$

260.00 / ticket
15
GENERALE
General price:
$

260.00 / ticket
Options
guests = 1

Price

$

790.00 / ticket

guests = 2

Price

$

580.00 / ticket

guests = 3

Price

$

470.00 / ticket

guests = 4

Price

$

390.00 / ticket

guests = 5

Price

$

340.00 / ticket

guests = 6

Price

$

290.00 / ticket

guests >= 7

Price

$

260.00 / ticket
16
GENERALE
General price:
$

260.00 / ticket
Options
guests = 1

Price

$

790.00 / ticket

guests = 2

Price

$

580.00 / ticket

guests = 3

Price

$

470.00 / ticket

guests = 4

Price

$

390.00 / ticket

guests = 5

Price

$

340.00 / ticket

guests = 6

Price

$

290.00 / ticket

guests >= 7

Price

$

260.00 / ticket
17
GENERALE
General price:
$

260.00 / ticket
Options
guests = 1

Price

$

790.00 / ticket

guests = 2

Price

$

580.00 / ticket

guests = 3

Price

$

470.00 / ticket

guests = 4

Price

$

390.00 / ticket

guests = 5

Price

$

340.00 / ticket

guests = 6

Price

$

290.00 / ticket

guests >= 7

Price

$

260.00 / ticket
18
GENERALE
General price:
$

260.00 / ticket
Options
guests = 1

Price

$

790.00 / ticket

guests = 2

Price

$

580.00 / ticket

guests = 3

Price

$

470.00 / ticket

guests = 4

Price

$

390.00 / ticket

guests = 5

Price

$

340.00 / ticket

guests = 6

Price

$

290.00 / ticket

guests >= 7

Price

$

260.00 / ticket
19
GENERALE
General price:
$

260.00 / ticket
Options
guests = 1

Price

$

790.00 / ticket

guests = 2

Price

$

580.00 / ticket

guests = 3

Price

$

470.00 / ticket

guests = 4

Price

$

390.00 / ticket

guests = 5

Price

$

340.00 / ticket

guests = 6

Price

$

290.00 / ticket

guests >= 7

Price

$

260.00 / ticket
20
GENERALE
General price:
$

260.00 / ticket
Options
guests = 1

Price

$

790.00 / ticket

guests = 2

Price

$

580.00 / ticket

guests = 3

Price

$

470.00 / ticket

guests = 4

Price

$

390.00 / ticket

guests = 5

Price

$

340.00 / ticket

guests = 6

Price

$

290.00 / ticket

guests >= 7

Price

$

260.00 / ticket
21
GENERALE
General price:
$

260.00 / ticket
Options
guests = 1

Price

$

790.00 / ticket

guests = 2

Price

$

580.00 / ticket

guests = 3

Price

$

470.00 / ticket

guests = 4

Price

$

390.00 / ticket

guests = 5

Price

$

340.00 / ticket

guests = 6

Price

$

290.00 / ticket

guests >= 7

Price

$

260.00 / ticket
22
GENERALE
General price:
$

260.00 / ticket
Options
guests = 1

Price

$

790.00 / ticket

guests = 2

Price

$

580.00 / ticket

guests = 3

Price

$

470.00 / ticket

guests = 4

Price

$

390.00 / ticket

guests = 5

Price

$

340.00 / ticket

guests = 6

Price

$

290.00 / ticket

guests >= 7

Price

$

260.00 / ticket
23
GENERALE
General price:
$

260.00 / ticket
Options
guests = 1

Price

$

790.00 / ticket

guests = 2

Price

$

580.00 / ticket

guests = 3

Price

$

470.00 / ticket

guests = 4

Price

$

390.00 / ticket

guests = 5

Price

$

340.00 / ticket

guests = 6

Price

$

290.00 / ticket

guests >= 7

Price

$

260.00 / ticket
24
GENERALE
General price:
$

260.00 / ticket
Options
guests = 1

Price

$

790.00 / ticket

guests = 2

Price

$

580.00 / ticket

guests = 3

Price

$

470.00 / ticket

guests = 4

Price

$

390.00 / ticket

guests = 5

Price

$

340.00 / ticket

guests = 6

Price

$

290.00 / ticket

guests >= 7

Price

$

260.00 / ticket
25
GENERALE
General price:
$

260.00 / ticket
Options
guests = 1

Price

$

790.00 / ticket

guests = 2

Price

$

580.00 / ticket

guests = 3

Price

$

470.00 / ticket

guests = 4

Price

$

390.00 / ticket

guests = 5

Price

$

340.00 / ticket

guests = 6

Price

$

290.00 / ticket

guests >= 7

Price

$

260.00 / ticket
26
GENERALE
General price:
$

260.00 / ticket
Options
guests = 1

Price

$

790.00 / ticket

guests = 2

Price

$

580.00 / ticket

guests = 3

Price

$

470.00 / ticket

guests = 4

Price

$

390.00 / ticket

guests = 5

Price

$

340.00 / ticket

guests = 6

Price

$

290.00 / ticket

guests >= 7

Price

$

260.00 / ticket
27
GENERALE
General price:
$

260.00 / ticket
Options
guests = 1

Price

$

790.00 / ticket

guests = 2

Price

$

580.00 / ticket

guests = 3

Price

$

470.00 / ticket

guests = 4

Price

$

390.00 / ticket

guests = 5

Price

$

340.00 / ticket

guests = 6

Price

$

290.00 / ticket

guests >= 7

Price

$

260.00 / ticket
28
GENERALE
General price:
$

260.00 / ticket
Options
guests = 1

Price

$

790.00 / ticket

guests = 2

Price

$

580.00 / ticket

guests = 3

Price

$

470.00 / ticket

guests = 4

Price

$

390.00 / ticket

guests = 5

Price

$

340.00 / ticket

guests = 6

Price

$

290.00 / ticket

guests >= 7

Price

$

260.00 / ticket
29
GENERALE
General price:
$

260.00 / ticket
Options
guests = 1

Price

$

790.00 / ticket

guests = 2

Price

$

580.00 / ticket

guests = 3

Price

$

470.00 / ticket

guests = 4

Price

$

390.00 / ticket

guests = 5

Price

$

340.00 / ticket

guests = 6

Price

$

290.00 / ticket

guests >= 7

Price

$

260.00 / ticket
30
GENERALE
General price:
$

260.00 / ticket
Options
guests = 1

Price

$

790.00 / ticket

guests = 2

Price

$

580.00 / ticket

guests = 3

Price

$

470.00 / ticket

guests = 4

Price

$

390.00 / ticket

guests = 5

Price

$

340.00 / ticket

guests = 6

Price

$

290.00 / ticket

guests >= 7

Price

$

260.00 / ticket
1
GENERALE
General price:
$

260.00 / ticket
Options
guests = 1

Price

$

790.00 / ticket

guests = 2

Price

$

580.00 / ticket

guests = 3

Price

$

470.00 / ticket

guests = 4

Price

$

390.00 / ticket

guests = 5

Price

$

340.00 / ticket

guests = 6

Price

$

290.00 / ticket

guests >= 7

Price

$

260.00 / ticket
2
GENERALE
General price:
$

260.00 / ticket
Options
guests = 1

Price

$

790.00 / ticket

guests = 2

Price

$

580.00 / ticket

guests = 3

Price

$

470.00 / ticket

guests = 4

Price

$

390.00 / ticket

guests = 5

Price

$

340.00 / ticket

guests = 6

Price

$

290.00 / ticket

guests >= 7

Price

$

260.00 / ticket
3
GENERALE
General price:
$

260.00 / ticket
Options
guests = 1

Price

$

790.00 / ticket

guests = 2

Price

$

580.00 / ticket

guests = 3

Price

$

470.00 / ticket

guests = 4

Price

$

390.00 / ticket

guests = 5

Price

$

340.00 / ticket

guests = 6

Price

$

290.00 / ticket

guests >= 7

Price

$

260.00 / ticket
4
GENERALE
General price:
$

260.00 / ticket
Options
guests = 1

Price

$

790.00 / ticket

guests = 2

Price

$

580.00 / ticket

guests = 3

Price

$

470.00 / ticket

guests = 4

Price

$

390.00 / ticket

guests = 5

Price

$

340.00 / ticket

guests = 6

Price

$

290.00 / ticket

guests >= 7

Price

$

260.00 / ticket
28
GENERALE
General price:
$

260.00 / ticket
Options
guests = 1

Price

$

790.00 / ticket

guests = 2

Price

$

580.00 / ticket

guests = 3

Price

$

470.00 / ticket

guests = 4

Price

$

390.00 / ticket

guests = 5

Price

$

340.00 / ticket

guests = 6

Price

$

290.00 / ticket

guests >= 7

Price

$

260.00 / ticket
29
GENERALE
General price:
$

260.00 / ticket
Options
guests = 1

Price

$

790.00 / ticket

guests = 2

Price

$

580.00 / ticket

guests = 3

Price

$

470.00 / ticket

guests = 4

Price

$

390.00 / ticket

guests = 5

Price

$

340.00 / ticket

guests = 6

Price

$

290.00 / ticket

guests >= 7

Price

$

260.00 / ticket
30
GENERALE
General price:
$

260.00 / ticket
Options
guests = 1

Price

$

790.00 / ticket

guests = 2

Price

$

580.00 / ticket

guests = 3

Price

$

470.00 / ticket

guests = 4

Price

$

390.00 / ticket

guests = 5

Price

$

340.00 / ticket

guests = 6

Price

$

290.00 / ticket

guests >= 7

Price

$

260.00 / ticket
1
GENERALE
General price:
$

260.00 / ticket
Options
guests = 1

Price

$

790.00 / ticket

guests = 2

Price

$

580.00 / ticket

guests = 3

Price

$

470.00 / ticket

guests = 4

Price

$

390.00 / ticket

guests = 5

Price

$

340.00 / ticket

guests = 6

Price

$

290.00 / ticket

guests >= 7

Price

$

260.00 / ticket
2
GENERALE
General price:
$

260.00 / ticket
Options
guests = 1

Price

$

790.00 / ticket

guests = 2

Price

$

580.00 / ticket

guests = 3

Price

$

470.00 / ticket

guests = 4

Price

$

390.00 / ticket

guests = 5

Price

$

340.00 / ticket

guests = 6

Price

$

290.00 / ticket

guests >= 7

Price

$

260.00 / ticket
3
GENERALE
General price:
$

260.00 / ticket
Options
guests = 1

Price

$

790.00 / ticket

guests = 2

Price

$

580.00 / ticket

guests = 3

Price

$

470.00 / ticket

guests = 4

Price

$

390.00 / ticket

guests = 5

Price

$

340.00 / ticket

guests = 6

Price

$

290.00 / ticket

guests >= 7

Price

$

260.00 / ticket
4
GENERALE
General price:
$

260.00 / ticket
Options
guests = 1

Price

$

790.00 / ticket

guests = 2

Price

$

580.00 / ticket

guests = 3

Price

$

470.00 / ticket

guests = 4

Price

$

390.00 / ticket

guests = 5

Price

$

340.00 / ticket

guests = 6

Price

$

290.00 / ticket

guests >= 7

Price

$

260.00 / ticket
5
GENERALE
General price:
$

260.00 / ticket
Options
guests = 1

Price

$

790.00 / ticket

guests = 2

Price

$

580.00 / ticket

guests = 3

Price

$

470.00 / ticket

guests = 4

Price

$

390.00 / ticket

guests = 5

Price

$

340.00 / ticket

guests = 6

Price

$

290.00 / ticket

guests >= 7

Price

$

260.00 / ticket
6
GENERALE
General price:
$

260.00 / ticket
Options
guests = 1

Price

$

790.00 / ticket

guests = 2

Price

$

580.00 / ticket

guests = 3

Price

$

470.00 / ticket

guests = 4

Price

$

390.00 / ticket

guests = 5

Price

$

340.00 / ticket

guests = 6

Price

$

290.00 / ticket

guests >= 7

Price

$

260.00 / ticket
7
GENERALE
General price:
$

260.00 / ticket
Options
guests = 1

Price

$

790.00 / ticket

guests = 2

Price

$

580.00 / ticket

guests = 3

Price

$

470.00 / ticket

guests = 4

Price

$

390.00 / ticket

guests = 5

Price

$

340.00 / ticket

guests = 6

Price

$

290.00 / ticket

guests >= 7

Price

$

260.00 / ticket
8
GENERALE
General price:
$

260.00 / ticket
Options
guests = 1

Price

$

790.00 / ticket

guests = 2

Price

$

580.00 / ticket

guests = 3

Price

$

470.00 / ticket

guests = 4

Price

$

390.00 / ticket

guests = 5

Price

$

340.00 / ticket

guests = 6

Price

$

290.00 / ticket

guests >= 7

Price

$

260.00 / ticket
9
GENERALE
General price:
$

260.00 / ticket
Options
guests = 1

Price

$

790.00 / ticket

guests = 2

Price

$

580.00 / ticket

guests = 3

Price

$

470.00 / ticket

guests = 4

Price

$

390.00 / ticket

guests = 5

Price

$

340.00 / ticket

guests = 6

Price

$

290.00 / ticket

guests >= 7

Price

$

260.00 / ticket
10
GENERALE
General price:
$

260.00 / ticket
Options
guests = 1

Price

$

790.00 / ticket

guests = 2

Price

$

580.00 / ticket

guests = 3

Price

$

470.00 / ticket

guests = 4

Price

$

390.00 / ticket

guests = 5

Price

$

340.00 / ticket

guests = 6

Price

$

290.00 / ticket

guests >= 7

Price

$

260.00 / ticket
11
GENERALE
General price:
$

260.00 / ticket
Options
guests = 1

Price

$

790.00 / ticket

guests = 2

Price

$

580.00 / ticket

guests = 3

Price

$

470.00 / ticket

guests = 4

Price

$

390.00 / ticket

guests = 5

Price

$

340.00 / ticket

guests = 6

Price

$

290.00 / ticket

guests >= 7

Price

$

260.00 / ticket
12
GENERALE
General price:
$

260.00 / ticket
Options
guests = 1

Price

$

790.00 / ticket

guests = 2

Price

$

580.00 / ticket

guests = 3

Price

$

470.00 / ticket

guests = 4

Price

$

390.00 / ticket

guests = 5

Price

$

340.00 / ticket

guests = 6

Price

$

290.00 / ticket

guests >= 7

Price

$

260.00 / ticket
13
GENERALE
General price:
$

260.00 / ticket
Options
guests = 1

Price

$

790.00 / ticket

guests = 2

Price

$

580.00 / ticket

guests = 3

Price

$

470.00 / ticket

guests = 4

Price

$

390.00 / ticket

guests = 5

Price

$

340.00 / ticket

guests = 6

Price

$

290.00 / ticket

guests >= 7

Price

$

260.00 / ticket
14
GENERALE
General price:
$

260.00 / ticket
Options
guests = 1

Price

$

790.00 / ticket

guests = 2

Price

$

580.00 / ticket

guests = 3

Price

$

470.00 / ticket

guests = 4

Price

$

390.00 / ticket

guests = 5

Price

$

340.00 / ticket

guests = 6

Price

$

290.00 / ticket

guests >= 7

Price

$

260.00 / ticket
15
GENERALE
General price:
$

260.00 / ticket
Options
guests = 1

Price

$

790.00 / ticket

guests = 2

Price

$

580.00 / ticket

guests = 3

Price

$

470.00 / ticket

guests = 4

Price

$

390.00 / ticket

guests = 5

Price

$

340.00 / ticket

guests = 6

Price

$

290.00 / ticket

guests >= 7

Price

$

260.00 / ticket
16
GENERALE
General price:
$

260.00 / ticket
Options
guests = 1

Price

$

790.00 / ticket

guests = 2

Price

$

580.00 / ticket

guests = 3

Price

$

470.00 / ticket

guests = 4

Price

$

390.00 / ticket

guests = 5

Price

$

340.00 / ticket

guests = 6

Price

$

290.00 / ticket

guests >= 7

Price

$

260.00 / ticket
17
GENERALE
General price:
$

260.00 / ticket
Options
guests = 1

Price

$

790.00 / ticket

guests = 2

Price

$

580.00 / ticket

guests = 3

Price

$

470.00 / ticket

guests = 4

Price

$

390.00 / ticket

guests = 5

Price

$

340.00 / ticket

guests = 6

Price

$

290.00 / ticket

guests >= 7

Price

$

260.00 / ticket
18
GENERALE
General price:
$

260.00 / ticket
Options
guests = 1

Price

$

790.00 / ticket

guests = 2

Price

$

580.00 / ticket

guests = 3

Price

$

470.00 / ticket

guests = 4

Price

$

390.00 / ticket

guests = 5

Price

$

340.00 / ticket

guests = 6

Price

$

290.00 / ticket

guests >= 7

Price

$

260.00 / ticket
19
GENERALE
General price:
$

260.00 / ticket
Options
guests = 1

Price

$

790.00 / ticket

guests = 2

Price

$

580.00 / ticket

guests = 3

Price

$

470.00 / ticket

guests = 4

Price

$

390.00 / ticket

guests = 5

Price

$

340.00 / ticket

guests = 6

Price

$

290.00 / ticket

guests >= 7

Price

$

260.00 / ticket
20
GENERALE
General price:
$

260.00 / ticket
Options
guests = 1

Price

$

790.00 / ticket

guests = 2

Price

$

580.00 / ticket

guests = 3

Price

$

470.00 / ticket

guests = 4

Price

$

390.00 / ticket

guests = 5

Price

$

340.00 / ticket

guests = 6

Price

$

290.00 / ticket

guests >= 7

Price

$

260.00 / ticket
21
GENERALE
General price:
$

260.00 / ticket
Options
guests = 1

Price

$

790.00 / ticket

guests = 2

Price

$

580.00 / ticket

guests = 3

Price

$

470.00 / ticket

guests = 4

Price

$

390.00 / ticket

guests = 5

Price

$

340.00 / ticket

guests = 6

Price

$

290.00 / ticket

guests >= 7

Price

$

260.00 / ticket
22
GENERALE
General price:
$

260.00 / ticket
Options
guests = 1

Price

$

790.00 / ticket

guests = 2

Price

$

580.00 / ticket

guests = 3

Price

$

470.00 / ticket

guests = 4

Price

$

390.00 / ticket

guests = 5

Price

$

340.00 / ticket

guests = 6

Price

$

290.00 / ticket

guests >= 7

Price

$

260.00 / ticket
23
GENERALE
General price:
$

260.00 / ticket
Options
guests = 1

Price

$

790.00 / ticket

guests = 2

Price

$

580.00 / ticket

guests = 3

Price

$

470.00 / ticket

guests = 4

Price

$

390.00 / ticket

guests = 5

Price

$

340.00 / ticket

guests = 6

Price

$

290.00 / ticket

guests >= 7

Price

$

260.00 / ticket
24
GENERALE
General price:
$

260.00 / ticket
Options
guests = 1

Price

$

790.00 / ticket

guests = 2

Price

$

580.00 / ticket

guests = 3

Price

$

470.00 / ticket

guests = 4

Price

$

390.00 / ticket

guests = 5

Price

$

340.00 / ticket

guests = 6

Price

$

290.00 / ticket

guests >= 7

Price

$

260.00 / ticket
25
GENERALE
General price:
$

260.00 / ticket
Options
guests = 1

Price

$

790.00 / ticket

guests = 2

Price

$

580.00 / ticket

guests = 3

Price

$

470.00 / ticket

guests = 4

Price

$

390.00 / ticket

guests = 5

Price

$

340.00 / ticket

guests = 6

Price

$

290.00 / ticket

guests >= 7

Price

$

260.00 / ticket
26
GENERALE
General price:
$

260.00 / ticket
Options
guests = 1

Price

$

790.00 / ticket

guests = 2

Price

$

580.00 / ticket

guests = 3

Price

$

470.00 / ticket

guests = 4

Price

$

390.00 / ticket

guests = 5

Price

$

340.00 / ticket

guests = 6

Price

$

290.00 / ticket

guests >= 7

Price

$

260.00 / ticket
27
GENERALE
General price:
$

260.00 / ticket
Options
guests = 1

Price

$

790.00 / ticket

guests = 2

Price

$

580.00 / ticket

guests = 3

Price

$

470.00 / ticket

guests = 4

Price

$

390.00 / ticket

guests = 5

Price

$

340.00 / ticket

guests = 6

Price

$

290.00 / ticket

guests >= 7

Price

$

260.00 / ticket
28
GENERALE
General price:
$

260.00 / ticket