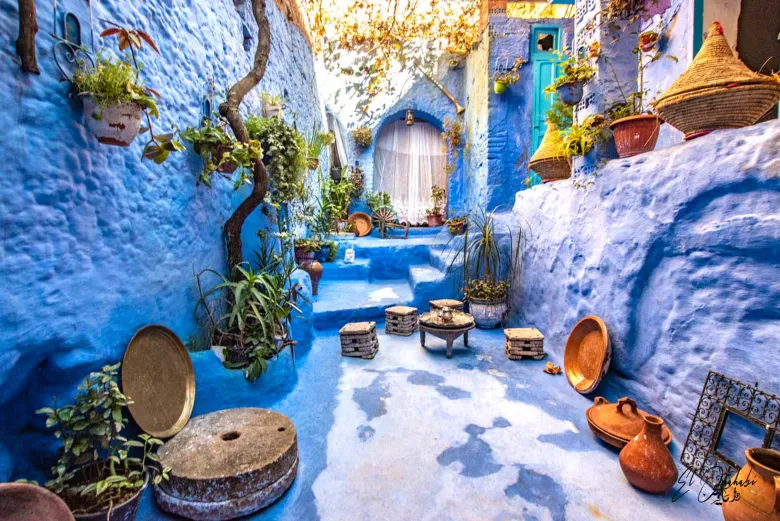 Chefchaouen painted blue for a reason
Chefchaouen, located in northwest Morocco and nestled in the Rif Mountains, has a dream-like aspect that is normally reserved for the pages of a fantasy children's book.
The 'Blue Pearl of Morocco,' as it is affectionately known, is a moniker that is entirely deserving of the title, as every nook and crevice of the city is painted in magnificent shades of blue.
Is it true that the entire city has been painted blue?
Because social media and vacation magazines only show you the finest parts, expectations may not always match reality. I worried if Chefchaouen will follow in the footsteps of other tourist traps. Would it really only be one or two streets instead of an entire city painted in blue hues?
From afar, the city didn't appear to be as blue as it was from Fez, and my heart sunk a little. Is it possible that my fears are correct? Maybe I'd been duped by enthusiastic tourism boards and social media influencers after all?
However, it turns out that the buildings visible from afar are actually part of a new section of the city that does not follow the iconic color scheme. As you approach Chefchaouen, you will see that it lacks the wow factor that you may expect.
Once I got off the bus and started walking towards the medina, any disappointment I had dissipated quickly as I saw more and more blue-painted buildings.
I was entirely surrounded by every single shade of blue imaginable within the old city walls — sapphire, teal, turquoise, ultramarine, indigo, sky, and cobalt blue covered entire buildings, medina walls, and even multiple levels at every twist and turn. Chefchaouen not only met, but exceeded my expectations.
Nobody knows for sure why things are the way they are in the past, and Chefchaouen is no exception. To be honest, no one knows for sure why the Old Town is all blue, however there are a few theories:
Sephardi Jews have a distinct culture.
According to one theory, Sephardi Jews who fled to Morocco during the Spanish Inquisition to avoid punishment for refusing to convert to Catholicism took a custom of painting buildings and items blue with them. According to Jewish theology, the color blue represents the sky, hence painting buildings blue became a custom because it reminded people of the sky and a sense of closeness to God.
Aesthetics as well as a calming influence
While beauty is subjective, we can all agree that most people like the color blue. Could it be that a few homes near the mellah liked the color that Jewish settlers used and decided to imitate it? After all, blue has diverse connotations in Islamic culture, and is regarded to be a color of brightness and hope.
Furthermore, when I walked through the medina, one thing that struck me was how calm and tranquil the mood was. I've read a few articles regarding blue's healing properties, and scientists have conducted studies on the color's calming impact on our emotions.