The Historic of Camel Trekking in Sahara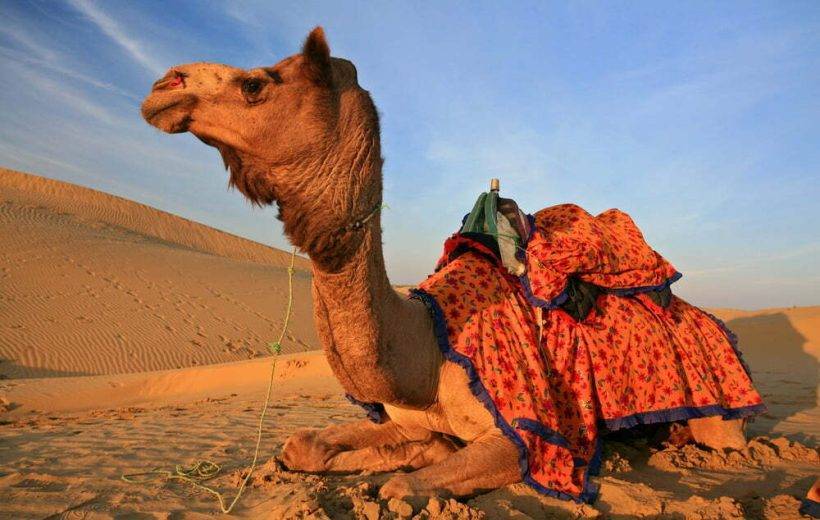 Camel Trekking in Sahara: The camels have a great historical importance due to their role in the trade and transport of goods among the African tribes. Historically, camel caravans have been used mainly in desert areas, where group travel allowed for self-defense and defense against bandits. Camels or "The Ship of the Desert" are native to several deserts in the world, primarily the Sahara Desert in Africa. To live in their native deserts, camels rely on their physical assets to help cope with extreme physical conditions.
A desert trek on the mythical route taken by camel caravans through the Sahara until the end of the 19th century between Marrakech and Timbuktu. Consisting of thousands of dromedaries, they crossed the mountains of the Atlas, then the Sahara between the southern Moroccan and Timbuktu. Two months of walking to cross 2,000 kilometers of desert following the water points of the oases. In the Moroccan desert we propose to our tourists a camel trekking in Sahara between dunes to go from the hotel in Merzouga or Zagora towards the bivouac which is to be located behind the Golden sand dunes of Erg Chebbi or Erg Chegaga.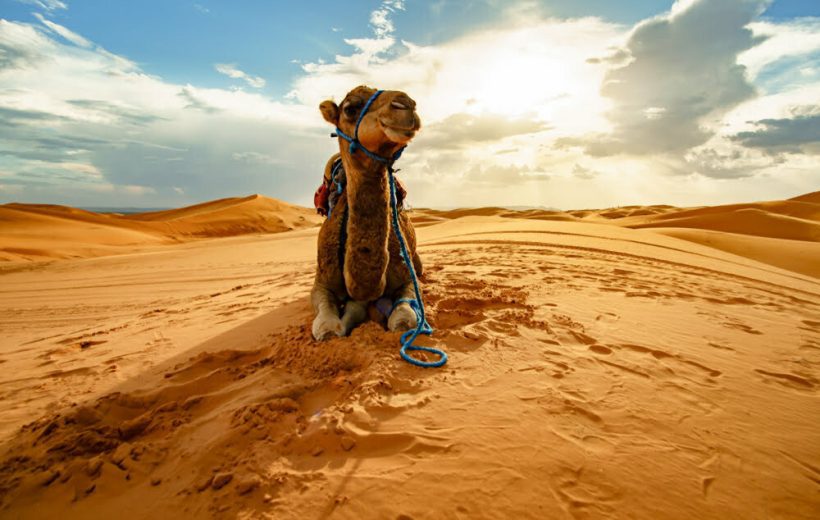 Enjoy Camel Trekking in Sahara with Our Traveling Agency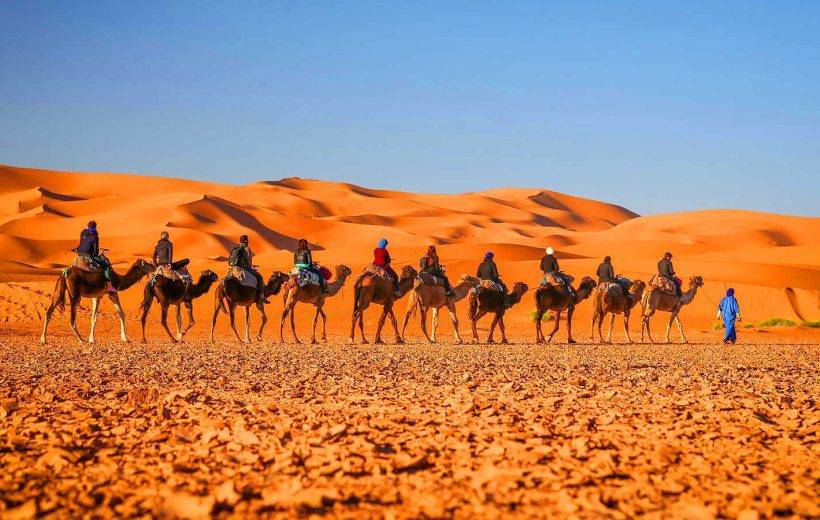 The camel Trekking in Sahara is an important experience to everyone should have to try at least once in their lifetime. Imagine yourself riding camel, trekking trough the desert's Dune. There is nothing around you, all you can hear are the footsteps of the camel on the golden sand. The sky is vast and clear in the in the day and filled with billions of sparkling stars at night. If you are feeling energetic you can climb the dunes for sunset to watch the light and colour of sands change. As the stars come out you can often hear the rhythmic beat of drums (kind of Berber music) The dunes of Erg chebbi in Merzouga in south east of Morocco has the highest and most splendid sand dunes.
It is a magical experience to spend a quiet journey from 45mn to 1h30mn with Camel trekking in Sahara, where you will catch the sunset and sunrise.