sunset and sunrise in sahara desert
In the Sahara desert, the sunrises and sunsets are some of the most beautiful and awe-inspiring natural phenomena that you will ever witness. The vast, open expanse of the desert and the clear air allow for incredible views of colors, and the sky is often a deep red and orange. The sun itself is a huge, bright orb that casts a beautiful light over the landscape. Witnessing a sunrise or sunset in the Sahara desert is an unforgettable experience that will stay with you forever.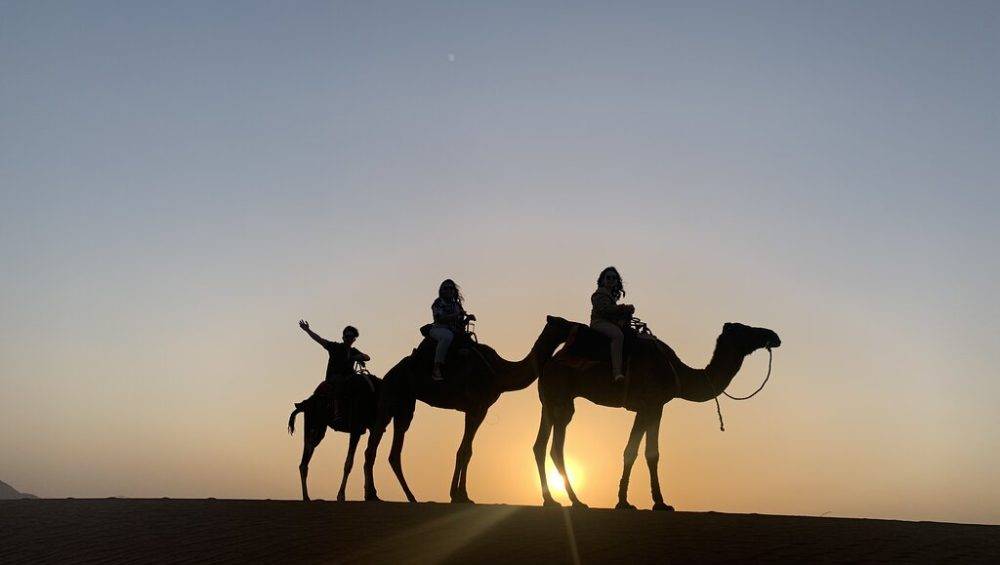 Enjoy the Sunset and Sunrise in Sahara Desert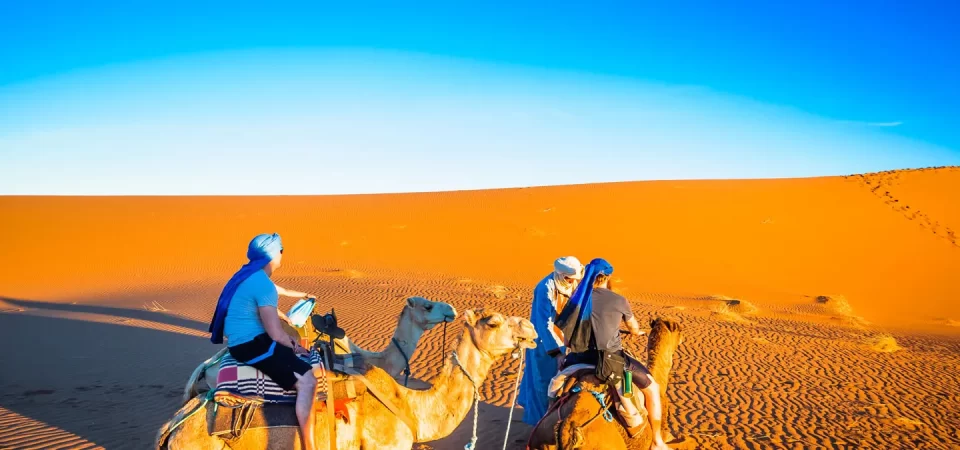 To have the best experience and enjoy the sunset or the sunrise in the Sahara Sedert, you need to find a spot to watch the spectacular show. You might bring a blanket or a chair to make yourself comfortable. Morocco Top Trips and Tours will take you to the most beautiful and extraordinary landscape backdrops for the best performance of the sun.
During the sunset, you'll see the colors change in the sky. First, the blue will start to fade and the orange will start to come out. Then, the red will start to appear, and finally, the sky will turn a deep purple. It's truly a sight to behold.
There's something special about watching the sunset in the Sahara Desert. Maybe it's the way the sun slowly dips below the horizon, or the way the colors change as the sky darkens. Either way, it's an experience you won't soon forget. You can also experience this magical moment riding camels through the highest dunes of the desert. Of course, you will fall in love with the beauty of golden dunes in the desert of Morocco. An amazing beauty captivating all hearts when the last sunlight of a day disappears behind the dunes.
Visit Berber Nomads Villages in Desert
Plan your holiday and travel to Morocco to Enjoy different places in the country as well as the Sahara desert where you will experience sunset and sunrise. Book your trip with Morocco's top Trips and tours to explore Morocco, especially in the golden dunes of Merzouga or Zagora and their extremities, we will visit some Berber villages to discover the lifestyle of Berber Nomads and feel their hospitality. for an exotic holiday tour adventure, Travel to Morocco.
Our tour agency Morocco top trips and tours has many adventure trips to show you the beauty of Morocco, Explore the Old Kasbahs, Visit the Medina in the Imperial cities, Enjoy the sunset and sunrise in the Sahara Desert, and spend a silent night in Traditional tents, enjoy the Sahara music around the fire in the Desert's camp and camel trekking between golden dunes of Erg Chebbi in Merzouga.
Morocco Top Trips and Tours belongs to Berber Nomads: About us