Morocco is a safe and diverse destination for travelers. It offers a captivating blend of culture, history, natural beauty, and unique experiences, making it a must-visit for culture lovers, backpackers, adventure seekers, couples, families, food enthusiasts, and more. The country boasts epic mountains, expansive deserts, and ancient cities. Notably, Morocco is home to four imperial cities: Marrakech, Fes, Meknes, and Rabat, each with its own distinct history and charm. Moroccan culture is a rich tapestry woven with Arab, Berber, and Andalusian influences, celebrated through its music, art, architecture, and cuisine. Traditional Moroccan music features genres like Gnawa and Andalusian music, while Moroccan cuisine is renowned for dishes such as tagine, couscous, and pastilla. The architecture of Morocco is characterized by intricate tilework, serene courtyards, and stunning mosques.
Traveling to Morocco: The Must-See Places
1-Marrakech (the red city):
Known for its vibrant souks (markets), historic palaces like the Bahia Palace, and the iconic Jardin Majorelle.. Strolling the Jemaa El-Fna square and the souks with their shimmering colors and oriental smells, the red city offers you a complete change of scenery. Horse-drawn carriage rides, sunny terraces, traveling artists and other day and night activities will give you an atmosphere of wishful return.
2-Fez: Exploring Morocco's Oldest Imperial City
Also spelled as Fes, is a historically and culturally rich city in Morocco. Also is one of Morocco's most captivating cities and a popular destination for tourists. It's known for its rich history, stunning architecture, and vibrant culture.  magical Fes: a remarkable city located in Morocco, a UNESCO world heritage site, and home to the oldest and largest medina in North Africa! The city was once the capital of Morocco and is still widely viewed as the cultural epicenter of the country. Explore inside the medieval walls of the wonderfully chaotic medina, and discover towers of spices, traditional handicrafts, hammams, and tanneries. The past is alive here, so take one or two days to enjoy all the best things to do in Fes , And there are activities and attractions that make Fez a great place to visit …
Located inside the medina, the entrance to the Bab Bou Jeloud district is made through its huge door built in 1913 and decorated with blue and green tiles, the colors of the city , and Inside this district, visitors can visit the Bar Batah museum, which : Located in a former royal palace, this museum houses a diverse collection of Moroccan art and artifacts, including ceramics, textiles, and woodwork. It is situated in the palace of the same name, erected during the 19th century. Also The Madrasa Bou Inania, a Koranic school, has a richly ornamented architecture.Tourists can also stroll along Talaa Kebira Avenue, one of the longest in the city which is dotted with boutiques and shops. 
3- Merzouga: Discover the Beauty of Morocco's Golden Sand Dunes
Erg Chebbi Dunes, located in Merzouga, is one of Morocco's most enchanting travel destinations. These magnificent golden sand dunes are renowned for their breathtaking beauty and serene desert landscapes. Travelers often embark on their journey to Erg Chebbi from Marrakech or Fes, with both routes offering unique scenic experiences.
Once in Merzouga village, you have the choice of accommodation. You can opt for the comfort and amenities of a hotel within the village, offering a more conventional stay. Alternatively, for an authentic desert adventure, you can choose to spend the night in desert camps. To reach these camps, you'll traverse the mesmerizing dunes either on a camel, immersing yourself in the slow-paced rhythm of the Sahara, or via 4WD vehicles for a thrilling desert ride. Whichever option you choose, a night under the starry desert sky at Erg Chebbi is an unforgettable experience, and a must-do for any traveler exploring Morocco.
4- Chefchaouen's Colorful Charm
Chefchaouen, often called the 'Blue City,' is a real gem in Morocco. It's like stepping into a magical world where everything is painted in shades of blue. The buildings, the streets, and the doorways are all awash in different hues of blue. This peaceful and picturesque town is tucked away in the Rif Mountains, making it a perfect place for a relaxed and colorful adventure. With its friendly locals, delicious food, and unique atmosphere, Chefchaouen is a must-visit for anyone who wants to experience a different side of Morocco and soak in the tranquility of this charming blue pearl.
5- Ouarzazate and Ksar Ait BenHaddou
Ouarzazate and Aït Benhaddou are two exceptional destinations in Morocco. Ouarzazate is often referred to as the "Gateway to the Sahara" and is known for its stunning desert landscapes and historical kasbahs. It's also famous for its role in the film industry, with several Hollywood movies being filmed in the area. Aït Ben-haddou, on the other hand, is a UNESCO World Heritage site and a fortified village located not far from Ouarzazate. Its impressive mud-brick architecture and ancient history make it a must-see. Many travelers visit Aït Benhaddou to explore its narrow streets and historic structures, which have also been featured in numerous films and TV shows.
Both of these destinations offer a unique and immersive experience in Morocco's rich history and culture, making them popular stops for travelers exploring the country. They are situated between Marrakech and the Erg Chebbi Dunes. Any tour that connects Merzouga to Marrakech must inevitably pass through these captivating locations
6- Traveling into the heart of Atlas mountains
The Atlas mountain chain stretches across Morocco, Algeria and Tunisia, covering over 2,500 kilometers. But when it comes to popular tourist destinations, it's the mountains near Marrakech that truly steal the show. These mountains offer a fantastic day-trip option for those staying in Marrakech, allowing you to embark on a friendly hike. You'll be treated to breathtaking mountain views, embrace the beauty of nature, and savor the stunning landscapes that this region has to offer. It's a perfect way to add a touch of adventure and natural beauty to your Marrakech experience.
7- Essaouira: Morocco's Beautiful Coastal Town for Relaxation and Art
Essaouira, a charming coastal town in Morocco, is a true gem waiting to be discovered. With its historic Medina, and vibrant arts scene, it's a place where the past and present harmoniously blend. The Medina's blue-and-white buildings create a calming atmosphere, while the ocean breeze and fresh seafood make it a paradise for relaxation and culinary delights. Essaouira is also known for its artistic spirit, with numerous galleries showcasing local talent. As you wander through its narrow streets, you'll feel the unique charm of this seaside destination, making it a must-visit spot for a tranquil and cultural Moroccan experience
Morocco's allure extends beyond its famous places we have mentioned. Casablanca, Rabat, Tangier, Larache, Agadir, and Dakhla offer distinct experiences worth exploring. Casablanca boasts cultural richness, Rabat showcases history, Tangier is a gateway, Larache offers coastal charm, Agadir invites relaxation, and Dakhla is an emerging hub for water sports. These diverse destinations contribute to Morocco's tapestry of experiences for travelers. Determining the places you can visit in Morocco depends on the number of days you have for the country.
How to travel in Morocco?
1-Public Transportation
Exploring Morocco can be a rich and rewarding experience, Some of the most frequent questions we get asked are variations on; "What's public transport like in Morocco?", "What's the main method of transportation there?", "What is the cheapest way to get about?" and "What's the best way to travel around Morocco?".  
Public transportation in Morocco consists of various modes, including buses, trains, trams (in some cities), and taxis. Depending on the destination of your stay in Morocco, there are many ways to travel across the country. Whether you take a taxi, a bus, train, or a bicycle, learn how to get around easily, to take a peek at all the wonders of Morocco. it has a relatively well-developed public transportation system that includes buses, trains, and domestic flights, making it relatively easy to travel around the country,
It is considered a safe and efficient mode of transportation in Morocco. Although grand taxis typically do not use meters, both inter-city and intra-city routes often have fixed prices for each passenger. For inter-city travel, grand taxis operate between cities and smaller towns on the outskirts of larger municipalities, as there is no train system between these locations. Grand taxi fees can vary depending on the specific route and the season. During the summer, prices for grand taxis may slightly increase due to high demand, especially in coastal cities. The grand taxi is the preferred mode of transportation for cost conscious travelers that do not mind arriving within a general vicinity of their desired location. Although grand taxis do not drop passengers off at specific locations, passengers may stop anywhere along the taxi's set route by simply telling the driver. Grand Taxis are a convenient and economical way to travel between cities and towns in Morocco, especially if you're looking to explore areas that may not be easily accessible by train or bus. However, be prepared for a shared ride experience and some potential waiting time to fill the taxi before departure.
"Petit" is another common term used in Morocco to refer to small, city-based taxis that are primarily used for short-distance travel within cities. Whether your destination is around the corner or across town, the petit taxi will take you there. Morocco's petit taxi is highly intricate as every city has its own set of rules. In addition, each city has a specific color for its petit taxis, making them highly visible and recognizable. Petit taxis are found by the hundreds in the cities of Morocco, and often outnumber private cars on the roads. They are very cheap and the best way for locals and tourists to get from place to place in the city.
Usually, they are small Dacias, small Fiat Unos…

The taxis have a meter with a set price per 100m after the minimum fare, so make sure the meter is reset and switched on when you get in.

The price is a little higher in the evening, but still very good value.

If someone is already in a taxi that you hail, be prepared to go to their destination first and then on to yours.

You still pay the full fare from the time you got in the car.

Also, don't be surprised if the driver stops en route to pick up another fare if there is a spare seat or two and they're heading in roughly the same direction. This is normal, but ensure you go to your destination first.

The most petit taxi color is Casablanca's red taxi. Other colors include blue (Rabat), gold (Marrakech), light blue with a yellow stripe (Tangier), and many more. 

Urban busses
Urban buses play a crucial role in Morocco's public transportation system, especially in major cities like Casablanca, Rabat, Marrakech, and Fes. These buses provide an affordable and accessible means of commuting within urban areas, serving both locals and tourists. Typically operated by various transport companies, urban buses offer extensive networks, connecting neighborhoods, commercial districts, and important landmarks. You can use Google Maps to figure out which bus to take from where you start to where you want to go
ONCF, or the "Office National des Chemins de Fer", is Morocco's national railway company. It plays a vital role in the country's transportation network, linking major cities and regions with its reliable and efficient train services. ONCF operates various types of trains, including high-speed trains, intercity trains, and regional trains.  
The train network in Morocco is shown below in the photo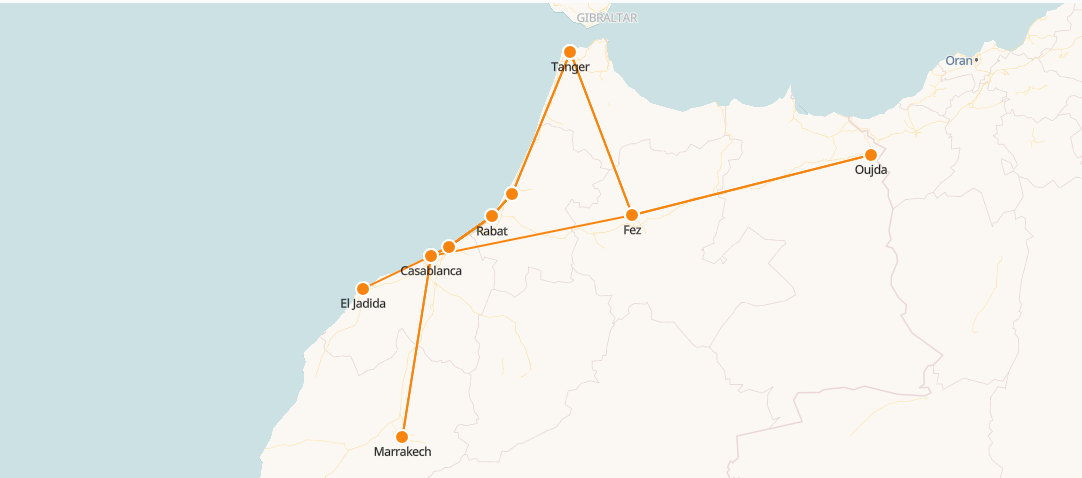 The High-speed trains, known as the TGV (Train à Grande Vitesse), connect major cities like Casablanca, Rabat, Tangier, offering a faster mode of travel.
Online tickets and train schedules are available through the official ONCF website
Supratours Busses: Supratours is a subsidiary of ONCF, and it specializes in providing bus and coach services that complement the train network. Supratours buses are often used for routes to destinations not directly accessible by train.
CTM Busses: CTM (Compagnie de Transports au Maroc) is a well-known bus company in Morocco. It is one of the largest and most reputable bus companies in the country, offering long-distance and intercity bus services. CTM buses are widely used for travel between cities and regions in Morocco, providing a convenient and affordable means of transportation for both locals and tourists. The company is known for its comfortable and well-maintained buses, making it a popular choice for those looking to explore various parts of Morocco.
Other Public busses: CTM and Supratours are the two largest and most prominent bus companies in Morocco. However, it's essential to note that Morocco also hosts several other bus companies, including Nejme Chamal, Ghazal, and others, which contribute to the extensive and diverse bus transportation network across the country.
Ticketing and Booking of buses
Tickets for public buses can be purchased at bus stations, or online through the official websites of some bus companies. For online purchases, please click on the links below:
Markoub.ma : This smart company allows you to search for bus prices and schedules, compare offers from multiple transport companies, and book your tickets online. They include over 50 bus companies in Morocco.
Please note that Not all bus companies provide online tickets. If you can't find the right ticket online, we advise you to visit the public bus stations in the city and purchase your tickets either on the day of departure or one day in advance. While some bus company staff may speak English or French, it's helpful to know basic phrases in Moroccan Arabic (Darija) or French to communicate effectively when buying tickets or asking for information.
2- Renting car
Practical Wisdom: A Timeless Guide
It's a popular and convenient way to explore the country, especially if you want to visit different cities and regions at your own pace. It's also a common choice when you need temporary access to a vehicle for various reasons, such as travel, business trips, or to replace your regular vehicle while it's undergoing repairs. Renting a car in Morocco can be a great way to explore the country's diverse landscapes and vibrant culture. Especially if you consider the following tips and advices:  
Book in Advance: It's generally a good idea to book your rental car in advance, especially during peak tourist seasons.

Choose a Reputable Rental Company: Opt for well-known international or reputable local rental car agencies to ensure reliability and good customer service. 

Check Insurance Coverage: Understand the insurance coverage offered by the rental agency. Common options include Collision Damage Waiver (CDW), Theft Protection, and Liability Insurance. 

International Driving Permit (IDP): While it's not always required, having an International Driving Permit (IDP) can be useful and may be necessary with some rental agencies.

Check the weather conditions before hitting the road. Some roads in the Atlas Mountains can become impassable during snowy conditions
Before traveling, it's better to have an internet connection. You might need to check for information while you're on the go

Inspect the Car: Before driving away, thoroughly inspect the rental car for any existing damage or issues.

Road Conditions: Be prepared for varying road conditions, especially in rural and mountainous areas. 

Local Traffic Rules: Familiarize yourself with local traffic rules and customs.

Parking: Find out about parking options at your destinations.

Safety: Drive defensively and be aware of local driving practices.

Emergency Contacts: Carry a list of emergency contact numbers, including the police (19), ambulance (15), and fire department (15), Royal gendarmerie (177)

Language: While many Moroccans working in the tourism industry speak English or French, it can be helpful to learn some basic Arabic or French phrases for communication, especially in more remote areas.

Plan Your Route: Plan your route in advance and have a clear idea of your destinations and stops along the way.
What to avoid while renting a car in Morocco?
Renting a car and driving in Morocco is safe ,  Most roads are well-maintained and it is important to  follow the traffic rules and the tips mentioned in this article. When renting a car, there are several things you should avoid to ensure a smooth and trouble-free rental experience.
Not Reading the Rental Agreement: One of the most important things to avoid is rushing through the rental agreement without reading it thoroughly.

Declining Insurance Without Careful Consideration: While rental car insurance can be expensive, it's important not to automatically decline it without understanding your own insurance coverage.

Declining Insurance Without Careful Consideration: While rental car insurance can be expensive, it's important not to automatically decline it without understanding your own insurance coverage. 

Not Inspecting the Car: Before driving away with the rental car, thoroughly inspect it for any pre-existing damage, such as scratches, dents, or mechanical issues. 

Returning the Car Late: Returning the rental car late can lead to additional charges.

Not Returning the Car with a Full Tank: If you received the car with a full tank of gas, make sure to return it with a full tank to avoid refueling charges.

Overloading the Vehicle: Pay attention to the vehicle's weight limit and passenger capacity. 

Not Planning Ahead: Failing to plan your route, accommodations, and rest stops can lead to unnecessary stress and complications during your trip. 

Ignoring Local Customs: Familiarize yourself with local driving customs and practices.

Neglecting to Maintain the Vehicle: Treat the rental car with care and ensure you follow maintenance guidelines outlined by the rental agency.
By avoiding these common mistakes and taking the time to understand the rental agreement and local regulations, you can have a stress-free and enjoyable rental car experience.
 3- Booking with a tour company
Tour companies play a significant role in the travel industry by simplifying travel planning, providing access to unique experiences, and allowing travelers to explore new destinations with the convenience of having logistics taken care of. Travelers can choose from a wide variety of tour companies based on their interests, budget, and the type of travel experience they seek.
The advantages of booking with a tour company can make for a more enjoyable and hassle-free travel experience, particularly for those who prefer organized and guided trips. Booking with a tour company offers several advantages for travelers:
Tour companies handle the logistics, from transportation and accommodations to guided tours, making travel planning effortless and less stressful.
Travel advisors guide and organizer provide in-depth knowledge about destinations, enhancing the travel experience with insights and local expertise.
Tour companies often offer exclusive access to attractions and activities that may be challenging to arrange independently.
Traveling with a reputable tour company can provide a sense of security, particularly in unfamiliar or remote locations.
If you travel in a group, it's an excellent way to meet like-minded travelers and share experiences
If you take a private tour, you will have full control over your trip. Your driver and guide will provide you with all the information, but the choice is always yours for flexible trip management
 Tours are often well-structured, allowing travelers to maximize their time and see more in a shorter period.
Tour companies can facilitate interactions with locals, providing a deeper cultural experience.
With pre-planned itineraries, travelers can relax and enjoy their journey without the stress of arranging every detail.
Tour companies provide assistance in case of unexpected situations, such as flight delays or medical emergencies.

Local tour operator or international travel agency?
Being a local tour operator in Morocco, we highly recommend choosing local operators when planning your Trip to Morocco. Local operators often offer more competitive prices compared to international agencies. They possess an in-depth knowledge of the country that surpasses that of other agencies, allowing for a more authentic and immersive travel experience. With a deep understanding of the culture, customs, and hidden gems, local operators can tailor your journey to uncover the true essence of Morocco, ensuring a memorable and enriching adventure.
If you've had positive experiences traveling with a particular company, and you're satisfied with their service and support, it's a wise choice to book with them again for your Morocco tour. This way, you can avoid the stress of searching for a new local operator.
Choosing the right local tour company
When it comes to traveling abroad with a tour company, the top priority is finding a safe and reputable one to avoid scams. Choosing the right company can be stressful, especially if you're not an experienced traveler. But when it comes to picking the best company for private tours in Morocco, these tips will help you find the top options in the market:
Reviews and Reputation: trustworthy company has a substantial number of online positive customer reviews. In the case of Morocco, most companies can be found listed on platforms such as TripAdvisor, Google Maps, or TrustPilot.
Online Presence: Reputable tour companies maintain their own websites, providing a convenient means of contact. You can easily find them by searching for their name on Google and visiting their website.
Responsiveness: You can sense a great company right from your first interaction with them. Compare how they respond to your questions before you make a booking, and consider their speed and helpfulness. At Morocco Top Trips, we take pride in being the most responsive and top-rated tour agency in the country.
Recommendations: Seek recommendations from friends, family, or online travel communities for trusted tour operators.
Advisory and local and Expertise: When you travel with an agency, you're seeking more than just a regular agent; you want a travel advisor. While many companies focus solely on selling their tours, only a few go beyond profit to provide informed guidance. In cases where your desired itinerary is not feasible, these rare companies will transparently inform you about the limitations.
Explore Multiple Offers: It's a wise approach to reach out to several companies, ideally three or four, to receive multiple offers. This allows you to make comprehensive comparisons based on factors such as service quality, cost-effectiveness, inclusions, and accommodation options.
Flexibility: Check the company's policies on changes and cancellations, as well as any flexibility in the itinerary.
 4-Which option suits you
If you're traveling on a budget, using public transportation or joining a group tour can be your best options. On the other hand, if you have more flexibility in your budget and prefer increased privacy, customizable itineraries, and a more personalized experience, then renting a car or opting for a private tour would be the ideal choice for creating unforgettable memories in Morocco.
Because we have a deep passion for travel and organizing memorable trips, at Morocco Top Trips, we are delighted to assist with any inquiries or provide information about Morocco, even if you decide not to book with us. If you're traveling to Morocco, or already in the country and need information on where to go, what to do, or restaurant recommendations, simply leave us a message, and we'll get back to you within 24 hours. We take pride in being the most responsive team in Morocco.