Morocco Desert Camp: Our tour company arranges private camping in the Moroccan Sahara Desert. There are different types of camps; the standard ones with black Berber tents and the luxury camps with private facilities in your tent.
If you're looking for an adventure tour, camping in the Sahara  desert is an experience like no other. From camel rides to sand-boarding in the vastness of the Sahara, and the clear night skies. There's plenty to keep you entertained in the desert. And, of course, no trip to Morocco would be complete without a few nights under the stars in a desert camp.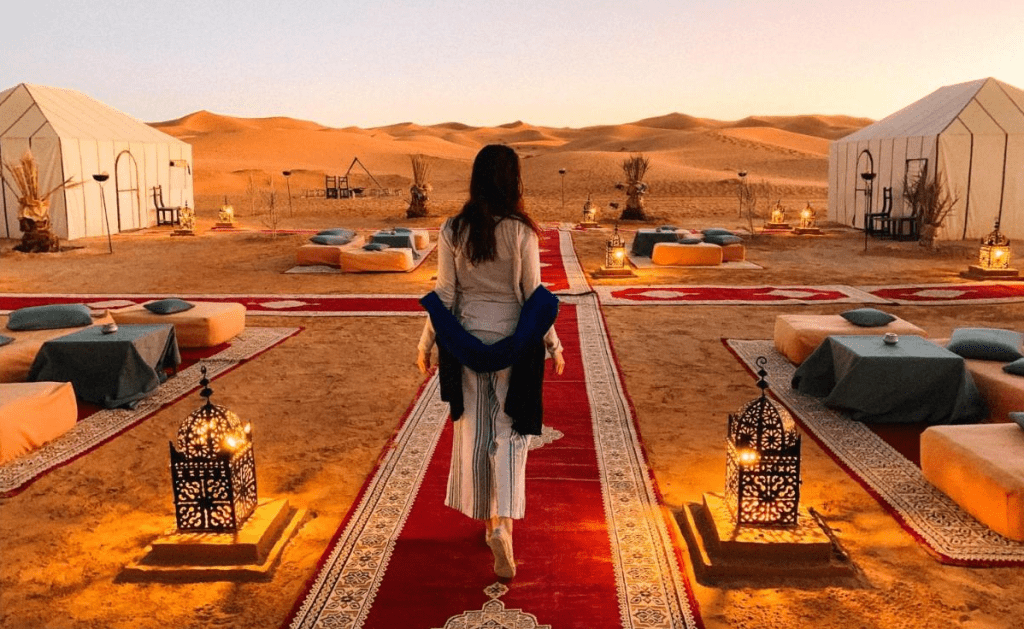 Morocco Top Trips tour company provides desert camping in luxury and traditional Berber camps. They are tents in the desert that look like hotel rooms in the cities. We offer glamping in different desert regions in Morocco. You can book with us a luxury glamping in Agafay desert which is a place near Marrakech, You can also select Sahara camping in Erg Chebbi dunes in the famous Merzouga area or Erg Chigaga in Zagora. If you are interested in a great experience in the Sahara desert you can select one of our tours that include a Sahara experience, and we will make sure you get all the experience in the region such as; a camel trek, desert excursion, and overnights in a luxury desert camp.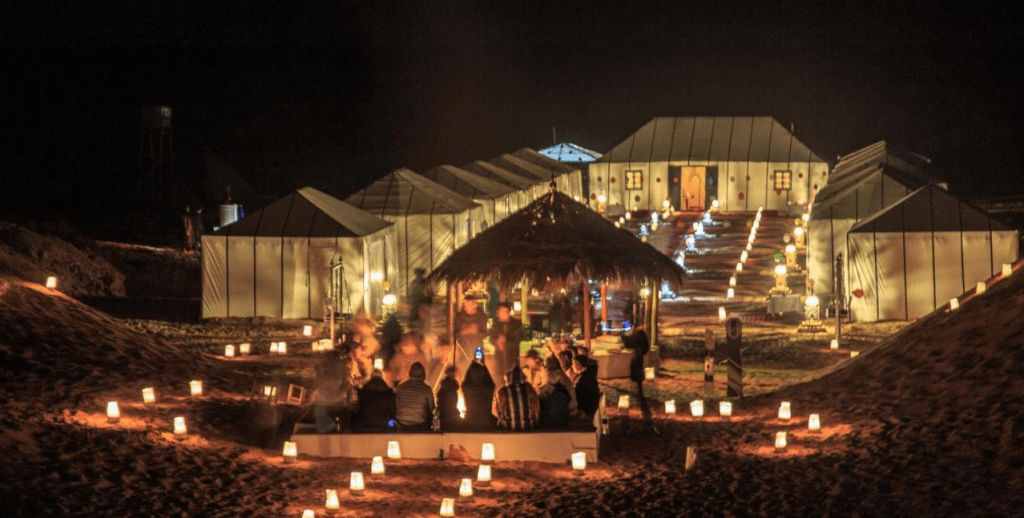 Book your private trip to spend a special night in our Morocco Desert Camp. It's an exceptional experience for our visitors. One of the main things we prefer to add to our program for our guests is is to ensure they get a magical and unforgettable memory in the Sahara Desert. Once we arrived in the desert in southeastern Morocco, We start a discovery, You find out about different lifestyles, and you get clean and calm air far from the noises in the big cities. After getting some reset in your hotel in Merzouga or Zagora village, with a cup of mint tea, we will begin our adventure with Camel rides and Trekking among the dunes of Erg Chegaga or Erg Chebbi to reach the Traditional Berber Desert Camp.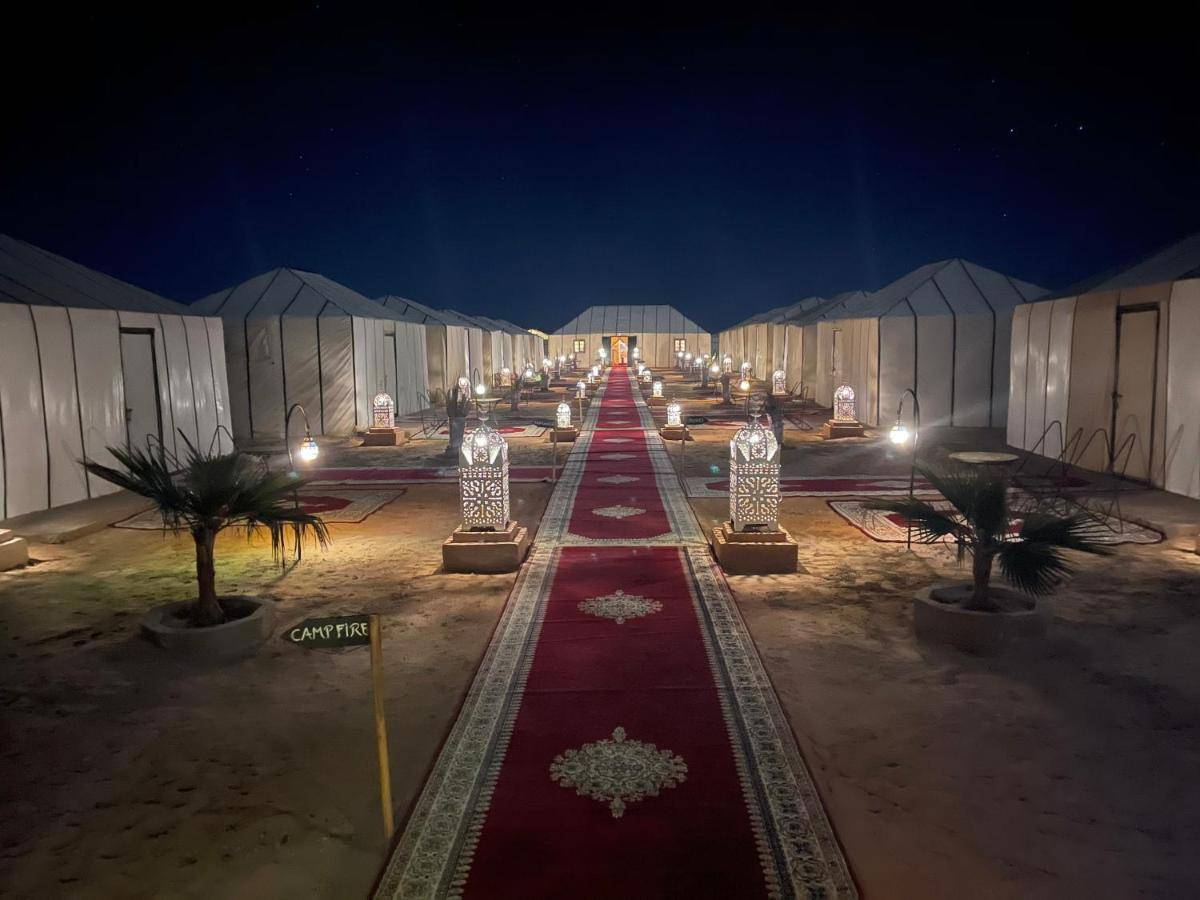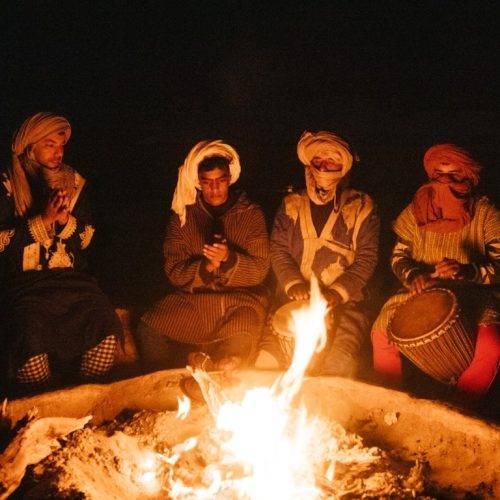 The traditional Berber desert camp is located at the base of the remote great dunes. The camps are surrounded by smaller rolling dunes for privacy, It is also a great way which offers a high point to enjoy the Sunset and Sunrise in the Sahara Desert.
The overnight in the black tents at the desert camp is comfortable. They are made of goat and camel hair. Every tent includes a shower and toilet. There is also a separate dining salon tent and outdoor space for relaxation and enjoyment of nomad dance and singing performances around the campfire. Your stay at the Traditional Berber Desert camp includes all meals, drinking water, hot drinks, and a guided camel ride.
Also, we arrange trips to the Berber Nomads Camp or hotels in Merzouga or Zagora to celebrate special occasions such as The honeymoon, weddings in Berbers tradition, celebrate your birthday, and so on.
If you are looking for an opportunity to see a part of the world that few people get to experience, our travel agency Morocco Top Trips has a variety of private tours and trips all over Morocco, we can organize tours to the desert from different cities, Casablanca, Fez or Marrakesh. Check out tours or contact us for assistance.