5 days Sahara Tour from Marrakech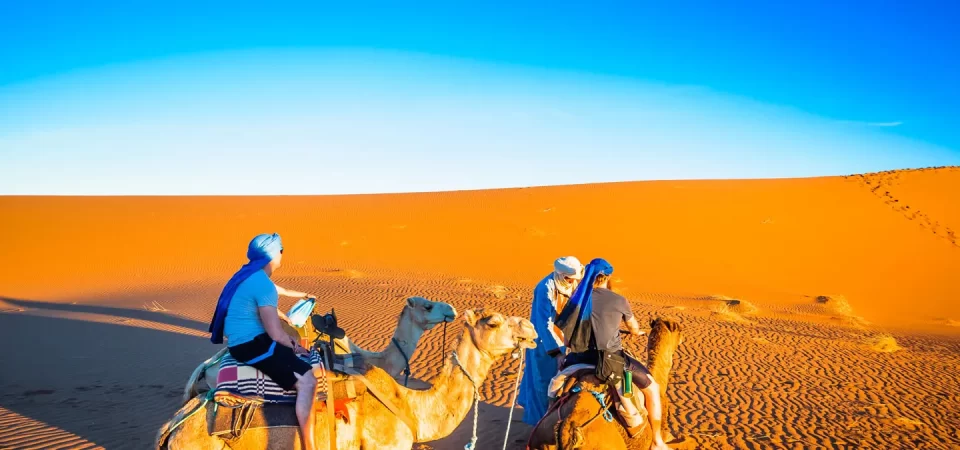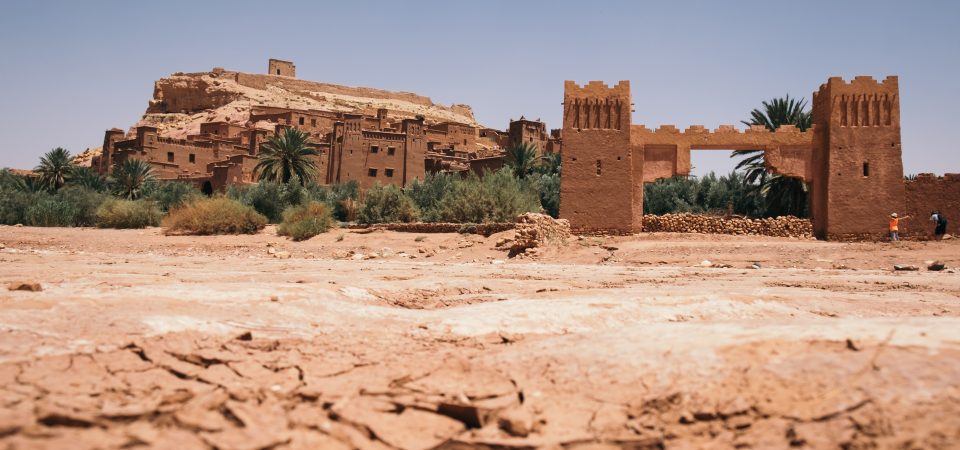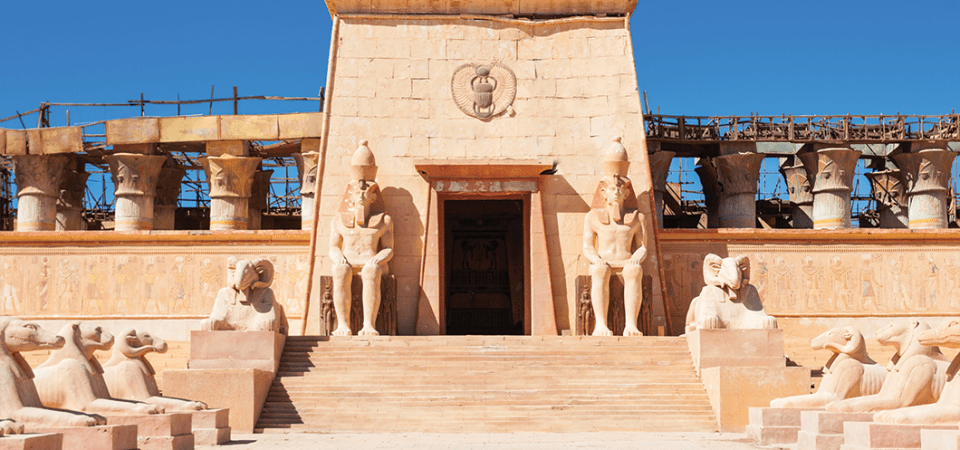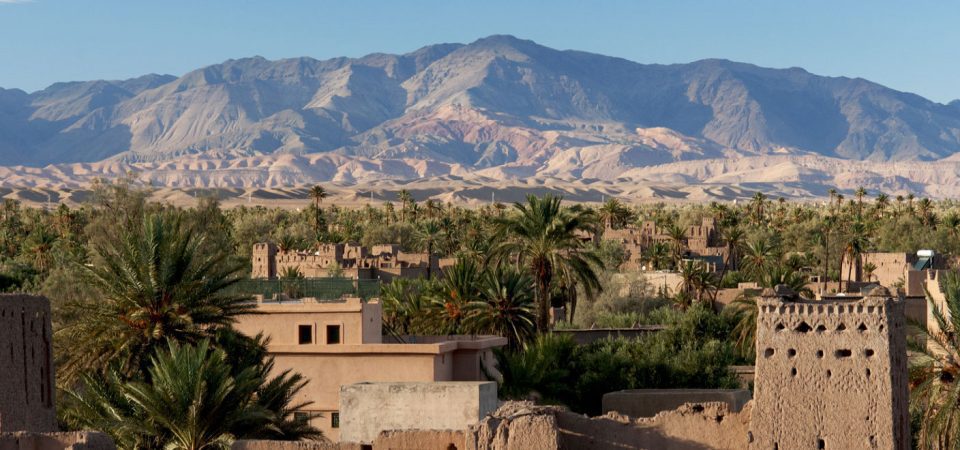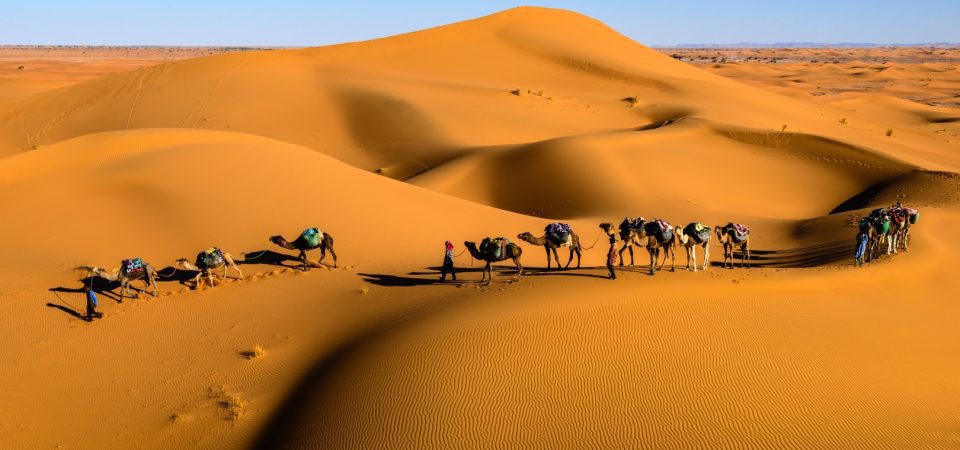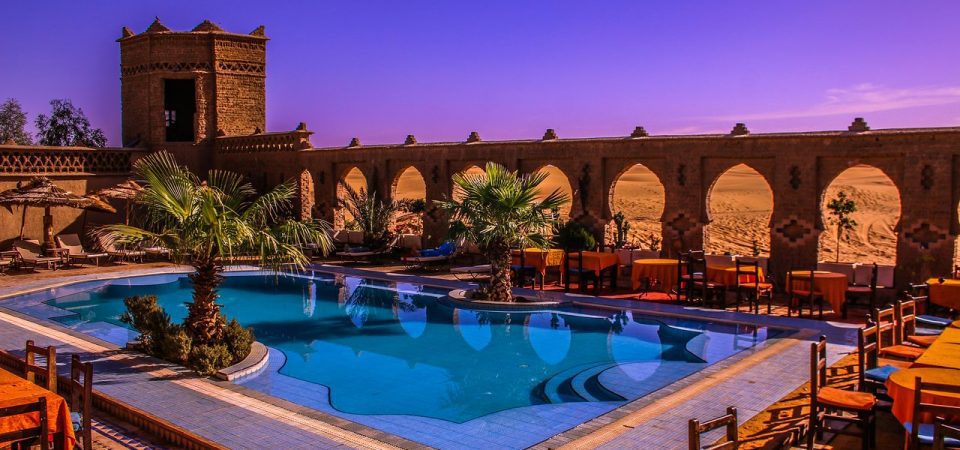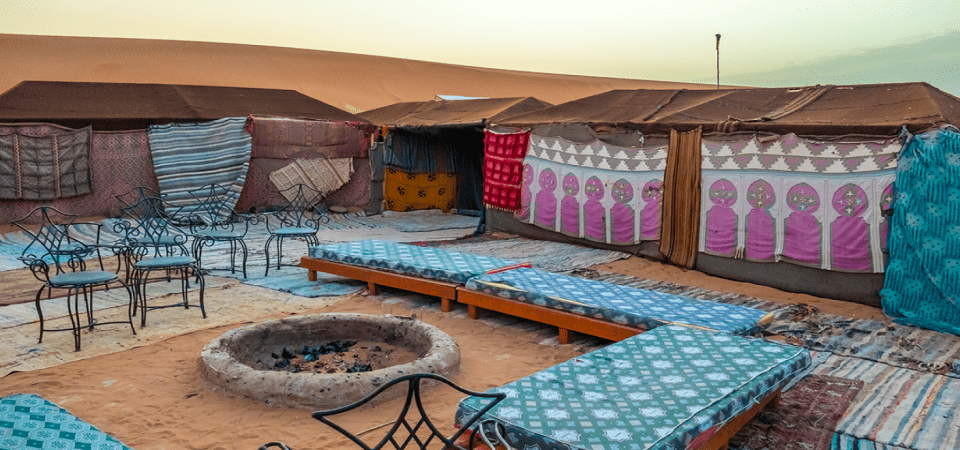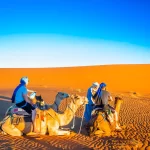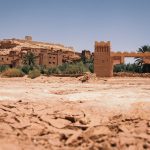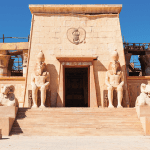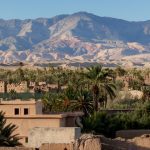 +3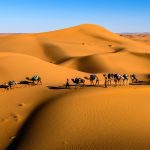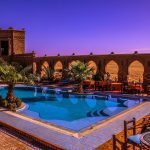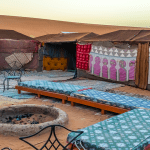 5 days Sahara Tour from Marrakech
If you want to explore the Moroccan Desert, there is no better way to do it than on a 5 day Sahara tour from Marrakech. This tour will take you through some of the most beautiful and varied landscapes in Morocco, from the snow-capped Atlas Mountains to the vast expanse of the Sahara Desert. You will have the opportunity to experience traditional Moroccan culture and see some of the country's most iconic sights, including the UNESCO World Heritage Site of Ait Ben Haddou. Your journey will begin in Marrakesh, and drive south towards the Atlas Mountains. You will stop to explore the UNESCO World Heritage Site of Ait Ben Haddou, a fortified ksar that has been used as a filming location for many Hollywood movies. You will then continue to Ouarzazate, then to Sahara Desert.
Tour type: Marrakech desert tour
Starting City: Marrakech
Ending City: Marrakech ( You can choose Fes too)
Travel itinerary: Marrakech, Ait ben Haddou Kasbah, Ouarzazate, Dades Valley, Merzouga Sahara desert
Night Staying :
1 night in DADES Gorges hotel
1 night in Merzouga desert Camp
1 night in Merzouga hotel/Riad
1 night in Ourzazat hotel/Riad
Day 1: Marrakech- Ait ben Haddou Kasbah- Ouarzazat- Dades valley
This trip starts from Marrakech through the Atlas Mountain TIZI-N-TICHKA reaching Kasbah AIT BEN HADDOU, one of the most beautiful villages in Morocco nominated a UNESCO world heritage site since 1987. After exploring this area, the road will be to to DADES Gorges at your hotel with dinner and breakfast included. Between Ouarzazate and DADES, we will pass by the Valley of roses in KELAAT M'GOUNA, a famous place for an annual roses festival.
Day 2: Desert Tour: Dades valley- Gate of Sahara, Merzouga Erg Chebbi
After breakfast in Dades valley, we will continue our road to Todra gorges "Todgha gorges" through Tinghir. Stopping for a while to take some photos and admiring the Canyons view. by the afternoon, we will get to Tinejdad where you will have lunch and then going to Erfoud where we will pass by Fossil craft workshop; the famous clothing and accessories brand. We'll continue then to Merzouga Erg Chebbi. After resting for a moment in Merzouga, there will enjoy Camel rides and trekking activity through the golden sand dunes of Erg Chebbi in desert to get to the traditional camp (Nomad, Berber tents) where you will be spending the second night. This is a good opportunity to sahara sunset and sunrise. The night will be animated by drums music.
Day 3: Desert Tour: Merzouga, Khamlia, Rissani, Erg chebbi dunes:
At the early morning, on sunrise time,to catch the beauty of sunrise in the desert. You will ride camels to return to your hotel. After having breakfast, we will visit Gnaoua village Khamlia where we will be entertained by local famous music instruments by Gnaoua band. we will give visit to nomads Families and we will drive to Rissani city to see the largest  "souk" traditional market of the region. Locales from surrounding areas accede to this city to shop for their every day needs. After lunch in Rissani: Madfouna, Tajines, Mint Tea drink… "Madfouna, a famous meal in the town" we will take the road back to  Merzouga where to spend the night.
Day 4: Desert Tour: Merzouga Sahara to Ouarzazate
The 4th day of our "desert tour" trip, we'll leave the Sahara towards the African Hollywood, Ouarzazate where some famous Hollywood movies were filmed 'Atlas studios' ; Gladiator to Babel, before featuring in Game of Thrones. Before reaching Ouarzazat, we will travel through Rissan, Alnif, Nakob and Zagora, another desert's gate where we will explore some Kasbah and the Palms trees forest. After having lunch in Zagora, we will leave to the African Hollywood, Ouarzazate where you will have some time to explore this the area by yourself.
Day 5: Ouarzazat to Marrakech via Tizi-N-Tichka pass in Atlas Mountains
on the 5th day, we will return to Marrakech through the Tizi-N-Tichka Pass and we will have a stop at a village named "Taddart" located  at half of the road between Marrakech and Ouarzazat.
Morocco Top Trips offers premium private tours in three packages levels: Standard, Luxury, and VIP.
All prices on the website reflect the standard package. Please inquire for Luxury and VIP package pricing.
2
For a group of 7 or more
General price:
€

390.00 / ticket
Options
guests = 1

Price

€

1390.00 / ticket

guests = 2

Price

€

790.00 / ticket

guests = 3

Price

€

680.00 / ticket

guests = 4

Price

€

550.00 / ticket

guests = 5

Price

€

490.00 / ticket

guests = 6

Price

€

450.00 / ticket

guests >= 7

Price

€

390.00 / ticket
3
For a group of 7 or more
General price:
€

390.00 / ticket
Options
guests = 1

Price

€

1390.00 / ticket

guests = 2

Price

€

790.00 / ticket

guests = 3

Price

€

680.00 / ticket

guests = 4

Price

€

550.00 / ticket

guests = 5

Price

€

490.00 / ticket

guests = 6

Price

€

450.00 / ticket

guests >= 7

Price

€

390.00 / ticket
4
For a group of 7 or more
General price:
€

390.00 / ticket
Options
guests = 1

Price

€

1390.00 / ticket

guests = 2

Price

€

790.00 / ticket

guests = 3

Price

€

680.00 / ticket

guests = 4

Price

€

550.00 / ticket

guests = 5

Price

€

490.00 / ticket

guests = 6

Price

€

450.00 / ticket

guests >= 7

Price

€

390.00 / ticket
5
For a group of 7 or more
General price:
€

390.00 / ticket
Options
guests = 1

Price

€

1390.00 / ticket

guests = 2

Price

€

790.00 / ticket

guests = 3

Price

€

680.00 / ticket

guests = 4

Price

€

550.00 / ticket

guests = 5

Price

€

490.00 / ticket

guests = 6

Price

€

450.00 / ticket

guests >= 7

Price

€

390.00 / ticket
6
For a group of 7 or more
General price:
€

390.00 / ticket
Options
guests = 1

Price

€

1390.00 / ticket

guests = 2

Price

€

790.00 / ticket

guests = 3

Price

€

680.00 / ticket

guests = 4

Price

€

550.00 / ticket

guests = 5

Price

€

490.00 / ticket

guests = 6

Price

€

450.00 / ticket

guests >= 7

Price

€

390.00 / ticket
7
For a group of 7 or more
General price:
€

390.00 / ticket
Options
guests = 1

Price

€

1390.00 / ticket

guests = 2

Price

€

790.00 / ticket

guests = 3

Price

€

680.00 / ticket

guests = 4

Price

€

550.00 / ticket

guests = 5

Price

€

490.00 / ticket

guests = 6

Price

€

450.00 / ticket

guests >= 7

Price

€

390.00 / ticket
8
For a group of 7 or more
General price:
€

390.00 / ticket
Options
guests = 1

Price

€

1390.00 / ticket

guests = 2

Price

€

790.00 / ticket

guests = 3

Price

€

680.00 / ticket

guests = 4

Price

€

550.00 / ticket

guests = 5

Price

€

490.00 / ticket

guests = 6

Price

€

450.00 / ticket

guests >= 7

Price

€

390.00 / ticket
9
For a group of 7 or more
General price:
€

390.00 / ticket
Options
guests = 1

Price

€

1390.00 / ticket

guests = 2

Price

€

790.00 / ticket

guests = 3

Price

€

680.00 / ticket

guests = 4

Price

€

550.00 / ticket

guests = 5

Price

€

490.00 / ticket

guests = 6

Price

€

450.00 / ticket

guests >= 7

Price

€

390.00 / ticket
10
For a group of 7 or more
General price:
€

390.00 / ticket
Options
guests = 1

Price

€

1390.00 / ticket

guests = 2

Price

€

790.00 / ticket

guests = 3

Price

€

680.00 / ticket

guests = 4

Price

€

550.00 / ticket

guests = 5

Price

€

490.00 / ticket

guests = 6

Price

€

450.00 / ticket

guests >= 7

Price

€

390.00 / ticket
11
For a group of 7 or more
General price:
€

390.00 / ticket
Options
guests = 1

Price

€

1390.00 / ticket

guests = 2

Price

€

790.00 / ticket

guests = 3

Price

€

680.00 / ticket

guests = 4

Price

€

550.00 / ticket

guests = 5

Price

€

490.00 / ticket

guests = 6

Price

€

450.00 / ticket

guests >= 7

Price

€

390.00 / ticket
12
For a group of 7 or more
General price:
€

390.00 / ticket
Options
guests = 1

Price

€

1390.00 / ticket

guests = 2

Price

€

790.00 / ticket

guests = 3

Price

€

680.00 / ticket

guests = 4

Price

€

550.00 / ticket

guests = 5

Price

€

490.00 / ticket

guests = 6

Price

€

450.00 / ticket

guests >= 7

Price

€

390.00 / ticket
13
For a group of 7 or more
General price:
€

390.00 / ticket
Options
guests = 1

Price

€

1390.00 / ticket

guests = 2

Price

€

790.00 / ticket

guests = 3

Price

€

680.00 / ticket

guests = 4

Price

€

550.00 / ticket

guests = 5

Price

€

490.00 / ticket

guests = 6

Price

€

450.00 / ticket

guests >= 7

Price

€

390.00 / ticket
14
For a group of 7 or more
General price:
€

390.00 / ticket
Options
guests = 1

Price

€

1390.00 / ticket

guests = 2

Price

€

790.00 / ticket

guests = 3

Price

€

680.00 / ticket

guests = 4

Price

€

550.00 / ticket

guests = 5

Price

€

490.00 / ticket

guests = 6

Price

€

450.00 / ticket

guests >= 7

Price

€

390.00 / ticket
15
For a group of 7 or more
General price:
€

390.00 / ticket
Options
guests = 1

Price

€

1390.00 / ticket

guests = 2

Price

€

790.00 / ticket

guests = 3

Price

€

680.00 / ticket

guests = 4

Price

€

550.00 / ticket

guests = 5

Price

€

490.00 / ticket

guests = 6

Price

€

450.00 / ticket

guests >= 7

Price

€

390.00 / ticket
16
For a group of 7 or more
General price:
€

390.00 / ticket
Options
guests = 1

Price

€

1390.00 / ticket

guests = 2

Price

€

790.00 / ticket

guests = 3

Price

€

680.00 / ticket

guests = 4

Price

€

550.00 / ticket

guests = 5

Price

€

490.00 / ticket

guests = 6

Price

€

450.00 / ticket

guests >= 7

Price

€

390.00 / ticket
17
For a group of 7 or more
General price:
€

390.00 / ticket
Options
guests = 1

Price

€

1390.00 / ticket

guests = 2

Price

€

790.00 / ticket

guests = 3

Price

€

680.00 / ticket

guests = 4

Price

€

550.00 / ticket

guests = 5

Price

€

490.00 / ticket

guests = 6

Price

€

450.00 / ticket

guests >= 7

Price

€

390.00 / ticket
18
For a group of 7 or more
General price:
€

390.00 / ticket
Options
guests = 1

Price

€

1390.00 / ticket

guests = 2

Price

€

790.00 / ticket

guests = 3

Price

€

680.00 / ticket

guests = 4

Price

€

550.00 / ticket

guests = 5

Price

€

490.00 / ticket

guests = 6

Price

€

450.00 / ticket

guests >= 7

Price

€

390.00 / ticket
19
For a group of 7 or more
General price:
€

390.00 / ticket
Options
guests = 1

Price

€

1390.00 / ticket

guests = 2

Price

€

790.00 / ticket

guests = 3

Price

€

680.00 / ticket

guests = 4

Price

€

550.00 / ticket

guests = 5

Price

€

490.00 / ticket

guests = 6

Price

€

450.00 / ticket

guests >= 7

Price

€

390.00 / ticket
20
For a group of 7 or more
General price:
€

390.00 / ticket
Options
guests = 1

Price

€

1390.00 / ticket

guests = 2

Price

€

790.00 / ticket

guests = 3

Price

€

680.00 / ticket

guests = 4

Price

€

550.00 / ticket

guests = 5

Price

€

490.00 / ticket

guests = 6

Price

€

450.00 / ticket

guests >= 7

Price

€

390.00 / ticket
21
For a group of 7 or more
General price:
€

390.00 / ticket
Options
guests = 1

Price

€

1390.00 / ticket

guests = 2

Price

€

790.00 / ticket

guests = 3

Price

€

680.00 / ticket

guests = 4

Price

€

550.00 / ticket

guests = 5

Price

€

490.00 / ticket

guests = 6

Price

€

450.00 / ticket

guests >= 7

Price

€

390.00 / ticket
22
For a group of 7 or more
General price:
€

390.00 / ticket
Options
guests = 1

Price

€

1390.00 / ticket

guests = 2

Price

€

790.00 / ticket

guests = 3

Price

€

680.00 / ticket

guests = 4

Price

€

550.00 / ticket

guests = 5

Price

€

490.00 / ticket

guests = 6

Price

€

450.00 / ticket

guests >= 7

Price

€

390.00 / ticket
23
For a group of 7 or more
General price:
€

390.00 / ticket
Options
guests = 1

Price

€

1390.00 / ticket

guests = 2

Price

€

790.00 / ticket

guests = 3

Price

€

680.00 / ticket

guests = 4

Price

€

550.00 / ticket

guests = 5

Price

€

490.00 / ticket

guests = 6

Price

€

450.00 / ticket

guests >= 7

Price

€

390.00 / ticket
24
For a group of 7 or more
General price:
€

390.00 / ticket
Options
guests = 1

Price

€

1390.00 / ticket

guests = 2

Price

€

790.00 / ticket

guests = 3

Price

€

680.00 / ticket

guests = 4

Price

€

550.00 / ticket

guests = 5

Price

€

490.00 / ticket

guests = 6

Price

€

450.00 / ticket

guests >= 7

Price

€

390.00 / ticket
25
For a group of 7 or more
General price:
€

390.00 / ticket
Options
guests = 1

Price

€

1390.00 / ticket

guests = 2

Price

€

790.00 / ticket

guests = 3

Price

€

680.00 / ticket

guests = 4

Price

€

550.00 / ticket

guests = 5

Price

€

490.00 / ticket

guests = 6

Price

€

450.00 / ticket

guests >= 7

Price

€

390.00 / ticket
26
For a group of 7 or more
General price:
€

390.00 / ticket
Options
guests = 1

Price

€

1390.00 / ticket

guests = 2

Price

€

790.00 / ticket

guests = 3

Price

€

680.00 / ticket

guests = 4

Price

€

550.00 / ticket

guests = 5

Price

€

490.00 / ticket

guests = 6

Price

€

450.00 / ticket

guests >= 7

Price

€

390.00 / ticket
27
For a group of 7 or more
General price:
€

390.00 / ticket
Options
guests = 1

Price

€

1390.00 / ticket

guests = 2

Price

€

790.00 / ticket

guests = 3

Price

€

680.00 / ticket

guests = 4

Price

€

550.00 / ticket

guests = 5

Price

€

490.00 / ticket

guests = 6

Price

€

450.00 / ticket

guests >= 7

Price

€

390.00 / ticket
28
For a group of 7 or more
General price:
€

390.00 / ticket
Options
guests = 1

Price

€

1390.00 / ticket

guests = 2

Price

€

790.00 / ticket

guests = 3

Price

€

680.00 / ticket

guests = 4

Price

€

550.00 / ticket

guests = 5

Price

€

490.00 / ticket

guests = 6

Price

€

450.00 / ticket

guests >= 7

Price

€

390.00 / ticket
29
For a group of 7 or more
General price:
€

390.00 / ticket
Options
guests = 1

Price

€

1390.00 / ticket

guests = 2

Price

€

790.00 / ticket

guests = 3

Price

€

680.00 / ticket

guests = 4

Price

€

550.00 / ticket

guests = 5

Price

€

490.00 / ticket

guests = 6

Price

€

450.00 / ticket

guests >= 7

Price

€

390.00 / ticket
30
For a group of 7 or more
General price:
€

390.00 / ticket
Options
guests = 1

Price

€

1390.00 / ticket

guests = 2

Price

€

790.00 / ticket

guests = 3

Price

€

680.00 / ticket

guests = 4

Price

€

550.00 / ticket

guests = 5

Price

€

490.00 / ticket

guests = 6

Price

€

450.00 / ticket

guests >= 7

Price

€

390.00 / ticket
1
For a group of 7 or more
General price:
€

390.00 / ticket
Options
guests = 1

Price

€

1390.00 / ticket

guests = 2

Price

€

790.00 / ticket

guests = 3

Price

€

680.00 / ticket

guests = 4

Price

€

550.00 / ticket

guests = 5

Price

€

490.00 / ticket

guests = 6

Price

€

450.00 / ticket

guests >= 7

Price

€

390.00 / ticket
2
For a group of 7 or more
General price:
€

390.00 / ticket
Options
guests = 1

Price

€

1390.00 / ticket

guests = 2

Price

€

790.00 / ticket

guests = 3

Price

€

680.00 / ticket

guests = 4

Price

€

550.00 / ticket

guests = 5

Price

€

490.00 / ticket

guests = 6

Price

€

450.00 / ticket

guests >= 7

Price

€

390.00 / ticket
26
For a group of 7 or more
General price:
€

390.00 / ticket
Options
guests = 1

Price

€

1390.00 / ticket

guests = 2

Price

€

790.00 / ticket

guests = 3

Price

€

680.00 / ticket

guests = 4

Price

€

550.00 / ticket

guests = 5

Price

€

490.00 / ticket

guests = 6

Price

€

450.00 / ticket

guests >= 7

Price

€

390.00 / ticket
27
For a group of 7 or more
General price:
€

390.00 / ticket
Options
guests = 1

Price

€

1390.00 / ticket

guests = 2

Price

€

790.00 / ticket

guests = 3

Price

€

680.00 / ticket

guests = 4

Price

€

550.00 / ticket

guests = 5

Price

€

490.00 / ticket

guests = 6

Price

€

450.00 / ticket

guests >= 7

Price

€

390.00 / ticket
28
For a group of 7 or more
General price:
€

390.00 / ticket
Options
guests = 1

Price

€

1390.00 / ticket

guests = 2

Price

€

790.00 / ticket

guests = 3

Price

€

680.00 / ticket

guests = 4

Price

€

550.00 / ticket

guests = 5

Price

€

490.00 / ticket

guests = 6

Price

€

450.00 / ticket

guests >= 7

Price

€

390.00 / ticket
29
For a group of 7 or more
General price:
€

390.00 / ticket
Options
guests = 1

Price

€

1390.00 / ticket

guests = 2

Price

€

790.00 / ticket

guests = 3

Price

€

680.00 / ticket

guests = 4

Price

€

550.00 / ticket

guests = 5

Price

€

490.00 / ticket

guests = 6

Price

€

450.00 / ticket

guests >= 7

Price

€

390.00 / ticket
30
For a group of 7 or more
General price:
€

390.00 / ticket
Options
guests = 1

Price

€

1390.00 / ticket

guests = 2

Price

€

790.00 / ticket

guests = 3

Price

€

680.00 / ticket

guests = 4

Price

€

550.00 / ticket

guests = 5

Price

€

490.00 / ticket

guests = 6

Price

€

450.00 / ticket

guests >= 7

Price

€

390.00 / ticket
1
For a group of 7 or more
General price:
€

390.00 / ticket
Options
guests = 1

Price

€

1390.00 / ticket

guests = 2

Price

€

790.00 / ticket

guests = 3

Price

€

680.00 / ticket

guests = 4

Price

€

550.00 / ticket

guests = 5

Price

€

490.00 / ticket

guests = 6

Price

€

450.00 / ticket

guests >= 7

Price

€

390.00 / ticket
2
For a group of 7 or more
General price:
€

390.00 / ticket
Options
guests = 1

Price

€

1390.00 / ticket

guests = 2

Price

€

790.00 / ticket

guests = 3

Price

€

680.00 / ticket

guests = 4

Price

€

550.00 / ticket

guests = 5

Price

€

490.00 / ticket

guests = 6

Price

€

450.00 / ticket

guests >= 7

Price

€

390.00 / ticket
3
For a group of 7 or more
General price:
€

390.00 / ticket
Options
guests = 1

Price

€

1390.00 / ticket

guests = 2

Price

€

790.00 / ticket

guests = 3

Price

€

680.00 / ticket

guests = 4

Price

€

550.00 / ticket

guests = 5

Price

€

490.00 / ticket

guests = 6

Price

€

450.00 / ticket

guests >= 7

Price

€

390.00 / ticket
4
For a group of 7 or more
General price:
€

390.00 / ticket
Options
guests = 1

Price

€

1390.00 / ticket

guests = 2

Price

€

790.00 / ticket

guests = 3

Price

€

680.00 / ticket

guests = 4

Price

€

550.00 / ticket

guests = 5

Price

€

490.00 / ticket

guests = 6

Price

€

450.00 / ticket

guests >= 7

Price

€

390.00 / ticket
5
For a group of 7 or more
General price:
€

390.00 / ticket
Options
guests = 1

Price

€

1390.00 / ticket

guests = 2

Price

€

790.00 / ticket

guests = 3

Price

€

680.00 / ticket

guests = 4

Price

€

550.00 / ticket

guests = 5

Price

€

490.00 / ticket

guests = 6

Price

€

450.00 / ticket

guests >= 7

Price

€

390.00 / ticket
6
For a group of 7 or more
General price:
€

390.00 / ticket
Options
guests = 1

Price

€

1390.00 / ticket

guests = 2

Price

€

790.00 / ticket

guests = 3

Price

€

680.00 / ticket

guests = 4

Price

€

550.00 / ticket

guests = 5

Price

€

490.00 / ticket

guests = 6

Price

€

450.00 / ticket

guests >= 7

Price

€

390.00 / ticket
7
For a group of 7 or more
General price:
€

390.00 / ticket
Options
guests = 1

Price

€

1390.00 / ticket

guests = 2

Price

€

790.00 / ticket

guests = 3

Price

€

680.00 / ticket

guests = 4

Price

€

550.00 / ticket

guests = 5

Price

€

490.00 / ticket

guests = 6

Price

€

450.00 / ticket

guests >= 7

Price

€

390.00 / ticket
8
For a group of 7 or more
General price:
€

390.00 / ticket
Options
guests = 1

Price

€

1390.00 / ticket

guests = 2

Price

€

790.00 / ticket

guests = 3

Price

€

680.00 / ticket

guests = 4

Price

€

550.00 / ticket

guests = 5

Price

€

490.00 / ticket

guests = 6

Price

€

450.00 / ticket

guests >= 7

Price

€

390.00 / ticket
9
For a group of 7 or more
General price:
€

390.00 / ticket
Options
guests = 1

Price

€

1390.00 / ticket

guests = 2

Price

€

790.00 / ticket

guests = 3

Price

€

680.00 / ticket

guests = 4

Price

€

550.00 / ticket

guests = 5

Price

€

490.00 / ticket

guests = 6

Price

€

450.00 / ticket

guests >= 7

Price

€

390.00 / ticket
10
For a group of 7 or more
General price:
€

390.00 / ticket
Options
guests = 1

Price

€

1390.00 / ticket

guests = 2

Price

€

790.00 / ticket

guests = 3

Price

€

680.00 / ticket

guests = 4

Price

€

550.00 / ticket

guests = 5

Price

€

490.00 / ticket

guests = 6

Price

€

450.00 / ticket

guests >= 7

Price

€

390.00 / ticket
11
For a group of 7 or more
General price:
€

390.00 / ticket
Options
guests = 1

Price

€

1390.00 / ticket

guests = 2

Price

€

790.00 / ticket

guests = 3

Price

€

680.00 / ticket

guests = 4

Price

€

550.00 / ticket

guests = 5

Price

€

490.00 / ticket

guests = 6

Price

€

450.00 / ticket

guests >= 7

Price

€

390.00 / ticket
12
For a group of 7 or more
General price:
€

390.00 / ticket
Options
guests = 1

Price

€

1390.00 / ticket

guests = 2

Price

€

790.00 / ticket

guests = 3

Price

€

680.00 / ticket

guests = 4

Price

€

550.00 / ticket

guests = 5

Price

€

490.00 / ticket

guests = 6

Price

€

450.00 / ticket

guests >= 7

Price

€

390.00 / ticket
13
For a group of 7 or more
General price:
€

390.00 / ticket
Options
guests = 1

Price

€

1390.00 / ticket

guests = 2

Price

€

790.00 / ticket

guests = 3

Price

€

680.00 / ticket

guests = 4

Price

€

550.00 / ticket

guests = 5

Price

€

490.00 / ticket

guests = 6

Price

€

450.00 / ticket

guests >= 7

Price

€

390.00 / ticket
14
For a group of 7 or more
General price:
€

390.00 / ticket
Options
guests = 1

Price

€

1390.00 / ticket

guests = 2

Price

€

790.00 / ticket

guests = 3

Price

€

680.00 / ticket

guests = 4

Price

€

550.00 / ticket

guests = 5

Price

€

490.00 / ticket

guests = 6

Price

€

450.00 / ticket

guests >= 7

Price

€

390.00 / ticket
15
For a group of 7 or more
General price:
€

390.00 / ticket
Options
guests = 1

Price

€

1390.00 / ticket

guests = 2

Price

€

790.00 / ticket

guests = 3

Price

€

680.00 / ticket

guests = 4

Price

€

550.00 / ticket

guests = 5

Price

€

490.00 / ticket

guests = 6

Price

€

450.00 / ticket

guests >= 7

Price

€

390.00 / ticket
16
For a group of 7 or more
General price:
€

390.00 / ticket
Options
guests = 1

Price

€

1390.00 / ticket

guests = 2

Price

€

790.00 / ticket

guests = 3

Price

€

680.00 / ticket

guests = 4

Price

€

550.00 / ticket

guests = 5

Price

€

490.00 / ticket

guests = 6

Price

€

450.00 / ticket

guests >= 7

Price

€

390.00 / ticket
17
For a group of 7 or more
General price:
€

390.00 / ticket
Options
guests = 1

Price

€

1390.00 / ticket

guests = 2

Price

€

790.00 / ticket

guests = 3

Price

€

680.00 / ticket

guests = 4

Price

€

550.00 / ticket

guests = 5

Price

€

490.00 / ticket

guests = 6

Price

€

450.00 / ticket

guests >= 7

Price

€

390.00 / ticket
18
For a group of 7 or more
General price:
€

390.00 / ticket
Options
guests = 1

Price

€

1390.00 / ticket

guests = 2

Price

€

790.00 / ticket

guests = 3

Price

€

680.00 / ticket

guests = 4

Price

€

550.00 / ticket

guests = 5

Price

€

490.00 / ticket

guests = 6

Price

€

450.00 / ticket

guests >= 7

Price

€

390.00 / ticket
19
For a group of 7 or more
General price:
€

390.00 / ticket
Options
guests = 1

Price

€

1390.00 / ticket

guests = 2

Price

€

790.00 / ticket

guests = 3

Price

€

680.00 / ticket

guests = 4

Price

€

550.00 / ticket

guests = 5

Price

€

490.00 / ticket

guests = 6

Price

€

450.00 / ticket

guests >= 7

Price

€

390.00 / ticket
20
For a group of 7 or more
General price:
€

390.00 / ticket
Options
guests = 1

Price

€

1390.00 / ticket

guests = 2

Price

€

790.00 / ticket

guests = 3

Price

€

680.00 / ticket

guests = 4

Price

€

550.00 / ticket

guests = 5

Price

€

490.00 / ticket

guests = 6

Price

€

450.00 / ticket

guests >= 7

Price

€

390.00 / ticket
21
For a group of 7 or more
General price:
€

390.00 / ticket
Options
guests = 1

Price

€

1390.00 / ticket

guests = 2

Price

€

790.00 / ticket

guests = 3

Price

€

680.00 / ticket

guests = 4

Price

€

550.00 / ticket

guests = 5

Price

€

490.00 / ticket

guests = 6

Price

€

450.00 / ticket

guests >= 7

Price

€

390.00 / ticket
22
For a group of 7 or more
General price:
€

390.00 / ticket
Options
guests = 1

Price

€

1390.00 / ticket

guests = 2

Price

€

790.00 / ticket

guests = 3

Price

€

680.00 / ticket

guests = 4

Price

€

550.00 / ticket

guests = 5

Price

€

490.00 / ticket

guests = 6

Price

€

450.00 / ticket

guests >= 7

Price

€

390.00 / ticket
23
For a group of 7 or more
General price:
€

390.00 / ticket
Options
guests = 1

Price

€

1390.00 / ticket

guests = 2

Price

€

790.00 / ticket

guests = 3

Price

€

680.00 / ticket

guests = 4

Price

€

550.00 / ticket

guests = 5

Price

€

490.00 / ticket

guests = 6

Price

€

450.00 / ticket

guests >= 7

Price

€

390.00 / ticket
24
For a group of 7 or more
General price:
€

390.00 / ticket
Options
guests = 1

Price

€

1390.00 / ticket

guests = 2

Price

€

790.00 / ticket

guests = 3

Price

€

680.00 / ticket

guests = 4

Price

€

550.00 / ticket

guests = 5

Price

€

490.00 / ticket

guests = 6

Price

€

450.00 / ticket

guests >= 7

Price

€

390.00 / ticket
25
For a group of 7 or more
General price:
€

390.00 / ticket
Options
guests = 1

Price

€

1390.00 / ticket

guests = 2

Price

€

790.00 / ticket

guests = 3

Price

€

680.00 / ticket

guests = 4

Price

€

550.00 / ticket

guests = 5

Price

€

490.00 / ticket

guests = 6

Price

€

450.00 / ticket

guests >= 7

Price

€

390.00 / ticket
26
For a group of 7 or more
General price:
€

390.00 / ticket
Options
guests = 1

Price

€

1390.00 / ticket

guests = 2

Price

€

790.00 / ticket

guests = 3

Price

€

680.00 / ticket

guests = 4

Price

€

550.00 / ticket

guests = 5

Price

€

490.00 / ticket

guests = 6

Price

€

450.00 / ticket

guests >= 7

Price

€

390.00 / ticket
27
For a group of 7 or more
General price:
€

390.00 / ticket
Options
guests = 1

Price

€

1390.00 / ticket

guests = 2

Price

€

790.00 / ticket

guests = 3

Price

€

680.00 / ticket

guests = 4

Price

€

550.00 / ticket

guests = 5

Price

€

490.00 / ticket

guests = 6

Price

€

450.00 / ticket

guests >= 7

Price

€

390.00 / ticket
28
For a group of 7 or more
General price:
€

390.00 / ticket
Options
guests = 1

Price

€

1390.00 / ticket

guests = 2

Price

€

790.00 / ticket

guests = 3

Price

€

680.00 / ticket

guests = 4

Price

€

550.00 / ticket

guests = 5

Price

€

490.00 / ticket

guests = 6

Price

€

450.00 / ticket

guests >= 7

Price

€

390.00 / ticket
29
For a group of 7 or more
General price:
€

390.00 / ticket
Options
guests = 1

Price

€

1390.00 / ticket

guests = 2

Price

€

790.00 / ticket

guests = 3

Price

€

680.00 / ticket

guests = 4

Price

€

550.00 / ticket

guests = 5

Price

€

490.00 / ticket

guests = 6

Price

€

450.00 / ticket

guests >= 7

Price

€

390.00 / ticket
30
For a group of 7 or more
General price:
€

390.00 / ticket
Options
guests = 1

Price

€

1390.00 / ticket

guests = 2

Price

€

790.00 / ticket

guests = 3

Price

€

680.00 / ticket

guests = 4

Price

€

550.00 / ticket

guests = 5

Price

€

490.00 / ticket

guests = 6

Price

€

450.00 / ticket

guests >= 7

Price

€

390.00 / ticket
31
For a group of 7 or more
General price:
€

390.00 / ticket
Options
guests = 1

Price

€

1390.00 / ticket

guests = 2

Price

€

790.00 / ticket

guests = 3

Price

€

680.00 / ticket

guests = 4

Price

€

550.00 / ticket

guests = 5

Price

€

490.00 / ticket

guests = 6

Price

€

450.00 / ticket

guests >= 7

Price

€

390.00 / ticket
1
For a group of 7 or more
General price:
€

390.00 / ticket
Options
guests = 1

Price

€

1390.00 / ticket

guests = 2

Price

€

790.00 / ticket

guests = 3

Price

€

680.00 / ticket

guests = 4

Price

€

550.00 / ticket

guests = 5

Price

€

490.00 / ticket

guests = 6

Price

€

450.00 / ticket

guests >= 7

Price

€

390.00 / ticket
2
For a group of 7 or more
General price:
€

390.00 / ticket
Options
guests = 1

Price

€

1390.00 / ticket

guests = 2

Price

€

790.00 / ticket

guests = 3

Price

€

680.00 / ticket

guests = 4

Price

€

550.00 / ticket

guests = 5

Price

€

490.00 / ticket

guests = 6

Price

€

450.00 / ticket

guests >= 7

Price

€

390.00 / ticket
3
For a group of 7 or more
General price:
€

390.00 / ticket
Options
guests = 1

Price

€

1390.00 / ticket

guests = 2

Price

€

790.00 / ticket

guests = 3

Price

€

680.00 / ticket

guests = 4

Price

€

550.00 / ticket

guests = 5

Price

€

490.00 / ticket

guests = 6

Price

€

450.00 / ticket

guests >= 7

Price

€

390.00 / ticket
4
For a group of 7 or more
General price:
€

390.00 / ticket
Options
guests = 1

Price

€

1390.00 / ticket

guests = 2

Price

€

790.00 / ticket

guests = 3

Price

€

680.00 / ticket

guests = 4

Price

€

550.00 / ticket

guests = 5

Price

€

490.00 / ticket

guests = 6

Price

€

450.00 / ticket

guests >= 7

Price

€

390.00 / ticket
5
For a group of 7 or more
General price:
€

390.00 / ticket
Options
guests = 1

Price

€

1390.00 / ticket

guests = 2

Price

€

790.00 / ticket

guests = 3

Price

€

680.00 / ticket

guests = 4

Price

€

550.00 / ticket

guests = 5

Price

€

490.00 / ticket

guests = 6

Price

€

450.00 / ticket

guests >= 7

Price

€

390.00 / ticket
6
For a group of 7 or more
General price:
€

390.00 / ticket
Options
guests = 1

Price

€

1390.00 / ticket

guests = 2

Price

€

790.00 / ticket

guests = 3

Price

€

680.00 / ticket

guests = 4

Price

€

550.00 / ticket

guests = 5

Price

€

490.00 / ticket

guests = 6

Price

€

450.00 / ticket

guests >= 7

Price

€

390.00 / ticket
31
For a group of 7 or more
General price:
€

390.00 / ticket
Options
guests = 1

Price

€

1390.00 / ticket

guests = 2

Price

€

790.00 / ticket

guests = 3

Price

€

680.00 / ticket

guests = 4

Price

€

550.00 / ticket

guests = 5

Price

€

490.00 / ticket

guests = 6

Price

€

450.00 / ticket

guests >= 7

Price

€

390.00 / ticket
1
For a group of 7 or more
General price:
€

390.00 / ticket
Options
guests = 1

Price

€

1390.00 / ticket

guests = 2

Price

€

790.00 / ticket

guests = 3

Price

€

680.00 / ticket

guests = 4

Price

€

550.00 / ticket

guests = 5

Price

€

490.00 / ticket

guests = 6

Price

€

450.00 / ticket

guests >= 7

Price

€

390.00 / ticket
2
For a group of 7 or more
General price:
€

390.00 / ticket
Options
guests = 1

Price

€

1390.00 / ticket

guests = 2

Price

€

790.00 / ticket

guests = 3

Price

€

680.00 / ticket

guests = 4

Price

€

550.00 / ticket

guests = 5

Price

€

490.00 / ticket

guests = 6

Price

€

450.00 / ticket

guests >= 7

Price

€

390.00 / ticket
3
For a group of 7 or more
General price:
€

390.00 / ticket
Options
guests = 1

Price

€

1390.00 / ticket

guests = 2

Price

€

790.00 / ticket

guests = 3

Price

€

680.00 / ticket

guests = 4

Price

€

550.00 / ticket

guests = 5

Price

€

490.00 / ticket

guests = 6

Price

€

450.00 / ticket

guests >= 7

Price

€

390.00 / ticket
4
For a group of 7 or more
General price:
€

390.00 / ticket
Options
guests = 1

Price

€

1390.00 / ticket

guests = 2

Price

€

790.00 / ticket

guests = 3

Price

€

680.00 / ticket

guests = 4

Price

€

550.00 / ticket

guests = 5

Price

€

490.00 / ticket

guests = 6

Price

€

450.00 / ticket

guests >= 7

Price

€

390.00 / ticket
5
For a group of 7 or more
General price:
€

390.00 / ticket
Options
guests = 1

Price

€

1390.00 / ticket

guests = 2

Price

€

790.00 / ticket

guests = 3

Price

€

680.00 / ticket

guests = 4

Price

€

550.00 / ticket

guests = 5

Price

€

490.00 / ticket

guests = 6

Price

€

450.00 / ticket

guests >= 7

Price

€

390.00 / ticket
6
For a group of 7 or more
General price:
€

390.00 / ticket
Options
guests = 1

Price

€

1390.00 / ticket

guests = 2

Price

€

790.00 / ticket

guests = 3

Price

€

680.00 / ticket

guests = 4

Price

€

550.00 / ticket

guests = 5

Price

€

490.00 / ticket

guests = 6

Price

€

450.00 / ticket

guests >= 7

Price

€

390.00 / ticket
7
For a group of 7 or more
General price:
€

390.00 / ticket
Options
guests = 1

Price

€

1390.00 / ticket

guests = 2

Price

€

790.00 / ticket

guests = 3

Price

€

680.00 / ticket

guests = 4

Price

€

550.00 / ticket

guests = 5

Price

€

490.00 / ticket

guests = 6

Price

€

450.00 / ticket

guests >= 7

Price

€

390.00 / ticket
8
For a group of 7 or more
General price:
€

390.00 / ticket
Options
guests = 1

Price

€

1390.00 / ticket

guests = 2

Price

€

790.00 / ticket

guests = 3

Price

€

680.00 / ticket

guests = 4

Price

€

550.00 / ticket

guests = 5

Price

€

490.00 / ticket

guests = 6

Price

€

450.00 / ticket

guests >= 7

Price

€

390.00 / ticket
9
For a group of 7 or more
General price:
€

390.00 / ticket
Options
guests = 1

Price

€

1390.00 / ticket

guests = 2

Price

€

790.00 / ticket

guests = 3

Price

€

680.00 / ticket

guests = 4

Price

€

550.00 / ticket

guests = 5

Price

€

490.00 / ticket

guests = 6

Price

€

450.00 / ticket

guests >= 7

Price

€

390.00 / ticket
10
For a group of 7 or more
General price:
€

390.00 / ticket
Options
guests = 1

Price

€

1390.00 / ticket

guests = 2

Price

€

790.00 / ticket

guests = 3

Price

€

680.00 / ticket

guests = 4

Price

€

550.00 / ticket

guests = 5

Price

€

490.00 / ticket

guests = 6

Price

€

450.00 / ticket

guests >= 7

Price

€

390.00 / ticket
11
For a group of 7 or more
General price:
€

390.00 / ticket
Options
guests = 1

Price

€

1390.00 / ticket

guests = 2

Price

€

790.00 / ticket

guests = 3

Price

€

680.00 / ticket

guests = 4

Price

€

550.00 / ticket

guests = 5

Price

€

490.00 / ticket

guests = 6

Price

€

450.00 / ticket

guests >= 7

Price

€

390.00 / ticket
12
For a group of 7 or more
General price:
€

390.00 / ticket
Options
guests = 1

Price

€

1390.00 / ticket

guests = 2

Price

€

790.00 / ticket

guests = 3

Price

€

680.00 / ticket

guests = 4

Price

€

550.00 / ticket

guests = 5

Price

€

490.00 / ticket

guests = 6

Price

€

450.00 / ticket

guests >= 7

Price

€

390.00 / ticket
13
For a group of 7 or more
General price:
€

390.00 / ticket
Options
guests = 1

Price

€

1390.00 / ticket

guests = 2

Price

€

790.00 / ticket

guests = 3

Price

€

680.00 / ticket

guests = 4

Price

€

550.00 / ticket

guests = 5

Price

€

490.00 / ticket

guests = 6

Price

€

450.00 / ticket

guests >= 7

Price

€

390.00 / ticket
14
For a group of 7 or more
General price:
€

390.00 / ticket
Options
guests = 1

Price

€

1390.00 / ticket

guests = 2

Price

€

790.00 / ticket

guests = 3

Price

€

680.00 / ticket

guests = 4

Price

€

550.00 / ticket

guests = 5

Price

€

490.00 / ticket

guests = 6

Price

€

450.00 / ticket

guests >= 7

Price

€

390.00 / ticket
15
For a group of 7 or more
General price:
€

390.00 / ticket
Options
guests = 1

Price

€

1390.00 / ticket

guests = 2

Price

€

790.00 / ticket

guests = 3

Price

€

680.00 / ticket

guests = 4

Price

€

550.00 / ticket

guests = 5

Price

€

490.00 / ticket

guests = 6

Price

€

450.00 / ticket

guests >= 7

Price

€

390.00 / ticket
16
For a group of 7 or more
General price:
€

390.00 / ticket
Options
guests = 1

Price

€

1390.00 / ticket

guests = 2

Price

€

790.00 / ticket

guests = 3

Price

€

680.00 / ticket

guests = 4

Price

€

550.00 / ticket

guests = 5

Price

€

490.00 / ticket

guests = 6

Price

€

450.00 / ticket

guests >= 7

Price

€

390.00 / ticket
17
For a group of 7 or more
General price:
€

390.00 / ticket
Options
guests = 1

Price

€

1390.00 / ticket

guests = 2

Price

€

790.00 / ticket

guests = 3

Price

€

680.00 / ticket

guests = 4

Price

€

550.00 / ticket

guests = 5

Price

€

490.00 / ticket

guests = 6

Price

€

450.00 / ticket

guests >= 7

Price

€

390.00 / ticket
18
For a group of 7 or more
General price:
€

390.00 / ticket
Options
guests = 1

Price

€

1390.00 / ticket

guests = 2

Price

€

790.00 / ticket

guests = 3

Price

€

680.00 / ticket

guests = 4

Price

€

550.00 / ticket

guests = 5

Price

€

490.00 / ticket

guests = 6

Price

€

450.00 / ticket

guests >= 7

Price

€

390.00 / ticket
19
For a group of 7 or more
General price:
€

390.00 / ticket
Options
guests = 1

Price

€

1390.00 / ticket

guests = 2

Price

€

790.00 / ticket

guests = 3

Price

€

680.00 / ticket

guests = 4

Price

€

550.00 / ticket

guests = 5

Price

€

490.00 / ticket

guests = 6

Price

€

450.00 / ticket

guests >= 7

Price

€

390.00 / ticket
20
For a group of 7 or more
General price:
€

390.00 / ticket
Options
guests = 1

Price

€

1390.00 / ticket

guests = 2

Price

€

790.00 / ticket

guests = 3

Price

€

680.00 / ticket

guests = 4

Price

€

550.00 / ticket

guests = 5

Price

€

490.00 / ticket

guests = 6

Price

€

450.00 / ticket

guests >= 7

Price

€

390.00 / ticket
21
For a group of 7 or more
General price:
€

390.00 / ticket
Options
guests = 1

Price

€

1390.00 / ticket

guests = 2

Price

€

790.00 / ticket

guests = 3

Price

€

680.00 / ticket

guests = 4

Price

€

550.00 / ticket

guests = 5

Price

€

490.00 / ticket

guests = 6

Price

€

450.00 / ticket

guests >= 7

Price

€

390.00 / ticket
22
For a group of 7 or more
General price:
€

390.00 / ticket
Options
guests = 1

Price

€

1390.00 / ticket

guests = 2

Price

€

790.00 / ticket

guests = 3

Price

€

680.00 / ticket

guests = 4

Price

€

550.00 / ticket

guests = 5

Price

€

490.00 / ticket

guests = 6

Price

€

450.00 / ticket

guests >= 7

Price

€

390.00 / ticket
23
For a group of 7 or more
General price:
€

390.00 / ticket
Options
guests = 1

Price

€

1390.00 / ticket

guests = 2

Price

€

790.00 / ticket

guests = 3

Price

€

680.00 / ticket

guests = 4

Price

€

550.00 / ticket

guests = 5

Price

€

490.00 / ticket

guests = 6

Price

€

450.00 / ticket

guests >= 7

Price

€

390.00 / ticket
24
For a group of 7 or more
General price:
€

390.00 / ticket
Options
guests = 1

Price

€

1390.00 / ticket

guests = 2

Price

€

790.00 / ticket

guests = 3

Price

€

680.00 / ticket

guests = 4

Price

€

550.00 / ticket

guests = 5

Price

€

490.00 / ticket

guests = 6

Price

€

450.00 / ticket

guests >= 7

Price

€

390.00 / ticket
25
For a group of 7 or more
General price:
€

390.00 / ticket
Options
guests = 1

Price

€

1390.00 / ticket

guests = 2

Price

€

790.00 / ticket

guests = 3

Price

€

680.00 / ticket

guests = 4

Price

€

550.00 / ticket

guests = 5

Price

€

490.00 / ticket

guests = 6

Price

€

450.00 / ticket

guests >= 7

Price

€

390.00 / ticket
26
For a group of 7 or more
General price:
€

390.00 / ticket
Options
guests = 1

Price

€

1390.00 / ticket

guests = 2

Price

€

790.00 / ticket

guests = 3

Price

€

680.00 / ticket

guests = 4

Price

€

550.00 / ticket

guests = 5

Price

€

490.00 / ticket

guests = 6

Price

€

450.00 / ticket

guests >= 7

Price

€

390.00 / ticket
27
For a group of 7 or more
General price:
€

390.00 / ticket
Options
guests = 1

Price

€

1390.00 / ticket

guests = 2

Price

€

790.00 / ticket

guests = 3

Price

€

680.00 / ticket

guests = 4

Price

€

550.00 / ticket

guests = 5

Price

€

490.00 / ticket

guests = 6

Price

€

450.00 / ticket

guests >= 7

Price

€

390.00 / ticket
28
For a group of 7 or more
General price:
€

390.00 / ticket
Options
guests = 1

Price

€

1390.00 / ticket

guests = 2

Price

€

790.00 / ticket

guests = 3

Price

€

680.00 / ticket

guests = 4

Price

€

550.00 / ticket

guests = 5

Price

€

490.00 / ticket

guests = 6

Price

€

450.00 / ticket

guests >= 7

Price

€

390.00 / ticket
29
For a group of 7 or more
General price:
€

390.00 / ticket
Options
guests = 1

Price

€

1390.00 / ticket

guests = 2

Price

€

790.00 / ticket

guests = 3

Price

€

680.00 / ticket

guests = 4

Price

€

550.00 / ticket

guests = 5

Price

€

490.00 / ticket

guests = 6

Price

€

450.00 / ticket

guests >= 7

Price

€

390.00 / ticket
30
For a group of 7 or more
General price:
€

390.00 / ticket
Options
guests = 1

Price

€

1390.00 / ticket

guests = 2

Price

€

790.00 / ticket

guests = 3

Price

€

680.00 / ticket

guests = 4

Price

€

550.00 / ticket

guests = 5

Price

€

490.00 / ticket

guests = 6

Price

€

450.00 / ticket

guests >= 7

Price

€

390.00 / ticket
31
For a group of 7 or more
General price:
€

390.00 / ticket
Options
guests = 1

Price

€

1390.00 / ticket

guests = 2

Price

€

790.00 / ticket

guests = 3

Price

€

680.00 / ticket

guests = 4

Price

€

550.00 / ticket

guests = 5

Price

€

490.00 / ticket

guests = 6

Price

€

450.00 / ticket

guests >= 7

Price

€

390.00 / ticket
1
For a group of 7 or more
General price:
€

390.00 / ticket
Options
guests = 1

Price

€

1390.00 / ticket

guests = 2

Price

€

790.00 / ticket

guests = 3

Price

€

680.00 / ticket

guests = 4

Price

€

550.00 / ticket

guests = 5

Price

€

490.00 / ticket

guests = 6

Price

€

450.00 / ticket

guests >= 7

Price

€

390.00 / ticket
2
For a group of 7 or more
General price:
€

390.00 / ticket
Options
guests = 1

Price

€

1390.00 / ticket

guests = 2

Price

€

790.00 / ticket

guests = 3

Price

€

680.00 / ticket

guests = 4

Price

€

550.00 / ticket

guests = 5

Price

€

490.00 / ticket

guests = 6

Price

€

450.00 / ticket

guests >= 7

Price

€

390.00 / ticket
3
For a group of 7 or more
General price:
€

390.00 / ticket
Options
guests = 1

Price

€

1390.00 / ticket

guests = 2

Price

€

790.00 / ticket

guests = 3

Price

€

680.00 / ticket

guests = 4

Price

€

550.00 / ticket

guests = 5

Price

€

490.00 / ticket

guests = 6

Price

€

450.00 / ticket

guests >= 7

Price

€

390.00 / ticket
28
For a group of 7 or more
General price:
€

390.00 / ticket
Options
guests = 1

Price

€

1390.00 / ticket

guests = 2

Price

€

790.00 / ticket

guests = 3

Price

€

680.00 / ticket

guests = 4

Price

€

550.00 / ticket

guests = 5

Price

€

490.00 / ticket

guests = 6

Price

€

450.00 / ticket

guests >= 7

Price

€

390.00 / ticket
29
For a group of 7 or more
General price:
€

390.00 / ticket
Options
guests = 1

Price

€

1390.00 / ticket

guests = 2

Price

€

790.00 / ticket

guests = 3

Price

€

680.00 / ticket

guests = 4

Price

€

550.00 / ticket

guests = 5

Price

€

490.00 / ticket

guests = 6

Price

€

450.00 / ticket

guests >= 7

Price

€

390.00 / ticket
30
For a group of 7 or more
General price:
€

390.00 / ticket
Options
guests = 1

Price

€

1390.00 / ticket

guests = 2

Price

€

790.00 / ticket

guests = 3

Price

€

680.00 / ticket

guests = 4

Price

€

550.00 / ticket

guests = 5

Price

€

490.00 / ticket

guests = 6

Price

€

450.00 / ticket

guests >= 7

Price

€

390.00 / ticket
31
For a group of 7 or more
General price:
€

390.00 / ticket
Options
guests = 1

Price

€

1390.00 / ticket

guests = 2

Price

€

790.00 / ticket

guests = 3

Price

€

680.00 / ticket

guests = 4

Price

€

550.00 / ticket

guests = 5

Price

€

490.00 / ticket

guests = 6

Price

€

450.00 / ticket

guests >= 7

Price

€

390.00 / ticket
1
For a group of 7 or more
General price:
€

390.00 / ticket
Options
guests = 1

Price

€

1390.00 / ticket

guests = 2

Price

€

790.00 / ticket

guests = 3

Price

€

680.00 / ticket

guests = 4

Price

€

550.00 / ticket

guests = 5

Price

€

490.00 / ticket

guests = 6

Price

€

450.00 / ticket

guests >= 7

Price

€

390.00 / ticket
2
For a group of 7 or more
General price:
€

390.00 / ticket
Options
guests = 1

Price

€

1390.00 / ticket

guests = 2

Price

€

790.00 / ticket

guests = 3

Price

€

680.00 / ticket

guests = 4

Price

€

550.00 / ticket

guests = 5

Price

€

490.00 / ticket

guests = 6

Price

€

450.00 / ticket

guests >= 7

Price

€

390.00 / ticket
3
For a group of 7 or more
General price:
€

390.00 / ticket
Options
guests = 1

Price

€

1390.00 / ticket

guests = 2

Price

€

790.00 / ticket

guests = 3

Price

€

680.00 / ticket

guests = 4

Price

€

550.00 / ticket

guests = 5

Price

€

490.00 / ticket

guests = 6

Price

€

450.00 / ticket

guests >= 7

Price

€

390.00 / ticket
4
For a group of 7 or more
General price:
€

390.00 / ticket
Options
guests = 1

Price

€

1390.00 / ticket

guests = 2

Price

€

790.00 / ticket

guests = 3

Price

€

680.00 / ticket

guests = 4

Price

€

550.00 / ticket

guests = 5

Price

€

490.00 / ticket

guests = 6

Price

€

450.00 / ticket

guests >= 7

Price

€

390.00 / ticket
5
For a group of 7 or more
General price:
€

390.00 / ticket
Options
guests = 1

Price

€

1390.00 / ticket

guests = 2

Price

€

790.00 / ticket

guests = 3

Price

€

680.00 / ticket

guests = 4

Price

€

550.00 / ticket

guests = 5

Price

€

490.00 / ticket

guests = 6

Price

€

450.00 / ticket

guests >= 7

Price

€

390.00 / ticket
6
For a group of 7 or more
General price:
€

390.00 / ticket
Options
guests = 1

Price

€

1390.00 / ticket

guests = 2

Price

€

790.00 / ticket

guests = 3

Price

€

680.00 / ticket

guests = 4

Price

€

550.00 / ticket

guests = 5

Price

€

490.00 / ticket

guests = 6

Price

€

450.00 / ticket

guests >= 7

Price

€

390.00 / ticket
7
For a group of 7 or more
General price:
€

390.00 / ticket
Options
guests = 1

Price

€

1390.00 / ticket

guests = 2

Price

€

790.00 / ticket

guests = 3

Price

€

680.00 / ticket

guests = 4

Price

€

550.00 / ticket

guests = 5

Price

€

490.00 / ticket

guests = 6

Price

€

450.00 / ticket

guests >= 7

Price

€

390.00 / ticket
8
For a group of 7 or more
General price:
€

390.00 / ticket
Options
guests = 1

Price

€

1390.00 / ticket

guests = 2

Price

€

790.00 / ticket

guests = 3

Price

€

680.00 / ticket

guests = 4

Price

€

550.00 / ticket

guests = 5

Price

€

490.00 / ticket

guests = 6

Price

€

450.00 / ticket

guests >= 7

Price

€

390.00 / ticket
9
For a group of 7 or more
General price:
€

390.00 / ticket
Options
guests = 1

Price

€

1390.00 / ticket

guests = 2

Price

€

790.00 / ticket

guests = 3

Price

€

680.00 / ticket

guests = 4

Price

€

550.00 / ticket

guests = 5

Price

€

490.00 / ticket

guests = 6

Price

€

450.00 / ticket

guests >= 7

Price

€

390.00 / ticket
10
For a group of 7 or more
General price:
€

390.00 / ticket
Options
guests = 1

Price

€

1390.00 / ticket

guests = 2

Price

€

790.00 / ticket

guests = 3

Price

€

680.00 / ticket

guests = 4

Price

€

550.00 / ticket

guests = 5

Price

€

490.00 / ticket

guests = 6

Price

€

450.00 / ticket

guests >= 7

Price

€

390.00 / ticket
11
For a group of 7 or more
General price:
€

390.00 / ticket
Options
guests = 1

Price

€

1390.00 / ticket

guests = 2

Price

€

790.00 / ticket

guests = 3

Price

€

680.00 / ticket

guests = 4

Price

€

550.00 / ticket

guests = 5

Price

€

490.00 / ticket

guests = 6

Price

€

450.00 / ticket

guests >= 7

Price

€

390.00 / ticket
12
For a group of 7 or more
General price:
€

390.00 / ticket
Options
guests = 1

Price

€

1390.00 / ticket

guests = 2

Price

€

790.00 / ticket

guests = 3

Price

€

680.00 / ticket

guests = 4

Price

€

550.00 / ticket

guests = 5

Price

€

490.00 / ticket

guests = 6

Price

€

450.00 / ticket

guests >= 7

Price

€

390.00 / ticket
13
For a group of 7 or more
General price:
€

390.00 / ticket
Options
guests = 1

Price

€

1390.00 / ticket

guests = 2

Price

€

790.00 / ticket

guests = 3

Price

€

680.00 / ticket

guests = 4

Price

€

550.00 / ticket

guests = 5

Price

€

490.00 / ticket

guests = 6

Price

€

450.00 / ticket

guests >= 7

Price

€

390.00 / ticket
14
For a group of 7 or more
General price:
€

390.00 / ticket
Options
guests = 1

Price

€

1390.00 / ticket

guests = 2

Price

€

790.00 / ticket

guests = 3

Price

€

680.00 / ticket

guests = 4

Price

€

550.00 / ticket

guests = 5

Price

€

490.00 / ticket

guests = 6

Price

€

450.00 / ticket

guests >= 7

Price

€

390.00 / ticket
15
For a group of 7 or more
General price:
€

390.00 / ticket
Options
guests = 1

Price

€

1390.00 / ticket

guests = 2

Price

€

790.00 / ticket

guests = 3

Price

€

680.00 / ticket

guests = 4

Price

€

550.00 / ticket

guests = 5

Price

€

490.00 / ticket

guests = 6

Price

€

450.00 / ticket

guests >= 7

Price

€

390.00 / ticket
16
For a group of 7 or more
General price:
€

390.00 / ticket
Options
guests = 1

Price

€

1390.00 / ticket

guests = 2

Price

€

790.00 / ticket

guests = 3

Price

€

680.00 / ticket

guests = 4

Price

€

550.00 / ticket

guests = 5

Price

€

490.00 / ticket

guests = 6

Price

€

450.00 / ticket

guests >= 7

Price

€

390.00 / ticket
17
For a group of 7 or more
General price:
€

390.00 / ticket
Options
guests = 1

Price

€

1390.00 / ticket

guests = 2

Price

€

790.00 / ticket

guests = 3

Price

€

680.00 / ticket

guests = 4

Price

€

550.00 / ticket

guests = 5

Price

€

490.00 / ticket

guests = 6

Price

€

450.00 / ticket

guests >= 7

Price

€

390.00 / ticket
18
For a group of 7 or more
General price:
€

390.00 / ticket
Options
guests = 1

Price

€

1390.00 / ticket

guests = 2

Price

€

790.00 / ticket

guests = 3

Price

€

680.00 / ticket

guests = 4

Price

€

550.00 / ticket

guests = 5

Price

€

490.00 / ticket

guests = 6

Price

€

450.00 / ticket

guests >= 7

Price

€

390.00 / ticket
19
For a group of 7 or more
General price:
€

390.00 / ticket
Options
guests = 1

Price

€

1390.00 / ticket

guests = 2

Price

€

790.00 / ticket

guests = 3

Price

€

680.00 / ticket

guests = 4

Price

€

550.00 / ticket

guests = 5

Price

€

490.00 / ticket

guests = 6

Price

€

450.00 / ticket

guests >= 7

Price

€

390.00 / ticket
20
For a group of 7 or more
General price:
€

390.00 / ticket
Options
guests = 1

Price

€

1390.00 / ticket

guests = 2

Price

€

790.00 / ticket

guests = 3

Price

€

680.00 / ticket

guests = 4

Price

€

550.00 / ticket

guests = 5

Price

€

490.00 / ticket

guests = 6

Price

€

450.00 / ticket

guests >= 7

Price

€

390.00 / ticket
21
For a group of 7 or more
General price:
€

390.00 / ticket
Options
guests = 1

Price

€

1390.00 / ticket

guests = 2

Price

€

790.00 / ticket

guests = 3

Price

€

680.00 / ticket

guests = 4

Price

€

550.00 / ticket

guests = 5

Price

€

490.00 / ticket

guests = 6

Price

€

450.00 / ticket

guests >= 7

Price

€

390.00 / ticket
22
For a group of 7 or more
General price:
€

390.00 / ticket
Options
guests = 1

Price

€

1390.00 / ticket

guests = 2

Price

€

790.00 / ticket

guests = 3

Price

€

680.00 / ticket

guests = 4

Price

€

550.00 / ticket

guests = 5

Price

€

490.00 / ticket

guests = 6

Price

€

450.00 / ticket

guests >= 7

Price

€

390.00 / ticket
23
For a group of 7 or more
General price:
€

390.00 / ticket
Options
guests = 1

Price

€

1390.00 / ticket

guests = 2

Price

€

790.00 / ticket

guests = 3

Price

€

680.00 / ticket

guests = 4

Price

€

550.00 / ticket

guests = 5

Price

€

490.00 / ticket

guests = 6

Price

€

450.00 / ticket

guests >= 7

Price

€

390.00 / ticket
24
For a group of 7 or more
General price:
€

390.00 / ticket
Options
guests = 1

Price

€

1390.00 / ticket

guests = 2

Price

€

790.00 / ticket

guests = 3

Price

€

680.00 / ticket

guests = 4

Price

€

550.00 / ticket

guests = 5

Price

€

490.00 / ticket

guests = 6

Price

€

450.00 / ticket

guests >= 7

Price

€

390.00 / ticket
25
For a group of 7 or more
General price:
€

390.00 / ticket
Options
guests = 1

Price

€

1390.00 / ticket

guests = 2

Price

€

790.00 / ticket

guests = 3

Price

€

680.00 / ticket

guests = 4

Price

€

550.00 / ticket

guests = 5

Price

€

490.00 / ticket

guests = 6

Price

€

450.00 / ticket

guests >= 7

Price

€

390.00 / ticket
26
For a group of 7 or more
General price:
€

390.00 / ticket
Options
guests = 1

Price

€

1390.00 / ticket

guests = 2

Price

€

790.00 / ticket

guests = 3

Price

€

680.00 / ticket

guests = 4

Price

€

550.00 / ticket

guests = 5

Price

€

490.00 / ticket

guests = 6

Price

€

450.00 / ticket

guests >= 7

Price

€

390.00 / ticket
27
For a group of 7 or more
General price:
€

390.00 / ticket
Options
guests = 1

Price

€

1390.00 / ticket

guests = 2

Price

€

790.00 / ticket

guests = 3

Price

€

680.00 / ticket

guests = 4

Price

€

550.00 / ticket

guests = 5

Price

€

490.00 / ticket

guests = 6

Price

€

450.00 / ticket

guests >= 7

Price

€

390.00 / ticket
28
For a group of 7 or more
General price:
€

390.00 / ticket
Options
guests = 1

Price

€

1390.00 / ticket

guests = 2

Price

€

790.00 / ticket

guests = 3

Price

€

680.00 / ticket

guests = 4

Price

€

550.00 / ticket

guests = 5

Price

€

490.00 / ticket

guests = 6

Price

€

450.00 / ticket

guests >= 7

Price

€

390.00 / ticket
29
For a group of 7 or more
General price:
€

390.00 / ticket
Options
guests = 1

Price

€

1390.00 / ticket

guests = 2

Price

€

790.00 / ticket

guests = 3

Price

€

680.00 / ticket

guests = 4

Price

€

550.00 / ticket

guests = 5

Price

€

490.00 / ticket

guests = 6

Price

€

450.00 / ticket

guests >= 7

Price

€

390.00 / ticket
30
For a group of 7 or more
General price:
€

390.00 / ticket
Options
guests = 1

Price

€

1390.00 / ticket

guests = 2

Price

€

790.00 / ticket

guests = 3

Price

€

680.00 / ticket

guests = 4

Price

€

550.00 / ticket

guests = 5

Price

€

490.00 / ticket

guests = 6

Price

€

450.00 / ticket

guests >= 7

Price

€

390.00 / ticket
1
For a group of 7 or more
General price:
€

390.00 / ticket
Options
guests = 1

Price

€

1390.00 / ticket

guests = 2

Price

€

790.00 / ticket

guests = 3

Price

€

680.00 / ticket

guests = 4

Price

€

550.00 / ticket

guests = 5

Price

€

490.00 / ticket

guests = 6

Price

€

450.00 / ticket

guests >= 7

Price

€

390.00 / ticket
25
For a group of 7 or more
General price:
€

390.00 / ticket
Options
guests = 1

Price

€

1390.00 / ticket

guests = 2

Price

€

790.00 / ticket

guests = 3

Price

€

680.00 / ticket

guests = 4

Price

€

550.00 / ticket

guests = 5

Price

€

490.00 / ticket

guests = 6

Price

€

450.00 / ticket

guests >= 7

Price

€

390.00 / ticket
26
For a group of 7 or more
General price:
€

390.00 / ticket
Options
guests = 1

Price

€

1390.00 / ticket

guests = 2

Price

€

790.00 / ticket

guests = 3

Price

€

680.00 / ticket

guests = 4

Price

€

550.00 / ticket

guests = 5

Price

€

490.00 / ticket

guests = 6

Price

€

450.00 / ticket

guests >= 7

Price

€

390.00 / ticket
27
For a group of 7 or more
General price:
€

390.00 / ticket
Options
guests = 1

Price

€

1390.00 / ticket

guests = 2

Price

€

790.00 / ticket

guests = 3

Price

€

680.00 / ticket

guests = 4

Price

€

550.00 / ticket

guests = 5

Price

€

490.00 / ticket

guests = 6

Price

€

450.00 / ticket

guests >= 7

Price

€

390.00 / ticket
28
For a group of 7 or more
General price:
€

390.00 / ticket
Options
guests = 1

Price

€

1390.00 / ticket

guests = 2

Price

€

790.00 / ticket

guests = 3

Price

€

680.00 / ticket

guests = 4

Price

€

550.00 / ticket

guests = 5

Price

€

490.00 / ticket

guests = 6

Price

€

450.00 / ticket

guests >= 7

Price

€

390.00 / ticket
29
For a group of 7 or more
General price:
€

390.00 / ticket
Options
guests = 1

Price

€

1390.00 / ticket

guests = 2

Price

€

790.00 / ticket

guests = 3

Price

€

680.00 / ticket

guests = 4

Price

€

550.00 / ticket

guests = 5

Price

€

490.00 / ticket

guests = 6

Price

€

450.00 / ticket

guests >= 7

Price

€

390.00 / ticket
30
For a group of 7 or more
General price:
€

390.00 / ticket
Options
guests = 1

Price

€

1390.00 / ticket

guests = 2

Price

€

790.00 / ticket

guests = 3

Price

€

680.00 / ticket

guests = 4

Price

€

550.00 / ticket

guests = 5

Price

€

490.00 / ticket

guests = 6

Price

€

450.00 / ticket

guests >= 7

Price

€

390.00 / ticket
1
For a group of 7 or more
General price:
€

390.00 / ticket
Options
guests = 1

Price

€

1390.00 / ticket

guests = 2

Price

€

790.00 / ticket

guests = 3

Price

€

680.00 / ticket

guests = 4

Price

€

550.00 / ticket

guests = 5

Price

€

490.00 / ticket

guests = 6

Price

€

450.00 / ticket

guests >= 7

Price

€

390.00 / ticket
2
For a group of 7 or more
General price:
€

390.00 / ticket
Options
guests = 1

Price

€

1390.00 / ticket

guests = 2

Price

€

790.00 / ticket

guests = 3

Price

€

680.00 / ticket

guests = 4

Price

€

550.00 / ticket

guests = 5

Price

€

490.00 / ticket

guests = 6

Price

€

450.00 / ticket

guests >= 7

Price

€

390.00 / ticket
3
For a group of 7 or more
General price:
€

390.00 / ticket
Options
guests = 1

Price

€

1390.00 / ticket

guests = 2

Price

€

790.00 / ticket

guests = 3

Price

€

680.00 / ticket

guests = 4

Price

€

550.00 / ticket

guests = 5

Price

€

490.00 / ticket

guests = 6

Price

€

450.00 / ticket

guests >= 7

Price

€

390.00 / ticket
4
For a group of 7 or more
General price:
€

390.00 / ticket
Options
guests = 1

Price

€

1390.00 / ticket

guests = 2

Price

€

790.00 / ticket

guests = 3

Price

€

680.00 / ticket

guests = 4

Price

€

550.00 / ticket

guests = 5

Price

€

490.00 / ticket

guests = 6

Price

€

450.00 / ticket

guests >= 7

Price

€

390.00 / ticket
5
For a group of 7 or more
General price:
€

390.00 / ticket
Options
guests = 1

Price

€

1390.00 / ticket

guests = 2

Price

€

790.00 / ticket

guests = 3

Price

€

680.00 / ticket

guests = 4

Price

€

550.00 / ticket

guests = 5

Price

€

490.00 / ticket

guests = 6

Price

€

450.00 / ticket

guests >= 7

Price

€

390.00 / ticket
6
For a group of 7 or more
General price:
€

390.00 / ticket
Options
guests = 1

Price

€

1390.00 / ticket

guests = 2

Price

€

790.00 / ticket

guests = 3

Price

€

680.00 / ticket

guests = 4

Price

€

550.00 / ticket

guests = 5

Price

€

490.00 / ticket

guests = 6

Price

€

450.00 / ticket

guests >= 7

Price

€

390.00 / ticket
7
For a group of 7 or more
General price:
€

390.00 / ticket
Options
guests = 1

Price

€

1390.00 / ticket

guests = 2

Price

€

790.00 / ticket

guests = 3

Price

€

680.00 / ticket

guests = 4

Price

€

550.00 / ticket

guests = 5

Price

€

490.00 / ticket

guests = 6

Price

€

450.00 / ticket

guests >= 7

Price

€

390.00 / ticket
8
For a group of 7 or more
General price:
€

390.00 / ticket
Options
guests = 1

Price

€

1390.00 / ticket

guests = 2

Price

€

790.00 / ticket

guests = 3

Price

€

680.00 / ticket

guests = 4

Price

€

550.00 / ticket

guests = 5

Price

€

490.00 / ticket

guests = 6

Price

€

450.00 / ticket

guests >= 7

Price

€

390.00 / ticket
9
For a group of 7 or more
General price:
€

390.00 / ticket
Options
guests = 1

Price

€

1390.00 / ticket

guests = 2

Price

€

790.00 / ticket

guests = 3

Price

€

680.00 / ticket

guests = 4

Price

€

550.00 / ticket

guests = 5

Price

€

490.00 / ticket

guests = 6

Price

€

450.00 / ticket

guests >= 7

Price

€

390.00 / ticket
10
For a group of 7 or more
General price:
€

390.00 / ticket
Options
guests = 1

Price

€

1390.00 / ticket

guests = 2

Price

€

790.00 / ticket

guests = 3

Price

€

680.00 / ticket

guests = 4

Price

<